practical information architecture – projects and policies
Elizabeth Orna is a big hitter in the field of information architecture and design. Her previous studies – Information Strategy in Practice, Practical Information Policies, and Managing Information for Research have all been very well received. This latest study Making Knowledge Visible sets out her ideas for making information more accessible and more useful. It is based on practical research projects conducted at institutions as diverse as the Co-Operative Bank, Essex County Council, The Tate Gallery, the National Health Service, and the Inland Revenue.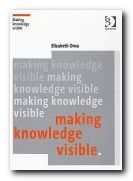 In the first two chapters she sets out her terms and definitions, then presents an overview of her arguments. Her central idea is a distinction she makes between knowledge and information. Knowledge resides in people's brains: it is transformed into information when they express it in some form and make it available to someone else. That second person inverts the process by absorbing the information and transforming it into personal knowledge. She uses the term 'Information Products' to describe the medium in which these transformations take place: these could be books, reports, data bases, or web sites.
In any organisation these information products constitute a very valuable asset, and they ought to be complete, up to date, documented, and searchable. So much should be quite obvious, but anybody who has worked in industry, commerce, or government knows that this is often not the case. Orna is quick to observe:
I gave up being surprised a long ago by how often those essential products look as if they had been designed to repel all boarders, drive users to distraction, dissuade potential customers from purchase of goods or services, and impede staff in their work.
Fortunately, she goes on to give examples of organisations who have profited from making their own IPs explicitly to themselves. Those who have taken the trouble to value their information have profited from doing so.
But she doesn't shy away from negative examples There's an excruciating account of trying to bring rationality and coherence to the Department of Trade and Industry which makes you feel glad you don't work there.
A lot of the discussion of information is often abstract, but she does make the interesting point that the value of information and knowledge are unusual compared with other commodities:
Transactions in them among people can benefit all parties
They don't wear out from use
Information can be used in multiple ways by many people simultaneously
Most of the 'black museum' cases she exposes result in financial losses inefficiency, and employee frustration; but she also includes the example of the Cambridge police mishandling of public records which resulted in the employment of Ian Huntley as a school caretaker, even though he had a police record for attempted rapes. The result was the tragic murder of two children.
She also deals with some interesting examples which come to light as a result of the Freedom of Information Act. Institutions are obliged to comply with the new requirements to make certain of their information publicly available – but how can they do so accurately unless they have a complete and up-to-date inventory of their own data?
The main lesson which emerges is very simple and quite obvious – but it is seldom implemented. That is, there needs to be an organisational overview and a coherent approach to the management of information within an organisation – and the strength of Elizabeth Orna's approach is that she does show how it is possible.
One other feature of her work I found attractive is that she moves easily between the world of print and the web, seeing the benefits of both. For those who want to pursue these issues at a more advanced level, she also considers metadata and the Dublin Core.
Information design is a subject which spins out in all directions to include other subjects – information architecture; typography and graphic presentation; usability; web design; systems analysis; and organisational structures. One of the strong features of Orna's work is that she takes them all into account.
All her claims are meticulously documented, and each chapter carries its own bibliography and list of relevant URLs. It's also worth noting that the book itself is very elegantly designed by her usual collaborator Graham Stevens.
This is a book aimed at information and systems analysts and managers, web designers, communication specialists, plus teachers and students of business management. I think librarians, project managers, and business consultants would also have a lot to learn from what she has to say.
© Roy Johnson 2005

  Buy the book at Amazon UK

  Buy the book at Amazon US
---
Elizabeth Orna, Making Knowledge Visible, Aldershot, UK: Gower, 2005, pp.212, ISBN: 0566085631
---
More on information design
More on design
More on media
More on web design
---