artist, modernist, and the Queen of Bohemia
Nina Hamnett (1890-1956) was born in Tenby, south-west Wales. She endured a largely unhappy childhood, but her skill at drawing enabled her to escape her miserable life at home (rather like her near-contemporary Dora Carrington). She studied at the Pelham Art School and the London School of Art between 1906 and 1910.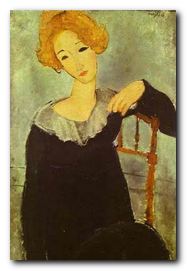 In 1911 she launched herself into the London art world on the strength of a fifty pound advance on an inheritance from her uncle and a stipend of two shillings and sixpence a week from her aunts. There she socialised in the Cafe Royal with the likes of Augustus John, Walter Sickert, and Henri Gaudier-Brzeska. She became very popular as a result of her high spirits, her devil-may-care attitude, and her sexual promiscuity. Like other women at the time revelling in a newfound independence, she had her hair cut short in a 'crophead' style (what we would now call a basin cut) and she wore eccentric clothing:
I wore in the daytime a clergyman's hat, a check coat, and a skirt with red facings … white stockings and men's dancing pumps and was stared at in the Tottenham Court Road. One had to do something to celebrate one's freedom and escape from home,
It was said that at this phase in her life Nina Hamnett had the knack of being in the right place at the right time. In 1914 she went to live in Montparnasse, Paris, immediately meeting on her first night there the Italian painter Amedeo Modigliani. He introduced her to Picasso, Serge Dighilev, and Jean Cocteau, and she went to live at the famous artist's residence of La Ruche which housed many other Bohemian artists and modernist writers. It was there that she met the Norwegian artist Roald Kristian, who became her first husband.
She rapidly established herself as a flamboyant and unconventional figure. She was bisexual, drank heavily, and had liaisons with many other artists in Bohemian society, often modelling for them as a way of earning a (precarious) living. She established her reputation as 'The Queen of Bohemia' by such antics as dancing nude on a cafe table amongst her drinking friends.
Her reputation as a Bohemian and an artist eventually filtered back to London, where she returned to join Roger Fry and his circle working on the application of modernist design principles to fabrics, furniture, clothes, and household objects as part of the Omega Workshops. She acted as a model for the clothes along with Mary Hutchinson, Clive Bell's mistress, and she mingled with other members of the Bloomsbury Group, such as Vanessa Bell and Duncan Grant.
Her paintings were exhibited at the Royal Academy and the Salon d'Automne in Paris. She also taught at the Westminster Technical Institute in London. Around this time she divorced her first husband and lived with the composer and fellow alcoholic E.J. Moeran. They were part of a circle that included the composer Peter Warlock (Philip Heseltine) who who established a very bohemian circle in Eynsford in Kent, along with other composers such as Constant Lambert and William Walton.
During the 1920s (and for the rest of her life) she made the area in central London known as Fitzrovia her home and stamping ground. This new locale for arty-Bohemia was centred on the Fitzroy Tavern in Charlotte Street which she frequented along with fellow Welsh artists Augustus John and Dylan Thomas, making occasional excursions across Oxford Street to the Gargoyle Club in Soho.
After this glittering debut into the glamorous world of modernism and the artistic avant-garde, the remainder of her life was a no less spectacular descent into poverty, squalor, and alcoholism. She lived in a sleazy bed-sit in Howland Street, which was infested with lice and littered with rat-droppings. The flat was furnished only with a broken-down chair, a piece of string for a clothes line, and newspapers instead of proper bedding.
In 1932 she published a volume of memoirs entitled Laughing Torso, which was a best-seller in both the UK and the USA. Following its publication she was sued by Aleister Crowley, whom she had accused of practising black magic. The ensuing trial caused a sensation which helped sales of the book, and Crowley lost his case.
Her success in this instance only fuelled her downward spiral, and she spent the last three decades of her life propping up the bar of the Fitzroy trading anecdotes of her glory years for free drinks. She took little interest in personal hygiene, was incontinent in public, and vomited into her handbag.
Her ending was as spectacular as had been her previous life. Drunk one night she either fell or jumped from the window of her flat and was impaled on the railing spikes below. She lingered miserably in hospital for three more days, where her last words were "Why don't they let me die?"
---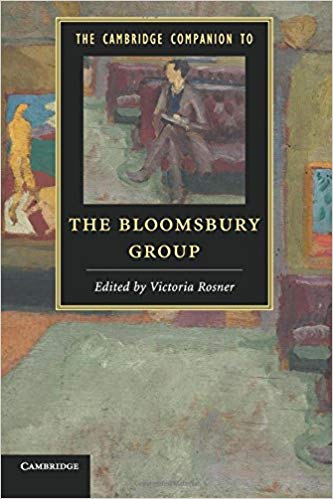 ---
Bloomsbury Group – web links

Hogarth Press first editions
Annotated gallery of original first edition book jacket covers from the Hogarth Press, featuring designs by Vanessa Bell, Roger Fry, and others.

The Omega Workshops
A brief history of Roger Fry's experimental Omega Workshops, which had a lasting influence on interior design in post First World War Britain.

The Bloomsbury Group and War
An essay on the largely pacifist and internationalist stance taken by Bloomsbury Group members towards the First World War.

Tate Gallery Archive Journeys: Bloomsbury
Mini web site featuring photos, paintings, a timeline, sub-sections on the Omega Workshops, Roger Fry, and Duncan Grant, and biographical notes.

Bloomsbury: Books, Art and Design
Exhibition of paintings, designs, and ceramics at Toronto University featuring Hogarth Press, Vanessa Bell, Dora Carrington, Quentin Bell, and Stephen Tomlin.

Blogging Woolf
A rich enthusiast site featuring news of events, exhibitions, new book reviews, relevant links, study resources, and anything related to Bloomsbury and Virginia Woolf

Hyper-Concordance to Virginia Woolf
Search the texts of all Woolf's major works, and track down phrases, quotes, and even individual words in their original context.

A Mrs Dalloway Walk in London
An annotated description of Clarissa Dalloway's walk from Westminster to Regent's Park, with historical updates and a bibliography.

Women's History Walk in Bloomsbury
Annotated tour of literary and political homes in Bloomsbury, including Gordon Square, University College, Bedford Square, Doughty Street, and Tavistock Square.

Virginia Woolf Society of Great Britain
News of events, regular bulletins, study materials, publications, and related links. Largely the work of Virginia Woolf specialist Stuart N. Clarke.

BBC Audio Essay – A Eulogy to Words
A charming sound recording of a BBC radio talk broadcast in 1937 – accompanied by a slideshow of photographs of Virginia Woolf.

A Family Photograph Albumn
Leslie Stephens' collection of family photographs which became known as the Mausoleum Book, collected at Smith College – Massachusetts.

Bloomsbury at Duke University
A collection of book jacket covers, Fry's Twelve Woodcuts, Strachey's 'Elizabeth and Essex'.
© Roy Johnson 2000-2014
---
More on art
More on biography
More on the Bloomsbury Group
Twentieth century literature
---