problem words and how to use them properly
Do you know the difference between blatant and flagrant? Do you know the plural of cul-de-sac? This is one of those books which is supposed to be a source of reference, but which for any language enthusiast is so entertaining, you can't put it down. In this sense it's rather like Bill Bryson's Troublesome Words and Mother Tongue, Keith Waterhouse's Newspaper Style and Lynne Truss's recent Eats Shoots and Leaves.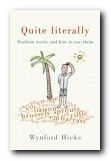 Wynford Hicks offers a comprehensive tour – from accede to zucchini. His examples are very up to date, taken from recent newspapers, magazines, and fiction – and not all of them positive. There's a bad example of 'due to' quoted from the second sentence of Harry Potter and the Order of the Phoenix for instance. He takes a lot of trouble over words of foreign origin which do or do not need their accent – cafe, pate – and he takes the trouble to illustrate all his points with practical examples:
adapter, adopter
an adapter is someone who adapts, eg a novel for the stage, while an adopter is what you need when your electric plug doesn't match the socket.
Some of his judgements I would take issue with. For instance, I think he is wrong to suggest that there's no capital in achilles heel, though we can see why there is no need for an apostrophe; and I don't see why dover sole doesn't need a capital either, as he claims.
But of course a lot of these terms are 'disputed' – and different style guides offer different interpretations. For instance, celibate can mean either unmarried or abstaining from sex. It doesn't matter if it's voluntary or not. There's lots of scope for controversy here. For this reason, I'm going to keep this guide alongside all the rest.
Like most style guide compilers, he has his own favourites – such as a reliance on the Longman Guide for matters of judgement, and an amazing confidence in Salman Rushdie for an ear to good usage. But I liked the fact that he was able to quote grammatical mistakes from the work of Iris Murdoch, Doris Lessing, and Margaret Drabble.
He's good on those many words in English which look deceptively similar, but which have quite different meanings:
definite, definitive
definite is precise, definitive is precise and conclusive
And he offers a ruling on one of the most difficult punctuation cases I know:
dos and don'ts
which once had three apostrophes, but now only needs one
He takes into account the differences between American and English usage, and foodies might be interested in his distinction between two terms which are often confused:
marinade, marinate
meat or fish is marinated (soaked) in a marinade, a mixture of wine/vinegar, oil, herbs, and spices. Fruit is macerated, soaked in alcohol and sugar.
He's very good at spotting persistent misuses – parameter for boundary, militate/mitigate, rebut/refute, sensual/sensuous, and so on.
This is a useful, humane, and non-pedantic guide to good English, and a thoroughly entertaining book. Even though I disagreed with the occasional item, I read it from first page to last.
© Roy Johnson 2004

  Buy the book at Amazon UK

  Buy the book at Amazon US
---
Wynford Hicks, Quite Literally, London: Routledge, 2004, pp.251, ISBN: 0415320194
---