portrait of Bloomsbury's art theorist by premier writer
This is one of the last books Virginia Woolf wrote, and it is a tribute from one artist to another, an account of Fry's aesthetics, and one of her many excursions into biography. Actually, Roger Fry A Biography is almost a joint production, because much of the text is direct quotations from Fry's own journals and his letters to friends. It starts with his family background of radical Quakers, a quite strict upbringing, and his interest in science and the natural world.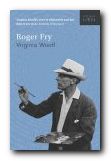 He was a studious youth who blossomed when he went to Cambridge and was elected to the semi-secret society of Apostles who were what would be called free-thinkers (and coincidentally formed the basis of what would later be the Bloomsbury Group). He was older than the other members of this group, and always held in high regard by them. Despite getting a first in science, he switched to the study of Art and travelled to Italy and France on a sort of autodidactic Grand Tour to bring himself into contact with the masters.
Apart from her obvious sympathy with his artistic ideas, Woolf's approach is largely descriptive. There is little attempt at analysis of her material. And we have to put up with her reticence on personal matters to a a degree which is almost infuriating. As a young man Fry forms a relationship with a woman old enough to be his mother, who teaches him 'the art of love', and they remain friends to the end of life. Yet this relationship is covered in less than a paragraph, and the woman isn't even named.
Ever after Cambridge, his problem was how to earn a living from art, and even when he got married to fellow art-lover Helen Coombe, he was still living off an income from his father. But he found work as a lecturer, wrote art criticism, got nowhere as a painter, and was eventually employed by Pierpont Morgan to buy pictures for the Metropolitan Museum of Art.
Woolf makes a great deal of his organising the 1910 Post-Impressionist exhibition which caused such a rumpus (and which she claimed changed human nature). She sees this as a turning point in Fry's life, and yet the strange thing is that at the very point that he joins the Bloomsbury Group (and where she has first-hand knowledge of his relationships with its members) she remains annoyingly coy about his personal life.
You would not know from her account that he had an affair with her sister Vanessa Bell. His life as a human being is replaced by the artistic debates which raged about Post-Impressionism, Fry's own artistic theories, and the foundation of the Omega workshops.
Lots of well-known figures flit across the pages – George Bernard Shaw, Elgar, Lytton Strachey, André Gide – but we are as remote from his personal life as ever. Even his late life affair with Helen Anrep is mentioned almost parenthetically – though he was to live with her for the rest of his life (whilst his wife died slowly from a brain disease in a Retreat at York).
You can see why Woolf found his critical theory interesting. He was searching for a synthesis which would embrace visual art and literature, and he was modest enough to admit that his aesthetic opinions were subjective and limited:
But agreeing that aesthetic apprehension is a pre-eminently spiritual function does not imply for me any connection with morals. In the first place the contemplation of Truth is` likewise a spiritual function but is I judge entirely a-moral. Indeed I should be inclined to deny to morals (proper) any spiritual quality—they are rather the mechanism of civil life—the rules by which life in groups can be rendered tolerable and are therefore only concerned directly with behaviours.
She writes very appreciatively of his book on Cezanne, his life in London and St Remy de Provence, and his search for an all-embracing critical theory. All his life he had sought official recognition but it was denied him time and time again. Finally, in 1933 he was appointed Slade Professor of Art at Cambridge, but a year later he died.
© Roy Johnson 2005

Buy the book at Amazon UK

Buy the book at Amazon US
---
Virginia Woolf, Roger Fry: A Biography, London: Vintage, 2003, pp.314 ISBN: 0099442523
---
More on Virginia Woolf
Virginia Woolf – web links
Virginia Woolf – greatest works
Virginia Woolf – criticism
More on the Bloomsbury Group
---