short biographical study – with rare archive photos
This short biographical study offers an introduction to Samuel Beckett and his amazingly difficult and rather bohemian life, which was unrelenting devoted to creativity no matter what his circumstances. It's written by an expert, and presented in a very attractive manner with archive photographs on almost every page. Beckett is a well-known author, but not much is generally known about his personal life. He avoided interviews and shunned publicity – even sending his publisher to collect his Nobel Prize.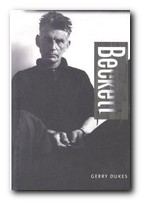 This short book isn't an attempt to deliver a full scale biography (that has already been done by Deirdre Bair, Anthony Cronin, and James Knowlson) but it offers a potted account of his life accompanied by the most original set of photographs that I have ever seen – some from his personal life, and others from stage productions.
Beckett was from a fairly well-to-do family; he had a privileged, well educated upbringing, and by the time he graduated with first class honours from Trinity College Dublin it looked as if a standard academic career was his natural progression route.
But he had won a lectureship at the Ecole Normale Superieure – and during his time in Paris he fell in with fellow Dubliner James Joyce. This experience led him to give up his work as an academic and to embrace the Bohemian life of being a poet, a critic, a translator, and a novelist – from which activities he made no money at all. He lived on allowances from his family until he was middle-aged.
The 1930s passed in a flurry of Bohemianism, occasional publication in obscure magazines, and a fair amount of hardship. He suffered from a number of what seemed to have been psycho-somatic ailments, and even spent some time in psycho-analysis. He also had a rather complex personal life – a wife whom he married for 'testamentary' reasons, and overlapping and simultaneous relationships with other women which required 'timetabling'.
The war years were a period of hardship and bare survival. He spent time hiding from the Nazis (and fighting with the Maquis) in southern France, then working with the Red Cross. After the war he returned to live in Paris and began to write in French.
The period immediately after the war he called 'the siege in the room', where he shut himself away and produced an enormous amount of writing – none of which was immediately published. This period lasted for about four years. And then in the early 1950s he had his first successes – novels published in France, followed by a big breakthrough with Waiting for Godot.
From that point on, his star rose, and yet his work was always surrounded by controversy. People found his writing difficult to understand; theatre directors weren't sure how to stage his plays; he had different publishers for the three or four genres in which he wrote; and rather like Vladimir Nabokov he spent a lot of time translating his work from one language to another – and sometimes back again.
As he got older his works got shorter, more compressed, and eventually reached the point of silence as he produced mimes and silent films. However, it's quite possible that his oeuvre will continue to grow, even after his death, because he wrote so much which never got into print. This is a short but very attractive publication that's worth it just for the photographs.
© Roy Johnson 2004
---
Gerry Dukes, Samuel Beckett: an illustrated life, New York: Overlook Press, 2004, pp.161, ISBN 1585676101
---
More on Samuel Beckett
Twentieth century literature
More on biography
---