essays, memoirs, cultural history and criticism
Saul Bellow generated a prodigious output as a writer of novels, stories, novellas, travel books, even plays – though these were largely unperformed. But in addition he wrote essays, book reviews, memoirs, lectures, and towards the end of his life he produced lengthy surveys of the culture and politics of American life at the end of the twentieth century.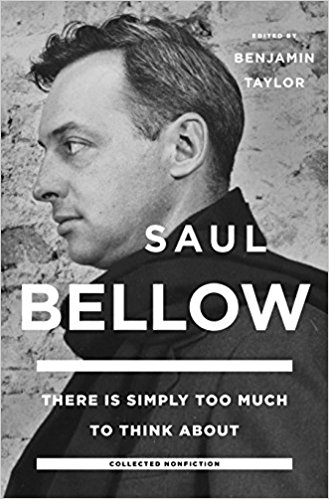 He published his own selection of non-fiction in It All Adds Up (1994) which was issued whilst he was still alive. There is Simply Too Much to Think About is a collection of book reviews and occasional essays from Partisan Review, Commentary, and The New York Times Book Review. The selection also includes interviews – one of which he conducts with himself.
He takes almost as a recurrent theme the issue that illuminates all of his mature fiction – that he is the son of an eastern European immigrant who has grown up in the United States (and Canada). He feels both passionately attached and occasionally divided by the two cultural traditions these sources of his identity represent.
One the one hand his intellectual roots are in Europe and he is dismayed by what he sees as unbridled Western capitalism. On the other hand he does not wish to be held back by his family's traditional Judaism, and he relishes the liberty and the free-wheeling culture afforded to him as a successful immigrant.
Stylistically his great strength lies in having the courage to combine fine writing with the language of the street. His mental hinterland is furnished by the Great European Classics, but he is prepared to combine their prose rhythms with the cadences and vocabulary of the inner-city tenement, the Russian bath house, and the interstate highway diner.
He's at his best with character sketches. A Talk with the Yellow Kid is a marvellous account of the Chicago confidence trickster Joseph 'Yellow Kid' Weil, who is like a figure from one of Bellow's novels. Weil is a man who made millions from rackets, scams, and Ponzi schemes, then lost it all in legitimate business investments.
There are some marvellous bon mots. He observes 'Hemingway detested tourists – other tourists'. And of film writer Ben Hecht he says 'He is one of the creators of Spectre of the Rose, a picture I would rather eat ground glass than see again'.
If there's a weakness in his approach it's a tendency to discuss large issues in rather abstract terms with lots of generalising. I found myself mentally supplying the concrete examples I wished he had mentioned as evidence to support his arguments.
His survey of 'Recent Fiction' (1963) throws up some interesting judgements. One Day in the Life of Ivan Denisovich is … 'A pedestrian work, lacking in colour and passion, in dramatic vision'. And James Baldwin's Another Country … 'should perhaps be judged as a document and not a novel. It is hard to believe that Baldwin, with his talents, could himself take it seriously as a piece of fiction'. But for J.D. Salinger he has nothing but praise: 'a brilliant performer, easily the best' of modern American writers.
Being a self-confessed humanist and a writer who has enjoyed many invitations to lecture and write on the 'modern condition', he has a tendency to repeatedly drift into a lot of social anthropology – a subject he studied at university. And yet he is very sceptical about received opinions and philosophies – even about his former heroes Freud and Marx. However, his social anthropology is put to excellent use when explaining the lack of intellectual culture in New York City or the flight of modern writers into the universities.
And we need to take his critiques seriously, for they are built on an intimate knowledge of the basics. He was reading Marx, Lenin, and Trotsky in the 1930s, and he sees, rather perceptively I believe, that Freudianism is a form of literary criticism, an analysis or close reading of the text of someone's life. It is certainly not a science, with objective tests, measurements, and repeatable experiments.
He writes with great feeling about the formation of his own cultural history – growing up in Chicago conscious of his Russian family heritage, his sympathies for its revolution, and his identity as a Jew in America. He became a Trotskyist, and even went to interview the revolutionary in Mexican exile, only to arrive on the day of Trotsky's death at the hands of Stalin's assassin.
This is an intellectually bracing collection that throws interesting light on the background to Bellow's greatest works of fiction. It also confirms that most of his novels have distinctly biographical origins for their plots – both from his own life history and those of others.
© Roy Johnson 2018
Buy the book from Amazon UK
Buy the book from Amazon US
---
Saul Bellow, There Is Simply Too Much to Think About, London: Penguin/Viking, 2015, pp.532, ISBN: 0670016691
---
More on Saul Bellow
More on the novella
More on short stories
Twentieth century literature
---