tutorial, commentary, study resources, and web links
Daisy Miller is one of Henry James's most famous stories. It was first published in the Cornhill Magazine in 1878 by Leslie Stephen (Virginia Woolf's father) and became instantly popular. It was reprinted several times within a couple of years, and it was even pirated in Boston and New York. On the surface it's a simple enough tale of a spirited young American girl visiting Europe. She is a product of the New World, but her behaviour doesn't sit easily with the more conservative manners of her fellow expatriates in Europe. She pushes the boundaries of acceptable behaviour to the limit, and ultimately the consequences are tragic.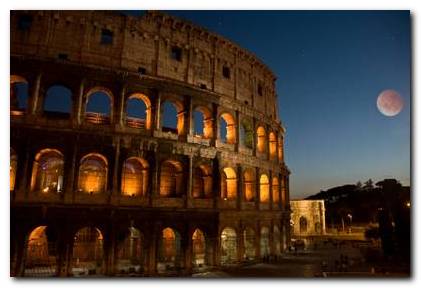 the Colosseum in moonlight
---
Daisy Miller – critical commentary
Story or novella?
Daisy Miller represents a difficult case for making distinctions between the long short story and the novella. Henry James himself called it a 'short chronicle', but as a matter of fact it was rejected by the first publisher he sent it to on the grounds that it was a 'nouvelle' – that is, too long to be a short story, and not long enough to be a novel.
It should be remembered that the concept of the novella only emerged in the second half of the nineteenth century, and publishers were sceptical about its commercial appeal. This was the age of three-volume novels, serial publications, and magazine stories which were written to be read at one sitting.
If it is perceived as a long short story, then the basic narrative line becomes 'a young American girl is too forthright for her own good in unfamiliar surroundings and eventually dies as a result'. This seems to trivialize the subject matter, and reduce it to not much more than a cautionary anecdote.
The case for regarding it as a novella is much stronger. Quite apart from the element of length (30,000 words approximately) it is a highly structured work. It begins with Winterbourne's arrival from Geneva, and it ends with his return there. It has two settings – Vevey and Rome. Daisy travels from Switzerland 'over the mountains' into Italy and Rome, one of the main centres of the Grand Tour. And it has two principal characters – Winterbourne and Daisy. It also has two interlinked subjects. One is overt – Winterbourne's attempt to understand Daisy's character. The second is more complex and deeply buried – class mobility, and the relationship between Europe and America.
Class mobility
Daisy's family are representatives of New Money. Her father, Ezra B. Miller is a rich industrialist. He has made his money in unfashionable but industrial Schenectady, in upstate New York. Having made that money, the family have wintered in fashionable New York City. This nouveau riche experience has given Daisy the confidence to feel that she can act as she wishes.
But the upper-class social group in which she is mixing have a different set of social codes. They are in fact imitating those of the European aristocracy to which they aspire. In this group a young woman should be chaperoned in public, and she must not even appear to spend too long in the company of an eligible bachelor because this might compromise her reputation.
Daisy has the confidence and the social dynamism provided by her father's industrial-based money back in Schenectady, but she is denied permanent entry into the upper-class society in which she is mixing because she flouts its codes of behaviour.
Conversely, Winterbourne is attracted to Daisy's frank and open manner, but he does not understand her – until it is too late. In fact he fails to recognise the clear opportunities she offers him to make a fully engaged relationship, and as she rightly observes, he is 'too stiff' to shift from his conservative attitudes. The text does not make clear his source of income, but he obviously feels at home with the upper-class American expatriates, and his return to Geneva at the end of the novella to resume his 'studies' underscores his wealthy dilettantism.
He is trapped in his upper-class beliefs in a way that Daisy is not in hers. She has the confidence of having made a transition from one class into another at a higher level. She has a foot in both camps – but her tragedy is that she fails to recognise that she cannot enjoy the benefits of the higher class without accepting the restrictions membership will impose on her behaviour.
---
Daisy Miller – study resources

The Complete Works of Henry James – Kindle edition – Amazon UK

The Complete Works of Henry James – Kindle edition – Amazon US

Complete Stories 1874—1884 – Library of America – Amazon UK

Complete Stories 1874—1884 – Library of America – Amazon US

Daisy Miller – Oxford World Classics – Amazon UK

Daisy Miller – Oxford World Classics – Amazon US

Daisy Miller – Wordsworth Classics edition – Amazon UK

Daisy Miller – Penguin Classics edition – Amazon UK

Daisy Miller – Cliff's Notes – Amazon UK

Daisy Miller – DVD film version – Amazon UK

Daisy Miller – eBook formats at Project Gutenberg

The Cambridge Companion to Henry James – Amazon UK

Henry James at Wikipedia – biographical notes, links

Henry James at Mantex – tutorials, biography, study resources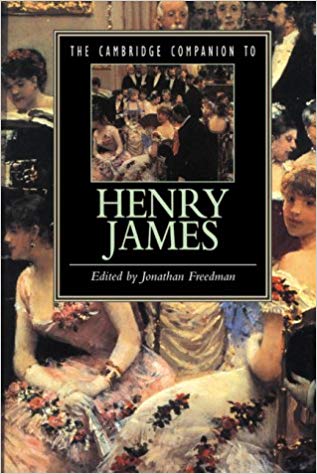 ---
Daisy Miller – plot summary
Part I. Frederick Winterbourne, an American living in Geneva is visiting his aunt in Vevey, on Lake Leman. In the hotel garden he meets Daisy Miller via her young brother Randolph. He is much taken with her good looks, but puzzled by her forthright conversation. He offers to show her the Castle of Chillon at the end of the lake.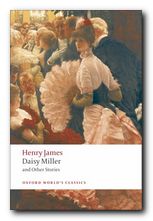 Part II. Mrs Costello, his rather snobbish aunt warns him against the Miller family on the grounds that they lack social cachet. When he visits the castle with Daisy she teases him, offers to take him on as tutor to Rudolph, and is annoyed when he reveals that he must leave the next day. Nevertheless she invites him to visit her in Italy later that year.
Part III. Some weeks later on his arrival in Rome, Winterbourne's friend Mrs Walker warns him that Daisy is establishing a dubious reputation because of her socially unconventional behaviour. Daisy joins them, and Winterbourne insists on accompanying her when she leaves to join a friend alone in public. He disapproves of the friend Signor Giovanelli who he sees as a lower-class fortune hunter, and Mrs Walker even tries to prevent Daisy from being seen alone in public with men.
Part IV. The American expatriate community resent Daisy's behaviour, and Mrs Walker then snubs her publicly at a party they all attend. Winterbourne tries to warn Daisy that she is breaking the social conventions, but she insists that she is doing nothing wrong or dishonourable. He defends Daisy's friendship with Signor Giovanelli to her American critics. Finally, Winterbourne encounters Daisy with Giovanelli viewing the Colosseum by moonlight. Winterbourne insists that she go back to the hotel to avoid a scandal. She goes under duress, but she has in fact contracted malaria ('Roman Fever') from which she dies a few days later. At the funeral Giovanelli reveals to Winterbourne that he knew that Daisy would never have married him. Winterbourne realises that he has made a mistake in his assessment of Daisy, but he 'nevertheless' returns to live in Geneva.
---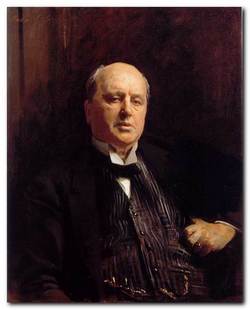 Henry James – portrait by John Singer Sargeant
---
Daisy Miller – principal characters
| | |
| --- | --- |
| Frederick Forsyth Winterbourne | a young (27) American expatriate of independent means who purports to be studying in Geneva |
| Ezra B. Miller | a wealthy American industrial businessman (who does not appear in the story) |
| Mrs Miller | his wife, who is a hypochondriac |
| Annie P. ('Daisy') Miller | their spirited daughter |
| Randolph C. Miller | her outspoken nine-year-old brother |
| Eugenio | tall and distinguished courier and factotum to the Millers in Europe |
| Mrs Costello | Winterbourne's snobbish aunt in Vevey – a 'widow of fortune' |
| Mrs Walker | Winterbourne's friend in Rome |
| Sig Giovanelli | Daisy's friend in Rome – a solicitor |
---
Daisy Miller – film adaptation
Directed by Peter Bogdanovich (1974)
Starring Cybill Shepherd and Barry Brown
---
Daisy Miller – further reading
Biographical

Theodora Bosanquet, Henry James at Work, University of Michigan Press, 2007.

F.W. Dupee, Henry James: Autobiography, Princeton University Press, 1983.

Leon Edel, Henry James: A Life, HarperCollins, 1985.

Philip Horne (ed), Henry James: A Life in Letters, Viking/Allen Lane, 1999.

Henry James, The Letters of Henry James, Adamant Media Corporation, 2001.

Fred Kaplan, Henry James: The Imagination of Genius, Johns Hopkins University Press, 1999

F.O. Matthieson (ed), The Notebooks of Henry James, Oxford University Press, 1988.
Critical commentary

Elizabeth Allen, A Woman's Place in the Novels of Henry James, London: Macmillan Press, 1983.

Ian F.A. Bell, Henry James and the Past, London: Palgrave Macmillan, 1993.

Millicent Bell, Meaning in Henry James, Cambridge (MA): Harvard University Press, 1993.

Harold Bloom (ed), Modern Critical Views: Henry James, Chelsea House Publishers, 1991.

Kirstin Boudreau, Henry James's Narrative Technique, Macmillan, 2010.

J. Donald Crowley and Richard A. Hocks (eds), The Wings of the Dove, New York: W.W. Norton and Company, 1978.

Victoria Coulson, Henry James, Women and Realism, Cambridge University Press, 2009.

Daniel Mark Fogel, A Companion to Henry James Studies, Greenwood Press, 1993.

Virginia C. Fowler, Henry James's American Girl: The Embroidery on the Canvas, Madison (Wis): University of Wisconsin Press, 1984.

Judith Fryer, The Faces of Eve: Women in the Nineteenth Century American Novel, Oxford: Oxford University Press, 1976

Roger Gard (ed), Henry James: The Critical Heritage, London: Routledge, 1968.

Tessa Hadley, Henry James and the Imagination of Pleasure, Cambridge University Press, 2009.

Barbara Hardy, Henry James: The Later Writing (Writers & Their Work), Northcote House Publishers, 1996.

Richard A. Hocks, Henry James: A study of the short fiction, New York: Twayne Publishers, 1990.

Donatella Izzo, Portraying the Lady: Technologies of Gender in the Short Stories of Henry James, University of Nebraska Press, 2002.

Colin Meissner, Henry James and the Language of Experience, Cambridge University Press, 2009

Richard Poirer, The Comic Sense of Henry James, Oxford: Oxford University Press, 1967.

John Pearson (ed), The Prefaces of Henry James, Pennsylvania State University Press, 1993.

William T. Stafford (ed), James's Daisy Miller: The story, the play, the critics, New York: Scribner, 1963.

Hugh Stevens, Henry James and Sexuality, Cambridge University Press, 1998.

Ruth Yeazell (ed), Henry James: A Collection of Critical Essays, Longmans, 1994.
---
Other works by Henry James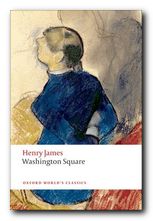 Washington Square (1880) is a superb early short novel, It's the tale of a young girl whose future happiness is being controlled by her strict authoritarian (but rather witty) father. She is rather reserved, but has a handsome young suitor. However, her father disapproves of him, seeing him as an opportunist and a fortune hunter. There is a battle of wills – all conducted within the confines of their elegant New York town house. Who wins out in the end? You will probably be surprised by the outcome. This is a masterpiece of social commentary, offering a sensitive picture of a young woman's life.


Buy the book from Amazon UK


Buy the book from Amazon US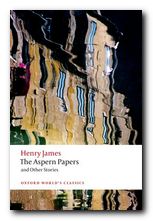 The Aspern Papers (1888) is a psychological drama set in Venice which centres on the tussle for control of a great writer's correspondence. An elderly lady, ex-lover of the writer, seeks a husband for her daughter. But the potential purchaser of the papers is a dedicated bachelor. Money is also at stake – but of course not discussed overtly. There is a refined battle of wills between them. Who will win in the end? As usual, James keeps the reader guessing. The novella is a masterpiece of subtle narration, with an ironic twist in its outcome. This collection of stories also includes three of his accomplished long short stories – The Private Life, The Middle Years, and The Death of the Lion.


Buy the book from Amazon UK


Buy the book from Amazon US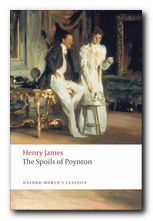 The Spoils of Poynton (1896) is a short novel which centres on the contents of a country house, and the question of who is the most desirable person to inherit it via marriage. The owner Mrs Gereth is being forced to leave her home to make way for her son and his greedy and uncultured fiancee. Mrs Gereth develops a subtle plan to take as many of the house's priceless furnishings with her as possible. But things do not go quite according to plan. There are some very witty social ironies, and a contest of wills which matches nouveau-riche greed against high principles. There's also a spectacular finale in which nobody wins out.


Buy the book from Amazon UK


Buy the book from Amazon US
© Roy Johnson 2012
---
Henry James – web links

Henry James at Mantex
Biographical notes, study guides, tutorials on the Complete Tales, book reviews. bibliographies, and web links.

The Complete Works
Sixty books in one 13.5 MB Kindle eBook download for £1.92 at Amazon.co.uk. The complete novels, stories, travel writing, and prefaces. Also includes his autobiographies, plays, and literary criticism – with illustrations.

The Ladder – a Henry James website
A collection of eTexts of the tales, novels, plays, and prefaces – with links to available free eTexts at Project Gutenberg and elsewhere.

A Hyper-Concordance to the Works
Japanese-based online research tool that locates the use of any word or phrase in context. Find that illusive quotable phrase.

The Henry James Resource Center
A web site with biography, bibliographies, adaptations, archival resources, suggested reading, and recent scholarship.

Online Books Page
A collection of online texts, including novels, stories, travel writing, literary criticism, and letters.

Henry James at Project Gutenberg
A major collection of eTexts, available in a variety of eBook formats.

The Complete Letters
Archive of the complete correspondence (1855-1878) work in progress – published by the University of Nebraska Press.

The Scholar's Guide to Web Sites
An old-fashioned but major jumpstation – a website of websites and resouces.

Henry James – The Complete Tales
Tutorials on the complete collection of over one hundred tales, novellas, and short stories.

Henry James on the Internet Movie Database
Adaptations of James's novels and stories for the cinema and television – in various languages. Full details of directors and actors, production features, film reviews, box office, and even quizzes.
---
More on Henry James
More on literature
More on the novella
More on literary studies
More on short stories
---