This is a really curious book, both in appearance and content. The text is presented in double columns like a Victorian newspaper, and its subject is just about everything you could think of regarding Virginia Woolf and Bloomsbury – but offered in quick snatches and potted summaries. It's not a continuous narrative but a series of overlapping sketches and thematic surveys.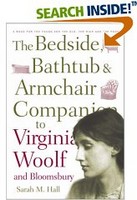 The chapters switch from biography to social history, then on to Woolf's major fictional writing, and back again to the geography of Bloomsbury, the houses they all lived in, and their relationships with feminism, the two world wars, and even animals. This renders the treatment rather superficial, but I imagine it will make the book more interesting to the people it is aimed at – because new characters, incidents, and themes are coming up on almost every page.
Sandwiched amongst the main text there are panels featuring such topics as the other artistic movements of the period, the geography of Bloomsbury and Fitzrovia, synopses of Woolf's major novels, and issues such as pacifism and even films based on Bloomsbury. There are biographical sketches of most of the principal characters, from Virginia Woolf's family and outwards, covering minor figures such as Saxon Sydney-Turner and Dora Carrington. Each of these sections has suggestions for further reading which are commendably up to date.
It's also worth saying that the book is generously illustrated with some refreshingly original photographs – but also with some amateurish sketches which would have been better left out.
Sarah Hall is very good at keeping track of the many complex relationships which were established in Bloomsbury and its outer reaches. Speaking of the artist Duncan Grant she notes:
Through a friendship with the art critic Bernard Berenson's step-daughters, Ray and Karin Costelloe (Ray became Bunny Garnet's first wife, Karin married Adrian Stephen), he stayed at the Berenson's villa in Florence, I Tatti, and learned at first hand the politics of art dealing.
She takes a sympathetic view of Bloomsbury – sometimes to the point of almost naive enthusiasm. She thinks that Virginia and Leonard Woolf were 'faithful' to each other during their marriage, and that Bloomsbury's homosexual men were 'not promiscuous' – which would have been news to most of them.
If a good test of critical writing is that it makes a reader wish to re-visit the work, then one of the most successful chapters is on Virginia Woolf's short stories which offers a sympathetic and insightful account of those profoundly experimental studies. Other highlights include chapters on the Hogarth Press, Lytton Strachey, and the Memoir Club.
It would not matter which aspect of Virginia Woolf or Bloomsbury you wished to pursue – be it Woolf's feminism or mental illness, the lives of her relatives, the writing and art works of her friends, or even the popular walking tours which retrace her steps through London and the Home Counties – this would be an excellent point of departure.
© Roy Johnson 2007
---
Sarah M. Hall, The Beside, Bathroom, and Armchair Companion to Virginia Woolf and Bloomsbury, London: Continuum, 2007, pp.206, ISBN 0826486754
---
More on Virginia Woolf
Virginia Woolf – web links
Virginia Woolf – greatest works
Virginia Woolf – criticism
More on the Bloomsbury Group
---