tutorial, commentary, study resources, plot, and web links
The Story of a Year was first published in The Atlantic Monthly in March 1865. Its next appearance in book form was as part of the collection The American Novels and Stories of Henry James, edited and with an introduction, by F.O. Matthiessen. published by Knopf in New York, 1947.
It is the first of four stories James wrote with the American Civil War as a background. The other tales are Poor Richard (1867), the ghost story The Romance of Certain Old Clothes (1868), and A Most Extraordinary Case (1868).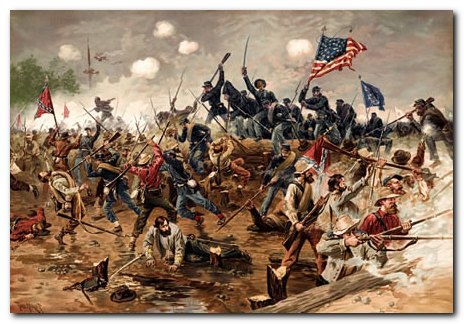 The American Civil War 1861-1865
---
The Story of a Year – critical commentary
It is difficult to understand this tale, except as a rather simplistic plea for male heroism and altruistic self-denial in the face of female inconstancy. John Ford is giving his fiancée every encouragement to form other relationships even before he departs for the war – and the moment he does join the Army of the Potomac, that is exactly what Lizzie does. And although she is pulled between her regard for both men, she is ultimately not faithful to her vows to John – just as his mother predicts.
The ambiguous ending is one which James would use many times in his later fictions. We do not know if Lizzie will really hold out against Mr Bruce or not – just as we are not quite sure what will become of Olive Chancellor at the end of The Bostonians or Isabel Archer at the end of Portrait of a Lady.
The American Civil War
What is not in doubt at all is the sympathy that James obviously felt for those who were conscripted into what was a very bloody battle. All his stories with a Civil War background emphasise the suffering and hardship of the participants. And although James himself was a Yankee with sympathies for the Unionist cause, he was alert to the general and national sense of suffering caused by the dispute.
Because we now think of James as a modernist writer, and bracket him conceptually (and chronologically) with other experimental writers of the twentieth century such as his friends Joseph Conrad and Virginia Woolf, it is amazing to realise that he was writing whilst the American Civil War was actually taking place. The introduction to this tale flags up both the background of war which had gone on for three years, and (in a very proto-modernist manner) the outcome of the story itself.
My story begins as a great many stories have begun within the last three years, and indeed as a great many have ended; for, when the hero is despatched, does not the romance come to a stop?"
James himself was conscripted into military service, but was excused duty because of a back injury he had sustained whilst pumping water to put out a fire in Boston. Nevertheless, he visited wounded soldiers in hospitals and recovery centres (rather like Walt Whitman) and it is worth noting that all these tales feature suffering and death on the part of all the participants.
There is a scene in his novel The Bostonians which illustrates this very well. In one of the pivotal meetings of the novel the heroine Verena Tarrant takes the hero Basil Ransom to look round Harvard University in Cambridge, just outside Boston. There in the Memorial Hall he looks on the names of those who have died on the opposite side.
The effect of the place is singularly noble and solemn … It stands there for duty and honour, it speaks of sacrifice and example, seems a kind of temple to youth, manhood, generosity. Most of them were young, all were in their prime, and all of them had fallen … For Ransom these things were not a challenge or a taunt; they touched him with respect, with the sentiment of beauty. He was capable of being a generous foeman, and he forgot, now, the whole question of sides and parties; the simple emotion of the old fighting-time came back to him, and the monument around him seemed an embodiment of that memory; it arched over his friends as well as enemies, the victims of defeat as well as the sons of triumph.
---
The Story of a Year – study resources

The Complete Works of Henry James – Kindle edition – Amazon UK

The Complete Works of Henry James – Kindle edition – Amazon US

Complete Stories 1864—1874 – Library of America – Amazon UK

The Cambridge Companion to Henry James – Amazon UK

Complete Stories 1864—1874 – Library of America [$13.95] Amazon US

Henry James at Wikipedia – biographical notes, links

Henry James at Mantex – tutorials, biography, study resources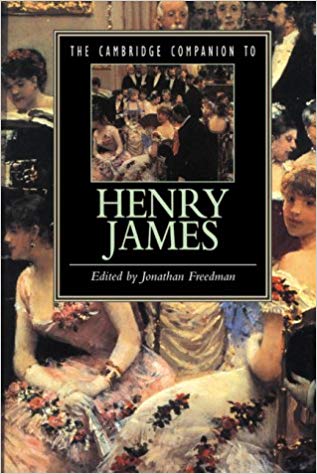 ---
The Story of a Year – plot summary
Part I.   Lieutenant John Ford and his fiancée Lizzie Crowe contemplate his departure to the Civil War in Virginia. He encourages her not to sentimentalise his memory if he is killed. He wishes her to enjoy herself whilst he is away, and he also thinks their engagement should be kept secret. When they reach home, his call-up papers have arrived. John nevertheless reveals the engagement to his mother, who thinks Lizzie is shallow and that her son deserves a batter class of wife. John asks his mother to keep their conversation secret.
Part II.   Whilst John is away Lizzie enjoys a blissful sense of being at one with the world. Mrs Ford keeps a watchful and critical eye on her, and feels that the girl is patronising her because she only reads portions of John's letters. Gradually, Lizzie begins to think less of he fiancé..
Part III.   Mrs Ford engineers a visit for Lizzie to Mrs Littlefield, where she dresses up and meets Mr Bruce at a dance. A relationship between them flourishes. He puts her onto the train back home, where they learn via newspapers that John has been severely injured in the war. When Lizzie gets back home Mrs Ford announces that she is going to her son and will nurse him.
Part IV.   Whilst Lizzie waits at home she is conflicted over her feelings for John and Mr Bruce. She becomes pale and ill, and even fantasises about committing suicide..She goes to stay with the local doctor's housekeeper Miss Cooper, and they are visited by Mr Bruce.
Part V.   Lizzie is on her own when news arrives that John is worse and expected to die. Then Bruce arrives and proposes to her. She tentatively accepts him, but then John unexpectedly recovers and is sent home. Bruce arrives, but she turns him away. She re-unites herself with John, but she is kept away from him, because he is so fragile. Mrs Ford is also ill from her nursing efforts. John finally summons Lizzie, tells her he is going to die, and gives her his blessing for her relationship with Bruce. John dies the next day, and Bruce arrives to claim her. She bids him farewell, but he refuses to go.
---
The Story of a Year – principal characters
| | |
| --- | --- |
| Lieutenant John Ford | conscript in the Union army |
| Mrs Ford | his mother, and Lizzie's guardian |
| Elizabeth (Lizzie) Crowe | a pretty girl of twenty |
| Mrs Littlefield | a childless matron |
| Mr Bruce | a tall, educated, and rich businessman |
| Mrs Cooper | ugly housekeeper to local doctor |
---
Further reading
Biographical

Theodora Bosanquet, Henry James at Work, University of Michigan Press, 2007.

F.W. Dupee, Henry James: Autobiography, Princeton University Press, 1983.

Leon Edel, Henry James: A Life, HarperCollins, 1985.

Philip Horne (ed), Henry James: A Life in Letters, Viking/Allen Lane, 1999.

Henry James, The Letters of Henry James, Adamant Media Corporation, 2001.

Fred Kaplan, Henry James: The Imagination of Genius, Johns Hopkins University Press, 1999

F.O. Matthieson (ed), The Notebooks of Henry James, Oxford University Press, 1988.
Critical commentary

Elizabeth Allen, A Woman's Place in the Novels of Henry James London: Macmillan Press, 1983.

Ian F.A. Bell, Henry James and the Past, London: Palgrave Macmillan, 1993.

Millicent Bell, Meaning in Henry James, Cambridge (MA): Harvard University Press, 1993.

Harold Bloom (ed), Modern Critical Views: Henry James, Chelsea House Publishers, 1991.

Kirstin Boudreau, Henry James's Narrative Technique, Macmillan, 2010.

J. Donald Crowley and Richard A. Hocks (eds), The Wings of the Dove, New York: W.W. Norton and Company, 1978.

Victoria Coulson, Henry James, Women and Realism, Cambridge University Press, 2009.

Daniel Mark Fogel, A Companion to Henry James Studies, Greenwood Press, 1993.

Virginia C. Fowler, Henry James's American Girl: The Embroidery on the Canvas, Madison (Wis): University of Wisconsin Press, 1984.

Jonathan Freedman, The Cambridge Companion to Henry James, Cambridge University Press, 1998.

Judith Fryer, The Faces of Eve: Women in the Nineteenth Century American Novel, Oxford: Oxford University Press, 1976

Roger Gard (ed), Henry James: The Critical Heritage, London: Routledge, 1968.

Tessa Hadley, Henry James and the Imagination of Pleasure, Cambridge University Press, 2009.

Barbara Hardy, Henry James: The Later Writing (Writers & Their Work), Northcote House Publishers, 1996.

Richard A. Hocks, Henry James: A study of the short fiction, New York: Twayne Publishers, 1990.

Donatella Izzo, Portraying the Lady: Technologies of Gender in the Short Stories of Henry James, University of Nebraska Press, 2002.

Colin Meissner, Henry James and the Language of Experience, Cambridge University Press, 2009

John Pearson (ed), The Prefaces of Henry James, Pennsylvania State University Press, 1993.

Richard Poirer, The Comic Sense of Henry James, Oxford: Oxford University Press, 1967.

Hugh Stevens, Henry James and Sexuality, Cambridge University Press, 1998.

Merle A. Williams, Henry James and the Philosophical Novel, Cambridge University Press, 1993.

Judith Woolf, Henry James: The Major Novels, Cambridge University Press, 1991.

Ruth Yeazell (ed), Henry James: A Collection of Critical Essays, Longmans, 1994.
---
Other works by Henry James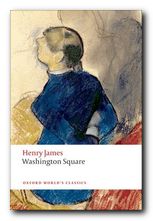 Washington Square (1880) is a superb early short novel, It's the tale of a young girl whose future happiness is being controlled by her strict authoritarian (but rather witty) father. She is rather reserved, but has a handsome young suitor. However, her father disapproves of him, seeing him as an opportunist and a fortune hunter. There is a battle of wills – all conducted within the confines of their elegant New York town house. Who wins out in the end? You will probably be surprised by the outcome. This is a masterpiece of social commentary, offering a sensitive picture of a young woman's life.


Buy the book from Amazon UK


Buy the book from Amazon US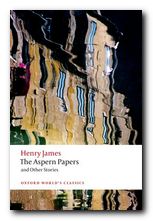 The Aspern Papers (1888) is a psychological drama set in Venice which centres on the tussle for control of a great writer's correspondence. An elderly lady, ex-lover of the writer, seeks a husband for her daughter. But the potential purchaser of the papers is a dedicated bachelor. Money is also at stake – but of course not discussed overtly. There is a refined battle of wills between them. Who will win in the end? As usual, James keeps the reader guessing. The novella is a masterpiece of subtle narration, with an ironic twist in its outcome. This collection of stories also includes three of his accomplished long short stories – The Private Life, The Middle Years, and The Death of the Lion.


Buy the book from Amazon UK


Buy the book from Amazon US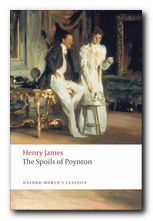 The Spoils of Poynton (1896) is a short novel which centres on the contents of a country house, and the question of who is the most desirable person to inherit it via marriage. The owner Mrs Gereth is being forced to leave her home to make way for her son and his greedy and uncultured fiancee. Mrs Gereth develops a subtle plan to take as many of the house's priceless furnishings with her as possible. But things do not go quite according to plan. There are some very witty social ironies, and a contest of wills which matches nouveau-riche greed against high principles. There's also a spectacular finale in which nobody wins out.


Buy the book from Amazon UK


Buy the book from Amazon US
---
Henry James – web links
Henry James at Mantex
Biographical notes, study guides, tutorials on the Complete Tales, book reviews. bibliographies, and web links.
The Complete Works
Sixty books in one 13.5 MB Kindle eBook download for £1.92 at Amazon.co.uk. The complete novels, stories, travel writing, and prefaces. Also includes his autobiographies, plays, and literary criticism – with illustrations.
The Ladder – a Henry James website
A collection of eTexts of the tales, novels, plays, and prefaces – with links to available free eTexts at Project Gutenberg and elsewhere.
A Hyper-Concordance to the Works
Japanese-based online research tool that locates the use of any word or phrase in context. Find that illusive quotable phrase.
The Henry James Resource Center
A web site with biography, bibliographies, adaptations, archival resources, suggested reading, and recent scholarship.
Online Books Page
A collection of online texts, including novels, stories, travel writing, literary criticism, and letters.
Henry James at Project Gutenberg
A major collection of eTexts, available in a variety of eBook formats.
The Complete Letters
Archive of the complete correspondence (1855-1878) work in progress – published by the University of Nebraska Press.
The Scholar's Guide to Web Sites
An old-fashioned but major jumpstation – a website of websites and resouces.
Henry James – The Complete Tales
Tutorials on the complete collection of over one hundred tales, novellas, and short stories.
Henry James on the Internet Movie Database
Adaptations of James's novels and stories for the cinema and television – in various languages. Full details of directors and actors, production features, film reviews, box office, and even quizzes.
© Roy Johnson 2013
---
More tales by James
More on literature
More on the novella
More on literary studies
More on short stories
---