essays on the theory and practice of information design
Towards the late period of his long and astonishingly productive life, Henry James wrote a number of mystery or ghost stories. In these he combined his skills at controlling narrative and point of view with his penchant for puzzling and ambiguous situations. This collection contains some of the most famous tales – 'Sir Edmund Orme', 'Owen Wingrave', 'The Friends of the Friends', and his best-known shorter work, the terrifying story of (apparent) demonic possession, 'The Turn of the Screw'.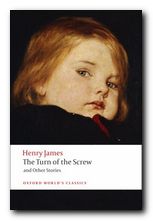 They all deal with ghosts (or the supernatural) in a non-conventional manner, in that they hold a narrative interest whether you find the ghosts believable or not. And none of them rely on any conventional notions of spookiness or ghastly apparitions for their credibility. As Leon Edel, James's biographer observed, "A ghost was most ghostlike, James held, when it walked in broad daylight, shorn of all Gothic trappings. It was too obvious to have clanking chains, bloodstains, secret stairways and dead of night for one's phantoms."
But what these tales do have in common with many other ghost stories is a connection between the supernatural and death. There's also a more-than-coincidental link to romantic liaisons between the characters. In Sir Edmund Orme for instance (without giving away too much of the story) a middle-aged lady has been haunted by apparitions of a man who took his own life many years before when she 'wronged' him. She wishes to protect her daughter from his influence, and does so with the aid of a narrator who falls in love with the daughter. But in the end there is a reversal of expectations and a dramatic price to pay.
Similarly in Owen Wingrave (which Benjamin Britten used as the basis for his opera) the eponymous hero is oppressed by family traditions of military service he is expected to uphold. He resists them on grounds of humane pacifism, and when challenged by a young woman with whom there is a romantic potential, he defies everyone by sleeping in a bedroom haunted by an ancestor. Once again the outcome is disastrous.
James rings quasi-humorous changes on this theme in The Friends of the Friends where he introduces the conceit of two characters who have both seen the ghost of a parent at precisely the moment they have died in a completely different location. When the narrator (a mutual friend and unusually for James, a woman) becomes engaged to the male character she is determined to introduce him to her friend who has had the same experience. But the female character dies first. Her 'influence' however, lives on to have a dramatic effect on the proposed marriage.
But of course the most famous story of all is The Turn of the Screw (another Britten opera) which has attracted widespread comment and a number of different interpretations. A governess has the job of looking after two loveable and innocent young children. She is hampered in her endeavours by the repeated appearances of a former gamekeeper and Miss Jessell (her predecessor) who are both supposed to be dead. It seems that these ghosts are seeking to exercise a malign influence over the children, and the governess is driven to desperate measures to protect them. Each step she takes winds the dramatic tension ever higher, right up to the last page and its horrible finale.
This tale was described at the time of its first publication as 'the most hopelessly evil story that we have ever read in any literature, ancient or modern.' (the Independent 1899) and it has remained a tantalising puzzle ever since. Like the other stories in this collection it is delivered to us in a very oblique manner, and recounted by a narrator who may or may not be telling the complete truth. Readers are presented with a literary experience not unlike a hall of mirrors, in which nothing is quite what it seems. This is what makes the stories worth reading over and over again.
This is a particularly good edition, since it includes an editor's introductory essay and explanatory notes to the text, a brief history of its publication, and James's own introductions in which he explains the origins of the stories and how he decided to treat them – all without giving away their specific outcomes, just as I have tried to do above.
© Roy Johnson 2000

Buy the book at Amazon UK

Buy the book at Amazon US
---
Henry James, The Turn of the Screw and Other Stories, Oxford: Oxford University Press, 1992, pp.266, ISBN 0192834045
---
More on Henry James
More on literature
More on the novella
More on literary studies
More on short stories
---