interviews with award-winning writers
There are any number of books on the theory of writing (Ron Kellogg, Mike Sharples, Naomi Baron) but we rarely hear from writers themselves about how they tackle this most personal of all expressive mediums and the writing techniques they use. Barbara Baker interviewed award-winning writers in a number of genres: writers of children's fiction, novelists, play and screen writers, poets, and short story writers. And even though the interviews were conducted by phone, fax, or face to face, the editor is scrupulously absent, leaving the writers to talk for themselves. The most immediate and interesting thing is how unromantic most of them are about writing. They see the process of creation as a practical matter, and are much rooted in physical practicalities.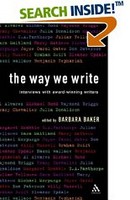 Raymond Briggs for instance talks about how cartoon stories have to fit into thirty-two pages, because it has to be a multiple of eight because of the way paper is folded. It's also interesting to note that the majority of the writers interviewed still write their first drafts by hand: "I write with a fountain pen and black ink. My fountain pens are very precious to me and I would never take them out of the house." (Graham Swift). These might then be transferred to word-processors for editing, but there seems to still be a charm or intimacy about writing with pen on paper – a feeling I recognise, having just done that for this review.
Most of them like to be alone, and to write in their own workroom, no matter how cluttered or unprofessional it might be. However, the poet U.A.Fanthorpe doesn't have a room, can write anywhere, and even uses the back of her hand if there's no paper available. And people tempted by a puritanical ethic might keep in mind that writers as distinguished as Vladimir Nabokov, Marcel Proust, and Patrick White wrote in bed.
Julian Fellowes has some interesting things to say about writing for the screen – most notably how little directions are necessary:
One of the things I think is fatal is the film-school idea of writing the directions in very abrupt shorthand. It is impossible to read and puts off 99 people out of 100, and I cannot imagine why they tell students to do it!
Another feature which crops up amongst most of them is not knowing what the ending of a novel will be whilst they are writing it. Many just start with an idea, a character, or just an image – then work forwards.
And it's amazing just how insecure even some of the most successful are. Margaret Dabble – Lady Holroyd – daughter of a novelist and wife of a famous biographer – speaks of "The insecurity of a writer's position is extreme … With every [book] I think, 'This is the one that will be turned down'."
Some of the authors come across as incredibly smug: "Writing comes easily to me…I have a gift for language" but most of them are very modest – happy if they can find the time for writing and grateful for being published. And that majority also have one other thing in common – they find writing hard work; they go through several drafts before they are satisfied; and they are writing all the time.
Aspirant writers might take comfort from the fact that out of eighteen writers (and award-winners at that) only two had any formal training. Anyone who aspires to producing some published story, poem, novel, or screenplay will find interest and encouragement here.
© Roy Johnson 2008

  Buy the book at Amazon UK

  Buy the book at Amazon US
---
Barbara Baker (ed), The Way We Write: Interviews with Award-Winning Writers, London: Continuum, 2007, pp.234, ISBN: 0826491227
---
More on creative writing
More on writing skills
More on publishing
---