his life and major writings
1840. Thomas Hardy born in Dorchester – father a bricklayer, later a builder, musical easy-going; mother hardworking, ambitious, and very literate. Both parents, despite later prosperity, shared class anxiety and fear of being pulled back down into poverty. Dorset at this period still had remnants of pre-industrial revolution. Hardy therefore witnessed first-hand the death of old pastoral traditions and the rise of industrialisation.
1848-. Educated in Dorset schools – including Latin and French, plus applied mathematics and commercial studies. Strong auto-didactic impulse. Influenced by schoolmaster Horace Moule – a classicist and dipsomaniac.
1856. Articled to Dorchester architect – then employed as an assistant. Hardy witnesses the hanging of a young woman – a scene he was to use thirty years later in Tess of the d'Urbervilles.
1862. Travelled to London to seek work – employed as a architectural draughtsman. Prizewinner in competitions and elected to the Architectural Association. He explores the cultural life of London, visiting museums, attending plays and operas, and begins writing poetry in earnest.
1863. Literary ambitions begin – begins to write poetry and continues studies. Poems rejected.
1866. Gradual loss of religious faith.
1867. Returns to Dorset and writes first novel – The Poor Man and the Lady, which is rejected by publishers.
1869. Disappointed by literary rejections – returns to work as an architect in Weymouth. Re-writes first novel as Desperate Remedies.
1870. Hardy travels to St. Juliot to work on the restoration of the church. He meets Emma Gifford in Boscastle, Cornwall – marries her four years later.
1871. Desperate Remedies published at Hardy's own expense – then remaindered.
1872. Under the Greenwood Tree – copyright sold for £30. Hardy's first success as a writer. Leslie Stephen (Virginia Woolf's father) commissions writing for the Cornhill Magazine.
1873. A Pair of Blue Eyes is published in three volumes. Hardy now relinquishes architecture as a career to write full-time. Horace Moule, his close adviser and friend, commits suicide in Cambridge.
1874. Far from the Madding Crowd begins as serial in the Cornhill Magazine. Hardy marries Emma Gifford – honeymoon in Paris – then returns to live in Tooting, London. Lives the life of a literary lion.
1875. The Hand of Ethelberta serialised in the Cornhill Magazine. The Hardys return to live in Dorset.
1878. The Return of the Native serialised in Belgravia and then published in three volumes – to which Hardy attached a map of 'Wessex' to show the novel's locations. With the success of this novel, he begins to experience life as a celebrity. He joins the Saville Club.
1879. Began to write short (and long) stories with 'The Distracted Young Preacher'.
1880. The Trumpet Major. Hardy begins to design and supervises the building of his own home at Max Gate in Dorset.
1881. A Laodicean is written mostly in bed, where Hardy is recovering from a serious illness.
1882. Two on a Tower is serialised in the Atlantic Monthly then issued in three volumes.
1884. Hardy is made a Justice of the Peace and begins to receive visits from aristocracy.
1886. The Mayor of Casterbridge is serialised in the Graphic then brought out in two volumes the same year.
1887. The Woodlanders is issued in three volumes. The Hardys visit France and Italy – but the marriage is not very successful. When they return, he begins habit of visiting London for 'the season'. Hardy actually discourages Emma's own literary ambitions.
1888. Hardy's first collection of stories published as Wessex Tales – and Hardy publishes the first of three essays on the theory of fiction – The Profitable Reading of Fiction.
1889. Tillotson's Fiction Bureau commissions a novel (Tess) but then rejects it on grounds of blasphemy and obscenity. It is also rejected by other publishers.
1891. Tess of the d'Urbervilles serialised in the Graphic. Copyright Bill passed in the United States – which turns out to be financially beneficial to Hardy.
1892. Hardy's father dies. The Pursuit of the Well-Beloved is serialised in the Illustrated London News
1893. Meets Florence Henniker in Dublin – the subject of his most intense romantic attachment to artistic ladies. He writes The Spectre of the Real in collaboration with her.
1894. The third volume of short stories – Life's Little Ironies – published in one volume.
1895. Osgood-Mcilvaine begins bringing out the first collected edition of Hardy's works. The set includes the first edition of Jude the Obscure. The novel receives harsh criticism, prompting Hardy to give up novel writing.
1898. Hardy's first collection of verse published as Wessex Poems – comprising work from the 1860s and 1890s, and illustrated by Hardy himself.
1899. Boer war begins. Growing physical separation between Hardy and Emma.
1901. Another collection of verse – Poems of the Past and Present – is published.
1903. Part One of The Dynasts appears. This is Hardy's extended verse-play about the Napoleonic wars which he intends as his masterpiece.
1905. Meets Florence Dugdale, who is forty years younger than Hardy and becomes his secretary.
1908. The Dynasts is completed. Death of George Meredith and Swinburne leave Hardy most celebrated English writer.
1910. Awarded the Order of Merit – having previously refused a knighthood. Receives the freedom of Dorchester. Relationship with Florence Dugdale deepens.
1912. A 'definitive' edition of Hardy's works, the Wessex Edition, is published by Macmillan. It is a chance for Hardy to thoroughly revise his body of work. Emma suddenly dies in November.
1913. Hardy visits Cornwall in search of his and Emma's youth, and begins to write poems about her. Awarded a D.Litt at Cambridge University and became an Honorary Fellow of Magdalene College – fulfilling partially one of his early aspirations.
1914. Marries Florence Dugdale [who is forty years younger]. Burns all his notebooks and private papers. Hardy's pessimism strengthened by the outbreak of First World War.
1917. Moments of Vision Hardy's fifth collection of verse published. Begins work on dictating to Florence what was to become The Life of Thomas Hardy.
1923. Visited by the Prince of Wales, friendship with T.E.Lawrence. Second marriage as disappointing as the first.
1924. Hardy adapts Tess for the stage, and become romantically attached to Gertrude Bugler, who plays the title role.
1928. Hardy dies – and is buried with full honours in Poet's Corner in Westminster Abbey. However, his heart, which had been cut out of his body first, was put in a biscuit tin and buried alongside his first wife in Stinsford churchyard, Dorset.
© Roy Johnson 2009
---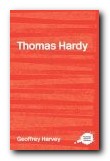 The Complete Critical Guide to Thomas Hardy is a good introduction to Hardy criticism. It includes a potted biography of Hardy, an outline of the stories, novels, and poetry, and pointers towards the main critical writings – from the early influential full length study by D.H. Lawrence to critics of the present day. Also includes a thorough bibliography which covers biography, criticism in books and articles, plus pointers towards specialist Hardy journals.
---
More on Thomas Hardy
More on the novella
More on literary studies
More on short stories
---