tutorial, characters, criticism, resource materials
To the Lighthouse (1927) is the second of the twin jewels in the crown of Virginia Woolf's late experimental phase. It is concerned with the passage of time, the nature of human consciousness, and the process of artistic creativity. Woolf substitutes symbolism and poetic prose for any notion of plot, and the novel is composed as a triptych of three almost static scenes – during the second of which the principal character Mrs Ramsay dies – literally within a parenthesis.
The writing is lyrical and philosophical at the same time. Many critics see this as her greatest achievement, and Woolf herself realised that with this book she was taking the novel form into hitherto unknown territory.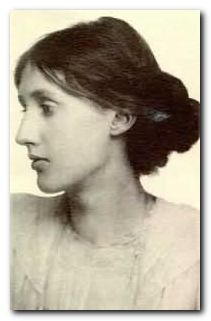 Virginia Woolf
---
To the Lighthouse – plot summary
Part I: The Window
The novel is set in the Ramsays' summer home in the Hebrides, on the Isle of Skye. [*] Part I begins just before the start of World War I. Mrs Ramsay assures her six year old son James that they should be able to visit a lighthouse across the bay next day. This prediction is denied by Mr Ramsay, who voices his certainty that the weather will not be clear. This attitude creates a certain tension between Mr and Mrs Ramsay, and also between Mr Ramsay and James. The incident is referred to on various occasions throughout the chapter.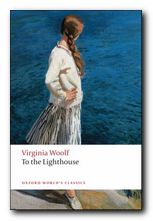 The Ramsays have been joined at the house by a number of friends and colleagues. Lily Briscoe is a young painter attempting a portrayal of Mrs. Ramsay and her son James. She finds herself plagued by doubts throughout the novel, doubts largely fed by the statements of Charles Tansley, another guest, claiming that women can neither paint nor write. Tansley himself is an admirer of Mr Ramsay and his philosophical treatises. During the course of the afternoon, another guest Paul Rayley proposes to Minta Doyle, Lily begins her painting, Mrs. Ramsay soothes the resentful James, and Mr. Ramsay frets over his shortcomings as a philosopher, periodically turning to Mrs. Ramsay for comfort.
The section closes with a large dinner party which is fraught with minor tensions. Mr Ramsay nearly snaps at Augustus Carmichael, a visiting poet, when he asks for a second serving of soup. Mrs Ramsay, who is striving for the perfect dinner party is herself out of sorts when Paul and Minta arrive late to dinner, as Minta lost her grandmother's brooch on the beach.
[* This Scottish location is completely unconvincing. The setting is clearly modelled on St Ives in Cornwall where Woolf spent all her childhood summer holidays.]
Part II: Time Passes
The second section is a lyrical interlude which gives a sense of time passing, absence, and death. During this period World War I breaks out in Europe. Mrs Ramsay passes away, her daughter Prue dies from complications of childbirth, and her son Andrew is killed in the war. Mr Ramsay is left adrift without his wife to praise and comfort him during his bouts of fear and his anguish regarding the longevity of his philosophical work.
The house itself is neglected during this period, and falls into a state of disrepair. Ten years pass before the family and their friends return for another holiday. Mrs McNab, the housekeeper, employs a few other women to help set the house in order.
Part III: The Lighthouse
Mr Ramsay finally plans on taking the long-delayed trip to the lighthouse with his son James and daughter Cam(illa). The trip almost does not happen, as the children are not ready, but they eventually set off. En route, the children resent their father for forcing them to come along. But James keeps the sailing boat steady, and rather than receiving the harsh words he has come to expect from his father, he hears praise, providing a rare moment of empathy between father and son; Cam's attitude towards her father has changed as well.
Whilst they visit the lighthouse, Lily attempts to complete her long-unfinished painting. She reconsiders her memory of Mrs Ramsay, grateful for her help in pushing Lily to continue with her art, yet at the same time she struggles to free herself from the tacit control Mrs Ramsay had over other aspects of her life. Upon finishing the painting and seeing that it satisfies her, she realizes that the execution of her vision is more important to her than the idea of leaving some sort of legacy in her work – a lesson Mr Ramsay has yet to learn.
---
Study resources

To the Lighthouse – Oxford World Classics – Amazon UK

To the Lighthouse – Wordsworth Classics – Amazon UK

To the Lighthouse – Wordsworth Classics – Amazon US

The Cambridge Introduction to Virginia Woolf – Amazon UK

The Complete Works of Virginia Woolf – Kindle edition – Amazon UK

To the Lighthouse – eBook edition

To the Lighthouse – 1983 dramatisation on DVD – Amazon UK

To the Lighthouse – audio book (unabridged) – Amazon UK

To the Lighthouse: A Reader's Guide – critical study – Amazon UK

To the Lighthouse – York Notes (Advanced) – Amazon UK

To the Lighthouse – Macmillan Master Guides – Amazon UK

To the Lighthouse – Penguin Critical Guide – Amazon UK

To the Lighthouse – Palgrave Master Guides – Amazon UK

The Cambridge Companion to Virginia Woolf – Amazon UK

Virginia Woolf – Authors in Context – Amazon UK

Selected Essays – by Virginia Woolf – Amazon UK

The Cambridge Companion to Virginia Woolf – Amazon UK
---
Virginia Woolf – biography
part of biographical documentary
---
Principal characters
| | |
| --- | --- |
| Mr Ramsay | a prominent metaphysical philosopher |
| Mrs Ramsay | his dutiful, beautiful, and loving wife |
| James Ramsay | their youngest son |
| Lily Briscoe | a young and single painter |
| Paul Rayley | a young friend of the Ramsays |
| Minta Doyle | a friend of the Ramsays who marries Paul |
| Charles Tansley | a young philosophy pupil of Mr Ramsay's |
| William Bankes | a botanist and old friend of the Ramsays |
| Augustus Carmichael | opium-using poet visitor |
| Mrs McNab | the Ramsay's elderly housekeeper |
| Andrew Ramsay | the eldest son, who is killed during the war |
| Jasper Ramsay | one of the Ramsay's sons |
| Roger Ramsay | one of the Ramsay's sons |
| Prue Ramsay | the eldest daughter, who dies in childbirth |
| Rose Ramsay | one of the Ramsay's daughters |
| Nancy Ramsay | one of the Ramsay's daughters |
| Cam(illa) Ramsay | the youngest Ramsay daughter |
---
To the Lighthouse – first edition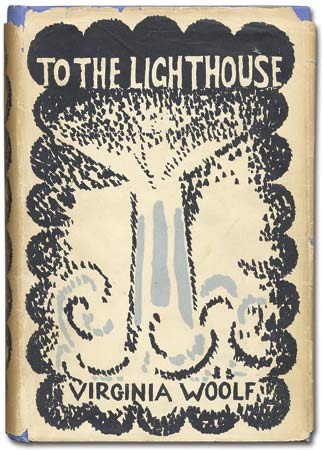 Virginia Woolf, To the Lighthouse (1927) Cover design by Vanessa Bell.
"Advance sales totaled over 1,600 copies, more than twice the number for Mrs Dalloway. Virginia's mood at the time expressed itself in her gaily ironic joke with Vita Sackville-West. When Vita returned from her second trip to Persia, she found a copy of To the Lighthouse waiting for her, inscribed by Virginia, "In my opinion the best novel I have ever written". It was a bound dummy copy, with blank pages. Leonard Woolf, anticipating both an artistic and a commercial success for To the Lighthouse, ordered 3,000 copies printed by R. & R. Clark (a thousand more than Mrs Dalloway) and quickly ordered another 1,000 copies in a second impression. The novel outsold her previous fiction. The American publisher of Hogarth Press books, Harcourt Brace, printed 4,000 copies initially (almost twice the number of copies for Mrs Dalloway). American readers had begun to take notice of Woolf's novels."

J.H. Willis Jr, Leonard and Virginia Woolf as Publishers: The Hogarth Press 1917-1941

More illustrated Hogarth Press first editions
---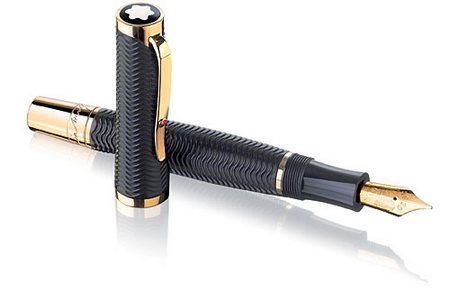 Mont Blanc pen – the Virginia Woolf special edition
---
Further reading

Beja, Morris, ed. To the Lighthouse: A Casebook. London: Macmillan, 1991.

Davies, Stevie. Virginia Woolf's To the Lighthouse, London: Penguin Books, 1989.

de Gay, Jane. 'Behind the Purple Triangle: Art and Iconography in To the Lighthouse.' Woolf Studies Annual 5 (1999): 1-23.

Hyman, Virginia R. To the Lighthouse and Beyond: Transformations in the Narratives of Virginia Woolf. New York: P. Lang, 1988.

Ingram, Penelope. 'One Drifts Apart': To the Lighthouse as Art of Response'. Philosophy and Literature 23, no. 1 (1999): 78-95.

Kato, Megumi. 'The Politics/Poetics of Motherhood in To the Lighthouse' In Virginia Woolf and Communities, ed. Laura Davis and Jeanette McVicker. New York: Pace University Press, 1999.

Kelley, Alice van Buren. To the Lighthouse: The Marriage of Life and Art. Boston: Twayne Publishers, 1987.

Knox-Shaw, Peter. 'To the Lighthouse: The Novel as Elegy'. English Studies in Africa: A Journal of the Humanities 29, no. 1 (1986): 31-52.

Leaska, Mitchell Alexander. Virginia Woolf's Lighthouse : A Study in Critical Method. New York: Columbia University Press, 1970.

Raitt, Suzanne. Virginia Woolf's To the Lighthouse. New York: Harvester Wheatsheaf.1990.

Ruddick, Lisa Cole. The Seen and the Unseen: Virginia Woolf's To the Lighthouse. Cambridge, Massachusetts: Harvard University Press, 1977.

Vogler, Thomas A., ed. Twentieth-Century Interpretations of To the Lighthouse: A Collection of Critical Essays. Englewood Cliffs, New Jersey: Prentice-Hall, 1970.
---
Writing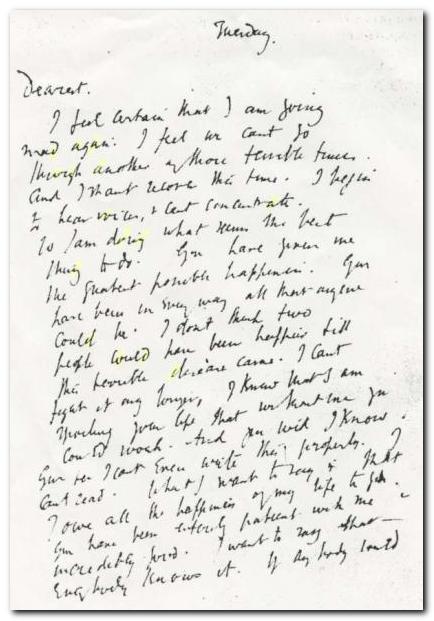 "I feel certain that I am going mad again"
---
Virginia Woolf – podcast
A eulogy on words
---
Other works by Virginia Woolf
---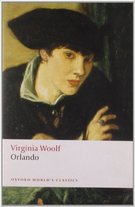 Orlando (1928) is one of her lesser-known novels, although it's critical reputation has risen in recent years. It's a delightful fantasy which features a character who changes sex part-way through the book – and lives from the sixteenth to the twentieth century. Using this device (which turns out to be strangely credible) Woolf explores issues of gender and identity as her hero-heroine moves through a variety of lives and personal adventures. Orlando starts out as an emissary to the Court of St James, lives through friendships with Swift and Alexander Pope, and ends up motoring through the west end of London on a shopping expedition in the 1920s. The character is loosely based on Vita Sackville-West, who at one time was Woolf's lover. The novel itself was described by Nigel Nicolson (Sackville-West's son) as 'the longest and most charming love-letter in literature'.


Buy the book at Amazon UK


Buy the book at Amazon US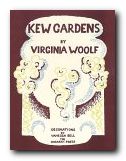 Kew Gardens is a collection of experimental short stories in which Woolf tested out ideas and techniques which she then later incorporated into her novels. After Chekhov, they represent the most important development in the modern short story as a literary form. Incident and narrative are replaced by evocations of mood, poetic imagery, philosophic reflection, and subtleties of composition and structure. The shortest piece, 'Monday or Tuesday', is a one-page wonder of compression. This collection is a cornerstone of literary modernism. No other writer – with the possible exception of Nadine Gordimer, has taken the short story as a literary genre as far as this.


Buy the book at Amazon UK


Buy the book at Amazon US
---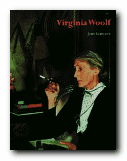 Virginia Woolf is a readable and well illustrated biography by John Lehmann, who at one point worked as her assistant and business partner at the Hogarth Press. It is described by the blurb as 'A critical biography of Virginia Woolf containing illustrations that are a record of the Bloomsbury Group and the literary and artistic world that surrounded a writer who is immensely popular today'. This is an attractive and very accessible introduction to the subject which has been very popular with readers ever since it was first published..


Buy the book at Amazon UK


Buy the book at Amazon US
---
Virginia Woolf – web links

Virginia Woolf at Mantex
Biographical notes, study guides to the major works, book reviews, studies of the short stories, bibliographies, web links, study resources.

Blogging Woolf
Book reviews, Bloomsbury related issues, links, study resources, news of conferences, exhibitions, and events, regularly updated.

Virginia Woolf at Wikipedia
Full biography, social background, interpretation of her work, fiction and non-fiction publications, photograph albumns, list of biographies, and external web links

Virginia Woolf at Gutenberg
Selected eTexts of the novels The Voyage Out, Night and Day, Jacob's Room, and the collection of stories Monday or Tuesday in a variety of digital formats.

Woolf Online
An electronic edition and commentary on To the Lighthouse with notes on its composition, revisions, and printing – plus relevant extracts from the diaries, essays, and letters.

Hyper-Concordance to Virginia Woolf
Search texts of all the major novels and essays, word by word – locate quotations, references, and individual terms

Virginia Woolf – a timeline in phtographs
A collection of well and lesser-known photographs documenting Woolf's life from early childhood, through youth, marriage, and fame – plus some first edition book jackets – to a soundtrack by Philip Glass. They capture her elegant appearance, the big hats, and her obsessive smoking. No captions or dates, but well worth watching.

Women's History Walk in Bloomsbury
Tour of literary and political homes in Bloomsbury – including Gordon Square, Gower Street, Bedford Square, Tavistock Square, plus links to women's history web sites.

Virginia Woolf Society of Great Britain
Bulletins of events, annual lectures, society publications, and extensive links to Woolf and Bloomsbury related web sites

BBC Audio Essay – A Eulogy to Words
Charming sound recording of radio talk given by Virginia Woolf in 1937 – a podcast accompanied by a slideshow of photographs.

A Family Photograph Albumn
Leslie Stephen compiled a photograph album and wrote an epistolary memoir, known as the "Mausoleum Book," to mourn the death of his wife, Julia, in 1895 – an archive at Smith College – Massachusetts

Virginia Woolf first editions
Hogarth Press book jacket covers of the first editions of Woolf's novels, essays, and stories – largely designed by her sister, Vanessa Bell.

Virginia Woolf – on video
Biographical studies and documentary videos with comments on Virginia Woolf and the Bloomsbury Group and the social background of their times.

Virginia Woolf Miscellany
An archive of academic journal essays 2003—2014, featuring news items, book reviews, and full length studies.
© Roy Johnson 2010
---
More on Virginia Woolf
Virginia Woolf – web links
Virginia Woolf – greatest works
Virginia Woolf – criticism
More on the Bloomsbury Group
---