the development of literary and visual modernism
Virginia Woolf and Cubism might seem at first a rather odd conjunction, but in fact her literary experimentation was taking place at exactly the same time as the pioneering movement in modern visual art, and it had very similar objectives. Picasso's great breakthrough masterpiece Les Demoiselles d'Avignon was painted in 1907, and the development of his cubist works along with those of Georges Braque were created from 1910 onwards into the 1920s. This is the same period during which Woolf established herself as one of the most important figures of literary modernism.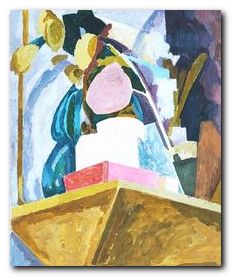 Picasso said 'I paint forms as I think of them, not as I see them' which resulted in objects and sitters portrayed in a fragmented manner, from a number of different perspectives, in a series of overlapping planes – all of which the viewer is invited to recompose mentally to form a three-dimensional image, rendered on a two dimensional surface (though there were also a few cubist sculptures).
Virginia Woolf composed in a similar fashion by analysing her subject and reconstructing it from the fragments by which it was perceived, often overlapping, and in particular from a mixture of time periods which combine the fictional present with the past – often within the same sentence of her narrative.
How fresh, how calm, stiller than this of course, the air was in the early morning; like the flap of a wave; the kiss of a wave; chill and sharp and yet (for a girl of eighteen as she then was) solemn, feeling as she did, standing there at the open window, that something awful was about to happen; looking at the flowers, at the trees with the smoke winding off them and the rooks rising, falling; standing and looking until Peter Walsh said, "Musing among the vegetables?"—was that it?—"I prefer men to cauliflowers"—was that it?
Mrs Dalloway is walking in Westminster and the first world war is over, but her appreciation of the fresh morning in June evokes memories of her youth at Bourton and the man who was in love with her, who failed to marry her, but who she will meet later on in the day.
Woolf like her exact contemporary James Joyce, sought to represent human consciousness not as a linear and well-organised set of reflections on distinct topics, but as a vibrant and kaleidoscopic jumble of thoughts, often having little connection with each other. The artistry of her rendition was to provide the links between them via the selection and arrangement of details – just as the painter chooses the fragments of an object which the viewer reassembles into the object as a whole.
Woolf's cubism is a shifting narrative viewpoint – flashes of a person's character as seen by other people, of shifting periods of time, and changing locations and characters, the connections between which are not explicitly revealed. The result is a narrative often described as a mosaic of fragments – which is precisely the effect for which Woolf was striving.
The similarities between a literary technique and its equivalent in painting are not at all accidental. Woolf was surrounded by painters – from her sister Vanessa Bell, to Bell's lover Duncan Grant, and most importantly the painter and art theorist Roger Fry, whose biographer she became. It was Fry who organised the important exhibition of modern post-Impressionist painters at the New Grafton Galleries in 1910, at which Virginia Woolf famously said that 'human character changed'.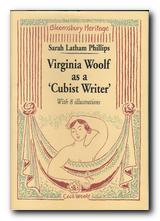 In her study of this subject Sarah Latham Phillips offers a detailed reading of Jacob's Room in the light of these ideas, then of Mrs Dalloway and some of the experimental short stories Woolf produced between 1917 and 1932. She makes a reasonable case for the mould-breaking story 'Kew Gardens' (1918) having been influenced by her sister Vanessa's cubist painting The Conversation (which is reproduced here in full colour).
She also sees similarities between Woolf and cubist painters in their selection of everyday objects from the world around them as the raw materials of their art. For the painters, the newspaper, the glass and wine carafe on a bistro table; for Woolf the hustle and bustle of the London streets, or their exact opposite – the silent ruminations of a woman sitting in an empty room, reflecting upon 'The Mark on the Wall'.
This pamphlet-sized publication comes from the Bloomsbury Heritage series of essays and monographs published by Cecil Woolf in London. These are scholarly productions which range over neglected or hitherto undiscovered topics in Bloomsbury culture – such as unpublished manuscripts, ceramics, gardens, bookbinding, personal reminiscences, painting, houses, and even anti-Semitism. The publisher Cecil Woolf is the nephew of Leonard and Virginia Woolf, and his publications do the Bloomsbury tradition honour.
© Roy Johnson 2014
---
Sarah Latham Phillips, Virginia Woolf as a 'Cubist Writer', London: Cecil Woolf, 2012, pp.43, ISBN 978-1-907286-29-2
---
More on Virginia Woolf
Virginia Woolf – web links
Virginia Woolf – greatest works
Virginia Woolf – criticism
More on the Bloomsbury Group
---