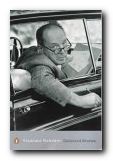 a critical study of Vladimir Nabokov's short stories
In 1995 Dmitri Nabokov (the novelist's son and translator) was preparing a collection of his father's complete short stories for publication by Alfred A.Knopf in New York. He was able to include a number of early works which had not been available previously in English translation. Vladimir Nabokov had considered the idea of issuing his earlier unpublished or uncollected stories during his own lifetime, and he left behind a list of seven tales to which he gave the tongue-in-cheek title Bottom of the Barrel. His son eventually added some items that had been forgotten or lost. In the end, twelve additional stories were prepared for addition to those already available. The additional stories are listed below.
The earliest of these stories were written whilst Nabokov was still a student at Cambridge University, where he completed his education whilst the rest of the Nabokov family went to live in Germany. Many of these tales were published in the Russian émigré newspaper Rul' (The Rudder) which his father had established in 1919 in Berlin – the 'first' centre of Russian emigration (Paris being the second).
I have not tried to insert these extra stories chronologically into the fifty stories already analysed in this online collection, so as not to disrupt their sequence and the continuity of argument in what was written some years ago. Instead, they will appear on this page with links, and on their main home page in alphabetical order.
> The Wood Sprite (1921)
> Russian Spoken Here (1923)
> Sounds (1923)
> Wingstroke (1924)
> Gods (1924)
> The Seaport (1924)
> Revenge (1924)
> Benificence (1924)
> La Veneziana (1924)
> The Dragon (1924)
> The Fight (1925)
> The Razor (1926)
> Solus Rex (1940)
> Ultima Thule (1942)
> Scenes from the Life of a Double Monster (1950)
© Roy Johnson 2012
---
Vladimir Nabokov links

Vladimir Nabokov – life and works

Nabokov's Complete Short Stories – critical analyses

Vladimir Nabokov: an illustrated life
---