Mistress, Muse, Mrs, and Miss
Here's a sample of recommended studies featuring women, marriage, and art. Women not as artists themselves so much as the wives, mistresses, and the muses who have inspired creation. Some have had the misfortune to partner with monsters of egoism, but others have been women brave enough to defy social norms and live successfully in an unconventional manner.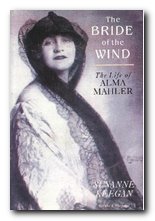 The Bride of the Wind   [full review]
Alma Mahler was an aristocratic beauty from Vienna with an appetite for painters, musicians, and artists. Her first major lover was Gustav Klimt: (that's her portrait in his famous painting The Kiss). She then went on to marry the composer Gustav Mahler, and when Mahler died she started an affair with the painter Oskar Kokoshka. Once again, she inspired one of his most-admired paintings, The Bride of the Wind. Kokoshka wanted to marry her, but she refused, saying "I only marry geniuses". He went off to war and was wounded. Whilst he was convalescing, she married the architect Walter Gropius, who was also serving in the war. When he was summoned from military duty to the birth of their second child, he was disappointed to learn it was not his own, but that of her current lover, the writer Franz Werfel. She stuck with Werfel through the 1920s and 1930s, but when he died after the second world war, she didn't even go to his funeral.


Buy the book at Amazon UK


Buy the book at Amazon US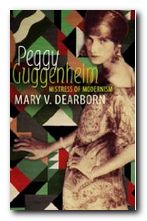 Mistress of Modernism   [full review]
Peggy Guggenheim was a rich American heiress – though she protested that she was from the 'poorer side' of the family. The first of her many husbands introduced her to the bohemian art world of post-war Paris in the 1920s, and from that point onwards she made a habit of collecting modern art (mainly surrealism) and turning her favourite painters into lovers and husbands. Her list of conquests is fairly extensive: Giorgio Joyce (son of James), Yves Tanguay, Roland Penrose, E.L.T.Mesens, Max Ernst, Marcel Duchamp, and even Samuel Beckett. She established the museum in Venice that now bears her name, and ended her days surrounded by gay assistants and being punted round the canals in her own private gondola.


Buy the book at Amazon UK


Buy the book at Amazon US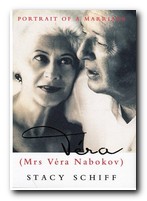 Vera: Mrs Vladimir Nabokov   [full review]
This is a fascinating biography of a woman who devoted the whole of her life to her husband's literary production. Vera Slonim became Vladimir Nabokov's secretary, his editor, proofreader, and literary agent, his driver, protector (she carried a revolver in her handbag) and sometimes she even delivered his lectures. She was just as imperious and aristocratic as he was, but gave herself up entirely to his ambitions. Nevertheless, after suspecting him of dalliance with a young American college girl, she took the precaution of attending all his classes to keep a watchful eye on him.


Buy the book at Amazon UK


Buy the book at Amazon US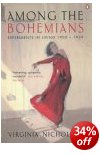 Among the Bohemians   [full review]
The early part of the twentieth century was a period that gave rise to bohemianism in British life. People (and women in particular) kicked off the social restraints that were still hanging round as a shabby residue of the Victorian era. Most of the female figures Virginia Nicholson deals with in this study were artists and writers: Virginia Woolf and her sister Vanessa Bell, painters Dora Carrington (who lived with two men) Nina Hamnet and the illustrator Kathleen Hale (who was secretary and lover to Augustus John) and the society Lady Ottoline Morrell, who had affairs with both her gardener and Bertrand Russell amongst others. These women took up smoking, wore jumble sale clothes, drank to excess, tried drugs, and refused to do any housework. Very politically incorrect role models – but fascinating characters.


Buy the book at Amazon UK


Buy the book at Amazon US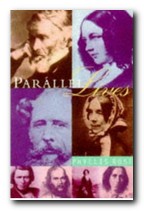 Parallel Lives   [full review]
This has become a classic study of four Victorian marriages. John Ruskin was an authority on art and beauty, but he is famous for never having consummated his marriage. What's not so well known is that when his wife divorced him on these grounds, he offered to prove his virility in the courtroom. John Stuart Mill also had a marriage blanche – but on the principle that men ought to compensate women for the social injustices they suffered. George Eliot on the other hand defied conventions by living with a married man, then when he died married a man twenty years younger than herself. She meanwhile wrote some of the classics of nineteenth century English literature.


Buy the book at Amazon UK


Buy the book at Amazon US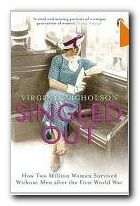 Singled Out   [full review]
By the time the first world war ended, more than three-quarters of a million young British servicemen had lost their lives. The single young women who had 'kept the home fires burning' and waited for them faced an alarming shortage of marriage prospects. And matrimony was the one escape from the shame of spinsterhood offered to women at that time. This searching original study by Virginia Nicolson (grand-daughter of the painter Vanessa Bell) tells the stories of women who were forced to invent careers for themselves. They became teachers, librarians, journalists, doctors, archeologists, members of parliament, and even in one case the curator of London Zoo. Some sacrificed emotional ties to further their careers; others invented new forms of friendships and intimacy.


Buy the book at Amazon UK


Buy the book at Amazon US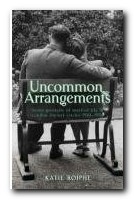 Uncommon Arrangements   [full review]
In an age where one third of marriages end in divorce, it's refreshing to look at alternative arrangements some people have explored. Vanessa Bell (Virginia Woolf's sister) managed to keep her husband Clive Bell, her lover Duncan Grant, and her ex-lover Roger Fry all frioends with each other. Ottoline Morell helped her husband cope when he revealed to her that both his lovers were pregnant at the same time. Una Troubridge remained loyal as lesbian 'wife' to Radcliffe Hall (of The Well of Loneliness fame) whilst Hall (who called herself 'John') enjoyed a nine year long affair with a young Russian girl. Troubridge however took economic revenge when she was made executrix to her 'husband's will. Katie Roiphe's study of radical alternatives to conventional marriage in artistic circles includes a fair amount of emotional suffering and masochism – but it's certainly thought provoking to see what lengths people will go to in enjoying a little sexual self-indulgence.


Buy the book at Amazon UK


Buy the book at Amazon US
© Roy Johnson 2012
---
More on biography
More on literary studies
More on the arts
---