tutorial, commentary, study resources, web links
Black Mischief (1932) is Evelyn Waugh's follow-up to Decline and Fall (1928) and Vile Bodies (1930). It is another sharply satirical novel which features his sceptical view of society between the two world wars. The setting is a fictional African country (Azania), but the main target of his satire is the English upper and ruling class. The novel also introduces the unscrupulous playboy character Basil Seal, who was due to re-appear in some of Waugh's later work, particularly Put Out More Flags< (1942).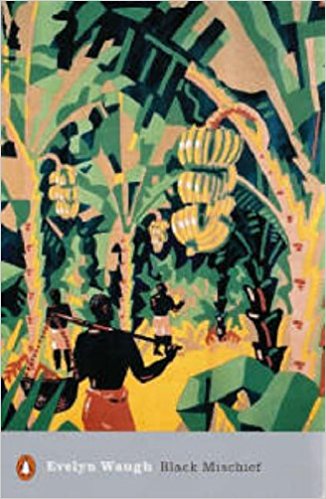 ---
Black Mischief – commentary
Characters
A great deal of the satire and comic drama of the novel is generated via the characters and their absurdly inappropriate attitudes to the situation in which they find themselves. These characters might have become stock figures in the time that has elapsed since they first appeared in 1932, but they are nonetheless funny and in some cases the hapless victims of black comedy.
The Emperor Seth is a typical example, and might also be considered something of a prophetic figure, given the number of African state rulers who have been educated in the public [that is, private] schools and the universities of Europe. He is a graduate of Oxford, from which he has emerged with a naive desire to import modern ideas and culture into a population that is still living in mud huts and that believes in witchcraft.
His proposals to promote birth control are embraced rapturously by the inhabitants of Azania – but only because they completely misunderstand the message. The official propaganda promotes the advantages of small families, but the natives cling to their traditions of unrestrained fertility. Seth prints new banknotes carrying his image – which are worthless – and he plans to introduce compulsory Esperanto as the lingua franca of his country.
Sir Samson Courteney (the 'Envoy Extraordinary') is a wonderful example of everything a English diplomatic panjandrum should not be. He is criminally idle, evades all responsibilities, and at the height of a civil war in the country is reluctant to attend to business because he is playing with a child's rubber toy in his bath.
His wife is terminally naive: amidst war, bloodshed, and public hangings she is only concerned with planting flowers in the legation gardens. Their daughter Prudence is virtually a simpleton who 'practises' romance with the attache William Bland, and then becomes the helpless plaything of Basil Seal. When on return to England her plane is forced into a crash landing, she ends up as the main ingredient in a cannibal's celebration cooking pot.
Basil Seal is an enduringly wonderful creation, a scabrous rogue, and a quite complex character. He has been successful academically at Oxford, but has squandered his inheritance. He is master of several languages, but he is unscrupulous to a degree. He scrounges money from his married lover, steals from his mother, and following his African adventures goes back unchanged to the trivialities of his life in upper-class London. His story is taken up in more detail in the later novel Put Out More Flags (1942).
---
Black Mischief – study resources
Black Mischief – Penguin – Amazon UK
Black Mischief – Penguin – Amazon US
Evelyn Waugh: A Life Revisited – Amazon UK
Evelyn Waugh: Six Novels – Amazon UK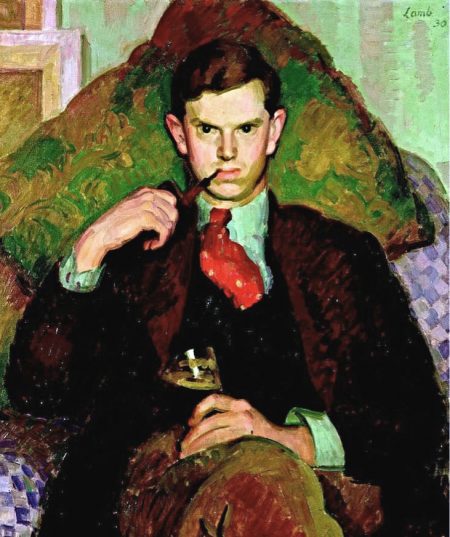 Evelyn Waugh – by Henry Lamb
---
Black Mischief – plot summary
Ch. One Debra Dowa is the capital city of Azania, an imaginary country in Africa. When the founder dies, rule passes to his grandson Seth, who has studied at Oxford University and is keen to adopt modern European culture into a country that is clearly not ready to accept it.
There is a civil war and people are fleeing the country. Cheating, corruption, and lying are rife, and executions by hanging are everyday events. But the victorious army is loyal to Seth, who is mainly concerned with the arrangements for his coronation.
Ch. Two Members of the British Legation concern themselves with trivia, complain about shortages, and are completely out of touch with their surroundings. There is absurd rivalry between foreign embassies.
Ch. Three Basil Seal has given up his position as an English member of parliament and thinks to go out to Azania, but he has no money, having squandered his inheritance. He cadges money from his lover and steals an emerald bracelet from his mother.
Ch. Four Basil arrives in Azania on the day of Seth's inauguration, which is a shambles. The French legation regard him as a spy. There is a grand ball, fuelled by 'Champagne' supplied by the corrupt Armenian trader Youkoumian that he has made the same day.
Ch. Five Basil is appointed Minister of Modernisation with Youkoumian as financial secretary, who imports boots nobody needs. Basil and Youkoumian appoint themselves on to government concessions. A dispute arises with General Connolly over the supply of boots to troops. The boots are eventually issued, but the troops eat them.
Meanwhile Seth pronounces totalitarian edicts on birth control and compulsory physical exercise. Basil is having an affair with Prudence the British ambassador's daughter. Youkoumian is a profiteer on all the 'improvements'. The campaign to promote birth control is completely misunderstood by the natives. Seth prints new currency to enrich himself.
Ch. Six The animal rights campaigner Dame Mildred Porch arrives en route to England. The legation are 'too busy' to deal with her. Meanwhile Prince Achon the rightful heir to the throne is rescued from imprisonment in a monastery. Europeans leave the town, fearing trouble. Dame Mildred and her companion Miss Tan witness the birth control parade and a riot from the roof of their hotel. The oppositionists seize control.
Ch. Seven The English residents and travellers shelter at the legation, which irritates Sir Courtney. Prince Achon is crowned the new emperor, but dies during the ceremony. Basil arrives with camels, disguised as a native trader.
Planes arrive from Aden to rescue the English residents. The plane carrying Prudence is forced to crash land. Basil traces Seth, only to find that he has been killed by rival Boaz, who is himself killed by his own troops. Basil delivers a funeral oration for Seth, after which there is a ceremonial feast. It transpires that they have eaten Prudence.
Ch. Eight Basil returns to London where his friends have lost money after the UK has come off the gold standard. They do not want to hear his traveller's tales. Azania becomes an Anglo-French protectorate and is administered by a new set of incompetents.
---
Black Mischief – main characters
| | |
| --- | --- |
| Emperor Seth | Oxford-educated chieftain |
| Krikor Youkoumian | Armenian store owner and racketeer |
| General Connolly | Irish head of Seth's army |
| Black Bitch | his common law native wife, later 'Duchess of Ukaka' |
| Sir Samson Courteney | British envoy to Azania |
| Prudence Courteney | his simple and romantic daughter |
| William Bland | honorary attache |
| Basil Seal | amoral ex-Oxford adventurer and playboy |
| Mrs Angela Lyne | Basil's lover |
| Dame Mildred Porch | animal rights campaigner |
| Lady Margot Metroland | a rich and glamorous society woman |
© Roy Johnson 2018
---
More on Evelyn Waugh
More on the novella
More on literary studies
More on short stories
---