tutorial, study guide, web links, plot summary
Put Out More Flags (1942) is the sixth novel by Evelyn Waugh. It deals with British society at the outbreak of war in 1939 and features characters who first appeared in his earlier novels Decline and Fall (1928), Vile Bodies (1930), and Black Mischief (1932). Most of the characters are drawn from upper-class society, but there are also satirical portraits from metropolitan Bohemia and the higher echelons of government and publishing. The story line is dominated by the outrageously unscrupulous character Basil Seal – a clever, womanising, ne'er-do-well.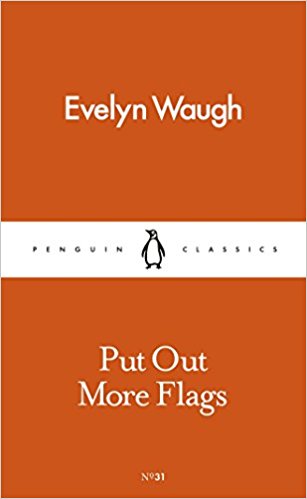 ---
Put Out More Flags – commentary
This is something of a transitional work for Evelyn Waugh, containing much of the comic satire (and the characters) of his earlier novels, but at the same time it looks forward to the more serious elements of Brideshead Revisited (1945) and the Sword of Honour trilogy (1952-1961).
Whilst being largely a farcical comedy, it also contains interesting elements of well-observed social history – particularly the decline of the English upper class, the institutions of government, and ideological movements of the period in what we would now call 'culture wars'.
Social history
The novel opens with Basil Seal's sister, Barbara, trying to maintain a sense of normality in her two-hundred-year old country manor house. The servant class, on which her family's privileged comforts have depended for generations, is melting away in the face of better employment prospects elsewhere. "Edith and Olive and me have talked it over and we want to go and make aeroplanes".
For servants, the pay would be better working in a manufacturing industry, but they would also have more personal liberty and be free of the patronising and authoritarian discipline imposed by traditional upper-class employers. They would be free of the stifling deference required by the landed gentry who for generations had regarded themselves as superior beings.
This well-observed social development is also accompanied by a movement in the opposite direction – the arrival of evacuees from the larger cities. To protect children from the threats of bombing which were expected, it was government policy for them to be sent into the countryside. This social experiment had mixed results. Not all of the evacuees wanted to be there, and not all were suited to rural living. Waugh makes comic plunder of these issues in the scenes where Basil Seal acts as a bogus billeting officer.
Fashionable art
One of Evelyn Waugh's favourite targets for satire in his early novels was contemporary fashions in the arts. In Decline and Fall the society Margot Beste-Chetwynde (later Lady Metroland) destroys a historic Tudor building to put in its place a monstrosity of plate glass, leather walls, and modernist furniture. In Put Out More Flags Waugh aims at the literary world. Much mention is made of the two proletarian poets Parsnip and Pimpernel.
They were great supporters of the republican cause during the Spanish Civil War, but as soon as Britain was under threat they emigrated to the United States. This is a satirical dig at Christopher Isherwood and W.H. Auden who did exactly that in 1939.
Poppet Green is a feather-brained 'artist' who follows whatever the latest fad happens to be – which in 1939 was surrealism. Her subjects are:
bodiless heads, green horses, and violet grass, seaweed, shells, and fungi, neatly executed, conventionally arranged in the manner of Dali. Her work in progress on the easel was an overlarge, accurate but buttercup-coloured head of the Aphrodite of Melos, poised against a background of bull's-eyes and barley sugar.
She is also a communist – of a particularly simple-minded type. When her friend Ambrose Silk goes to work in the Ministry of Information, she immediately labels him a 'fascist' – and even worse, a Trotskyist. She thinks in slogans and labels: this is an accurate account of left wing orthodoxy at the time.
Characterisation
Ambrose Silk is a more subtle and nuanced example of fashion. He is a dandy and an aesthete who has been a communist sympathiser – a fellow traveller in the jargon of the time. Waugh pokes fun at him on two fronts. He is terrified of what might happen to him if the Germans invade Britain – since he is aware that the Nazis have persecuted left sympathisers. And more comically, he is writing a memoir Monument to a Spartan which describes his love for Hans, a German brown shirt fascist youth.
Ambrose eventually morphs into a slightly tragic figure – exiled in Ireland – which rescues him from being a two-dimensional character. The same is true of Angela Lyne, Basil's 'so-called' lover. She is estranged from her husband the dilettante architect Cedric, and at the outset of the novel she is returning from the south of France where she has been fruitlessly waiting for Basil.
She closes her grand London home and moves into a top floor flat in Grosvenor Square. There, she gradually becomes a sad and lonely alcoholic. She maintains a veneer of respectability on her rare appearances in public – only ever drinking Vichy water. Alone, she slumps into an oblivion of vodka and Calvados cocktails. There are some truly touching scenes as this rich and fashionable society woman slowly degenerates and loses touch with reality.
So, amidst all the absurdity and tomfoolery in the rest of the novel, Waugh displays a mature touch as a writer in creating characters who change in time, who are not two-dimensional or vehicles for fun. Another example is Alastair Digby-Vaine Trumpington. He first appeared in the very opening scene of Decline and Fall, a Hooray Henry at Oxford, and he has lived a very conventional upper-class life ever since. Very rich, slightly naive, yet maintaining a 'schoolboy' sense of honour:
For him there was no 'they'. England was at war; he, Alastair Trumpington was at war. It was not the business of any politician to tell him when or how he should fight. But he could not put this into words
And true to his principles, whilst the other characters are all trying to scuttle into cosy government sinecures or soft commissions as officers, Alastair volunteers to join the ranks. He endures the miseries of basic training without complaint (although he makes sure his wife Sonia has booked a comfortable nearby hotel for weekends). And in the end he is volunteering for Special Services – though it does seem to be the Boy's Own Adventure prospects which appeal to him. But he is a character who develops, and he obviously represents what Waugh sees as the remaining strand of decency in upper-class values.
---
Put Out More Flags – study resources
Put Out More Flags – Penguin – Amazon UK
Put Out More Flags – Penguin – Amazon US
Six novels by Evelyn Waugh – Amazon UK
Evelyn Waugh: A Life Revisited – Amazon UK
Evelyn Waugh: The Height of his Powers – essay
Books of the Times: Put Out More Flags – essay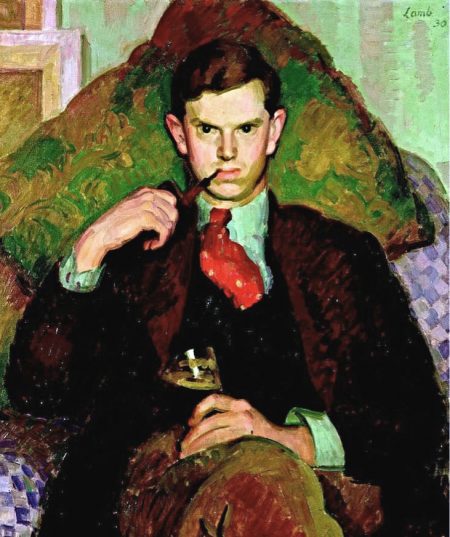 Evelyn Waugh – by Henry Lamb
---
Put Out More Flags – plot summary
Chapter I. At the outbreak of the Second World War Barbara Sothill's country manor at Malfrey loses staff who prefer to work in factories. The estate is surrounded by evacuees from Birmingham. Lady Cynthia Seal asks her friend Sir Joseph Mainwaring to find a position for her wayward son. Angela Lyne returns in disappointment from the south of France, having been let down by her lover Basil Seal. In Fitzrovia, mixing with arty bohemians, Basil is living in a dissolute manner, and he bungles the army interview that is arranged for him.
Ambrose Silk visits the Ministry of Information where memos are exchanged regulating the display of personal effects in government offices. As an aesthete and a well-known left-wing sympathiser, he is concerned about his safety in the event of a German invasion. Basil is in the same building, promoting the idea of annexing Liberia.
Chapter II. Basil goes to stay with his sister at Malfrey, where three delinquent evacuee children are forced onto them. Basil pretends to be a billeting officer and dumps the children onto a retired couple in their beautiful old home. When a few days later they are at their wits end, Basil charges the couple money to take the children elsewhere.
Alastair Trumpington endures the petty bureaucracy of life in the ranks. Ambrose Silk is working at the Ministry of Information, worried that even fellow-travellers might be at risk. Angela Lyne has shut down her home and is enduring a lonely existence in a Grosvenor Square flat. Alastair Trumpington is involved in absurd training exercises.
Chapter III. Basil sells the three delinquent evacuee children to an adjacent billeting officer and returns to London. He bluffs his way into the War Office and is taken on as an intelligence agent by an old acquaintance. Lord Peter Pastmaster is trying out a girl with a view to marriage. They meet a bemused and drunk Angela Lyne at a cinema. Basil consoles her.
Cedric Lyne goes to see his estranged wife before his departure for Norway. Basil plans to reveal Poppet and Ambrose as communist sympathisers. Cedric is met by a shambolic embarkation of troops at the port.
Ambrose writes about his lost love for Hans, a German brown shirt youth in Mr Bentleys new magazine The Ivory Tower. Basil persuades Ambrose to change his memoir, making it more pro-German. He then reports him to the War Office as a Nazi sympathiser.
When warrants are issued for arrests Basil helps Ambrose escape to Ireland and takes over his Bloomsbury flat – to which he invites Susie, secretary to his boss. The police are only able to arrest Mr Rampole, the magazine publisher. Cedric Lyne is in a disoriented state on the battlefield and is killed in an attack.
Epilogue
Sir Joseph Mainwaring believes all the myths and rumours circulating about the war. Alastair is posted to coastal defence and wishes for more excitement. Rampole reads 'light fiction' in prison, and Basil joins a special service unit.
---
Put Out More Flags – main characters
| | |
| --- | --- |
| Basil Seal | a disinherited playboy, womaniser, and confidence man |
| Lady Cynthia Seal | his widowed mother |
| Sir Joseph Mainwaring | a government minister and confidant to Lady Seal |
| Barbara Sothill | Basil's sister |
| Mrs Angela Lyne | Basil's lover, daughter of a millionaire |
| Cedric Lyne | her estranged husband, a dilettante architect |
| Ambrose Silk | left-wing gay Jewish aesthete |
| Alastair Trumpington | an aristocratic bohemian |
| Sonia Trumpington | his wife |
| Poppet Green | a surrealist painter and 'communist' |
© Roy Johnson 2018
---
More on Evelyn Waugh
More on the novella
More on literary studies
More on short stories
---