Bloomsbury juvenillia and journalism
This gem of Bloomsbury juvenilia was hidden for years in the British Library's Department of Manuscripts. It comes to us now in a beautiful paperback edition with full scholarly notes and some contemporary photographs. Hyde Park Gate News is a compilation of family 'newspapers' written by Virginia Woolf (then Virginia Stephen) with her sister Vanessa and brother Thoby. What makes it of interest for Woolf scholars and readers is that it deals with the small events of domestic life out of which she was later to make so much imaginative use.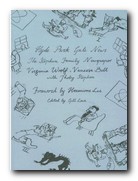 It's a mixture of letters, stories, advice columns, answers to questions, and reports on family events – all retailed in a satirical and parodic fashion. The style is modelled on Tit Bits, which had been launched in 1881 and established a weekly circulation of around 500,000. The children satirise their parents, each other, and the visitors they received at the gloomy Victorian house at Hyde Park Gate. The entries reveal an amazingly precocious appreciation of literary genre, writing tone, rhetorical figures, and language in general. They are particularly good at ironic understatement and anti-climax:
Mr. Gerald Duckworth took a small walk this morning in Kensington Gardens. His young sisters and brothers accompanied him. He returned we hope without any fatigue.
It is interesting to note the seeds of material such as this from Vol II, No.35, Monday 12 September, 1892, reporting on their holiday in Cornwall, which would become a central feature in Woolf's novel three decades later:
On Saturday morning Master Hilary Hunt and Master Basil Smith came up to Talland House and asked Master Thoby and Miss Virginia Stephen to accompany them to the lighthouse as Freeman the boatman said there was a perfect tide and wind for going there. Master Adrian Stephen was much disappointed at not being allowed to go.
The issues of the newspaper are charmingly reproduced in their original double-column format, complete with their original mis-spellings and hand-drawn illustrations. The whole collection is also supplemented by some facsimile reproductions of the originals, a collection of early family photographs, and explanatory biographies on the people mentioned.
Following a three year gap, the issues for 1895 take a more serious and accomplished tone (though Virginia was then still only thirteen years old). There is a satire ('Miss Smith') of a women's movement figure; and the sort of philosophic meditations for which Woolf became famous in her later works:
I dreampt one night that I was God…I created several worlds in order to see which one was best…The people lived as one great family. But were they real? And what was I? Why did I exist? Who made me and who made my maker? Was everything a dream, but who were the dreamers?
And the last entry in the final issue of April 1895 is almost a pre-echo of the experimental fictions she was to produce many years later – and an amazingly composed piece of writing in its own right. We get an impression not only of perceptive self-portraiture but of an artistic bird which is poised, about to take flight:
Scene – a bare room, and on a black box sits a lank female, her fingers clutch her pen, which she dips from time to time in her ink pot and then absently rubs upon her dress. She is looking out of the open window. A church rears itself in the distance, a gaunt poplar waves its arms in the evening breeze. The horizon at the west is composed of a flat – on the south a ledge of chimney pots from which wreaths of smoke rise monotonously, on the north the gloomy outlines of bleak Park trees rise.
This is an elegantly produced volume from newcomers Hesperus Press which any fan of Woolf or Bloomsbury will be glad to add to their collection.
© Roy Johnson 2005

Buy the book at Amazon UK

Buy the book at Amazon US
---
Virginia Woolf, Vanessa Bell, Thoby Stephen (eds), Hyde Park Gate News, London: Hesperus Press, 2005, pp.240, ISBN: 1843911418
---
More on Virginia Woolf
Virginia Woolf – web links
Virginia Woolf – greatest works
Virginia Woolf – criticism
More on the Bloomsbury Group
---