the film of a novel about a book
When it first appeared, Stephen Daldry's film of Michael Cunningham's best-selling novel was subject to a number of niggling criticisms which made me apprehensive when I sat down to watch it. But I needn't have worried. Every doubt was completely swept away by the overwhelming visual and emotional power of the film. For those who don't know, The Hours is inspired by Cunningham's deep appreciation of Virginia Woolf, and the film itself is split into three apparently unconnected stories.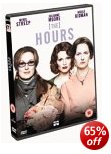 The first of these is a fictionalised account of Virginia Woolf's daily life working alongside her husband Leonard as she writes Mrs Dalloway, the story of a society hostess who is preparing to throw a party. We see her erratic behaviour and his patient attempts to deal with it; her addiction to cigarettes; a good account of her creativity; and eventually her suicide when she fills her pockets with stones and drowns herself in the river Ouse.
This narrative is intercut with the two others, the first of which is a John Cheever-like study of family life in a prosperous middle-class Los Angeles suburb in the 1950s. At the outset the only apparent connection is that the wife Laura Brown – superbly acted by Julianne Moore – is reading a copy of Mrs Dalloway. She bakes a cake for her husband's birthday and plans his party.
However, it is made quite clear to us that she is deeply unhappy, and when she leaves her young son with a babysitter and checks into a hotel with a bottle of sleeping pills, it is seems she is going to commit suicide. But at the last minute she changes her mind. However, that's not the end of the story.
In the third narrative, the connections are more obvious. The setting is contemporary New York, where an arty lesbian hostess called Clarissa (played by Meryl Streep) is arranging a party. This is to celebrate the successful publication of a book of poems by her close friend and ex-lover Richard who is dying of AIDS. He cannot enjoy the prospect of celebration because he knows what life has in store for him.
Clarissa goes to try to persuade him to come to the party, but he rejects her kindness, and as he starts hovering around the open window of his skyscraper apartment, readers of Mrs Dalloway know what is likely to follow.
These are just some of the many thematic links between the three narratives. Each one has its own tone, but they hang together beautifully, and the climax of the film is brought about by an amazing blending of all three into one.
As a drama it is wonderfully constructed, and as a film beautifully photographed. Despite the reservations of some critics, I thought the acting superb. Nicole Kidman generates a very convincing portrait of the nervy, clever bluestocking Woolf, and I was glad to see that there was little attempt to glamourise her.
Julianne Moore simply radiates the amazing tension which exists between her outer serenity and inner turmoil. Meryl Streep could be accused of over-egging her role as Clarissa, but not enough to knock the film off track. Ed Harris is very good as an anguished Richard, and there is a unusually persuasive portrait of Lara's young son by Jack Rovello which will tug at your heart strings.
The film quite rightly gathered a whole swathe of awards; screenplay is by David Hare; and the accompanying music is by Philip Glass.
© Roy Johnson 2004
---
Stephen Daldry, The Hours, 2003
---
More on Virginia Woolf
Virginia Woolf – web links
Virginia Woolf – greatest works
Virginia Woolf – criticism
More on the Bloomsbury Group
---