Virginia Woolf's Memoirs of Family and Friends
This is a new collection of largely unfamiliar memoirs, edited by the Bloomsbury scholar S.R.Rosenbaum (who also edited The Bloomsbury Group). It includes the first ever publication of Woolf's long sought-after and newly recovered talk on her role in the famous (and infamously silly) Dreadnought Hoax which she delivered to Rodmell Women's Institute in 19940. The Platform of Time collection also includes the complete version of her memoir of her nephew Julian Bell, who was killed in the Spanish Civil War in 1937.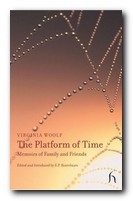 The Bloomsbury Group were very fond of writing memoirs. They even had a Memoir Club where members read out their compositions for each others' amusement. And Virginia Woolf's family was also much given to written records of their relationships. Her own father Sir Leslie Stephen compiled a photograph albumn and wrote an epistolary memoir to commemorate the death of his wife Julia in 1895. It's now available as The Mausoleum Book.
The Bloomsberries also wrote sketches of their relatives and friends, on some occasions to reinforce the friendship network, and on others to provide an obituary for the Times. There are examples of both in this collection: two very warm sketches Woolf wrote in memory of her father, recounting the cheerful way he read to his children, taught them each morning, and played with them sailing toy boats in Kensington Gardens. These recollections counteract the rather severe portraits of Leslie Stephen given elsewhere
Many of Woolf's memoirs ooze with the sort of confident generalisations of the post-Victorian era celebrating itself in the coterie of what they would call the national press, but which was in fact a tiny minority, talking to itself. Speaking of her aunt, the famous Victorian photographer Julia Cameron, Woolf writes:
Mrs Cameron had a gift for ardent speech and picturesque behaviour which has impressed itself on the calm pages of Victorian biography. But it was from her mother, presumably, that she inherited her love of beauty and her distaste for the cold and formal conventions of English society.
There is quite a sympathetic portrait of Ottoline Morell, who during her own lifetime had to endure the affront of writers who accepted her generous hospitality at Garsington and Bedford Square, then went home to write spitefully satirical accounts of her.
The collection also includes what are called 'fantasy memoirs' – fanciful inventions based loosely on the lives of Saxon Sydney Turner and John Maynard Keynes. These are witty, allusive sketches which explore the outer limits of biography – something she was to bring to a stunning climax in Orlando, her meditation the life of her then lover Vita Sackville West.
In fact many of the sketches reveal more about the author than they do about their ostensible subject. For instance, you would never guess from her encomium to the celebrated war poet and 'hero' Rupert Brooke that he in fact never saw military action, and died of a mosquito bite.
One of the longest pieces is her account of attending a meeting of the Women's Co-Operative Guild, along with her husband Leonard Woolf. Life as We Have Known It is a thoughtful and reflective meditation on the women of the co-operative movement in the 1930's, a very practical piece of feminist sympathising, and a paean for social-democratic values which foreshadows the arguments she was to develop in Three Guineas a few years later.
This is a useful collection from the Hesperus Press, which produces reprints and updated compilations which are given a scholarly editing and are elegantly designed and printed. If you don't have these pieces in other forms, this is an excellent edition.
© Roy Johnson 2008

Buy the book at Amazon UK

Buy the book at Amazon US
---
Virginia Woolf, The Platform of Time: Memoirs of Family and Friends, London: Hesperus, 2008, pp.262, ISBN: 1843917114
---
More on Virginia Woolf
Virginia Woolf – web links
Virginia Woolf – greatest works
Virginia Woolf – criticism
More on the Bloomsbury Group
---