tutorial, study guide, web links, and further reading
Ursule Mirouet was first published 1841, and forms part of Scenes of Provincial Life in the grand scheme of Balzac's Comedie Humaine. The story is set in Nemours, just south of Paris in the years 1829-1837. As is common in many of the novels that make up Balzac's gigantic picture of French society, it concentrates heavily on money, inheritance, property, and the fight between virtue and greed.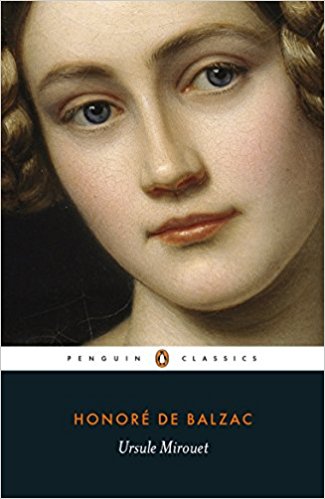 It's worth noting that the story also includes elements of mystery and crime. In the years that followed Ursule Mirouet there was a vogue for such stories in the English literary world – known as 'the sensation novel'. These were narratives featuring events designed to shock the reader. In this sense Balzac was the father to novelists such as Charles Dickens, Wilkie Collins, Mary Elizabeth Braddon, and even later writers such as Thomas Hardy who included elements of mystery and crime in their work.
---
Ursule Mirouet – commentary
Choosing a text
During his short life Balzac wrote a prodigious amount – novels, stories, novellas, journalism, and even plays. His work appeared in newspapers, magazines, and as individual printed books. Because he is so famous as a classic novelist, his works have been translated many times, and they are available in any number of formats.
One thing is worth noting in making your choice of text. Balzac broke up the overflowing torrent of his original narratives into separate chapters with sub-titles. These individual headings were particularly suitable for newspapers and magazines, where unbroken blocks of text do not look attractive. But in various editions of his work produced later in book form, these sub-titles were sometimes omitted in order to save space.
This apparently innocent change can be a sad loss – for two reasons. The first is that the novels become more difficult to read without these chapter breaks. The second is that Balzac's choice of sub-titles often present a form of satirical running commentary on the content of the events he describes. They are both an aid to interpretation and a source of amusement. They also reveal the structure of the work, which is not always apparent when the story is presented as one continuous block of text.
The Comedie Humaine
Balzac produced most of his works at fever pitch, racing to stay ahead of printing deadlines. This sort of compositional approach is not conducive to careful plotting and structure. His narratives are often erratic, backtracking chronologically on the story to fill in necessary details.
But at the same time Balzac certainly had in mind a grand design. There are in the whole Comedie Humaine more than two thousand named characters – and examples of two of them make brief appearances in Ursule Mirouet. Some have first been introduced in an earlier novel, others are due to become major figures in a later novel.
For instance the Abbe Chaperon's frugal domestic household expenses are described as 'more meticulous than Gobseck's with his – if indeed that notorious Jew ever did employ a housemaid'. Gobseck is the central character in the 1830 novella that bears his name and is a notorious miser. Balzac throws in this allusion (plus a small instance of casual racism) as if confident that readers were familiar with his entire works.
Similarly, when Minoret wishes to develop Ursule's skills 'he now had an able music teacher coming down once a week from Paris, an old German named Schmucke'. This character Wilhelme Schmucke was to become one of the principals in Cousin Pons which was not published until five years later in 1846 – which indicates that Balzac certainly had this world of characters and events in mind.
In fact both Schmucke and the eponymous Cousin Pons are musicians in an orchestra at a theatre run by the impresario Felix Gaudissart, who was first introduced in a short story of 1833, The Illustrious Gaudissart.
When Savinien de Portedures is in Paris, his advising friends include Eugene de Rastignac, and Lucien de Rubempre – both of whom have appeared as major characters in earlier novels and would continue to rise socially in works that followed.
There is no need for a first-time reader to have knowledge of these secondary characters. Ursule Mouriet stands independently as a work in its own right – but a knowledge of their existence in other novels reinforces Balzac's claim to be creating an in-depth world of French society. It might in the end be a work which he never managed to complete – but the attempt is impressive.
The Napoleonic Code
There is one feature in the background to events of this novel which may not be immediately apparent to readers unfamiliar with French society and its laws. Following the revolution of 1793 there was a radical overhauling of the legal system – which became known as the Napoleonic Code. This included a law specifying that property and capital must be inherited solely via family connections.
All real estate in France is governed by succession laws dating from 1804, which include compulsory inheritance provisions. Children are 'protected heirs' and cannot be disinherited. They receive a certain proportion of the estate, depending on their number and on the existence of a surviving spouse. It's also worth noting that in the case of people who die without heirs, their property is swallowed up by the French government.
Today, if you are English with a million pounds in the bank, you can leave this money to whomever you wish by making a will. You can nominate as legatees your children, your friends, or even the Battersea Dogs Home. But in France, your money (and property) can only be willed to your family. This is an over-simplification of a very complex system.
Hence the significance of this law in the plot of Ursule Mirouet. Dr Minoret is a widower whose children have died in infancy. Ursule is his niece, but she is his illegitimate protected god-daughter – not a natural heir. His nearest legitimate relatives are remote members of extended family networks, whom he avoids socially. He has helped them all financially, but they are rapaciously anticipating his death and their inheritance of his wealth – to which they know they are entitled by law.
Much of the drama in the novel arises from their vulgar greediness, and their fear that Minoret might in some way outsmart them, depriving them of money they already think of as theirs, even before his demise. They are also frustrated by the fact that they do not know accurately the extent of his wealth – which they both over and under-estimate.
The weaknesses
There are three weaknesses in the plot of the novel which undermine its serious claims to greatness. The first is Balzac's idiosyncratic belief in supernatural phenomena. He was well known for proselytising on behalf of the Catholic church and French royalty – but he also had a gullible streak which led him to give credence to mystic events.
The first instance of this ocurrs when the rational Encyclopedist Dr Minoret is suddenly converted to religious belief. He is persuaded by his old friend Bouvard's demonstration of 'Magnetism' to overthrow the scientific basis of his beliefs in favour of an immediate conversion to Catholicism.
There is no demonstrated or argued connection between somebody's apparently telepathic knowledge of events taking place elsewhere and a sudden religious conversion. Yet Balzac goes out of his way with a lengthy 'digression' to persuade us that this is reasonable. This interpolated lecture is itself something of an affront to literary cohesion and realistic credibility.
The use of supernatural-based plotting is then repeated when Ursule has nocturnal revelations of the exact circumstances of the theft of her guardian's final will and instructions. These mystical plot devices are difficult to accept in the context of a narrative which is otherwise fundamentally based in social realism.
Balzac, as a former operative in a lawyer's office, well knew the intricacies of law relating to wills, property, inheritance, and the Napoleonic Code that had sought to redress injustices perpetrated by aristocrats against the middle class. These form the legal niceties that make the novel a fascinating study in power, class, money, and legal rulings.
But the central dramatic incident of the novel is based upon a naive improbability. The sophisticated and intelligent doctor writes a will and last testament, making financial provision for both Ursule and her intended husband Savinien. This will is stolen and destroyed by the villainous heir Minoret.
In a novel bristling with lawyers, notaries, magistrates, and justices, it is virtually unthinkable that someone like Dr Minoret would not lodge a copy of such a will and statement of intentions with legal representatives. The idea of a single handwritten note tucked away in a bureau drawer is not really credible.
Not only that, but the details of the doctor's government scrips are finally discovered in the most improbable manner. We are asked to believe that not only is the secret of the original theft revealed in a dream, but that the Abbe Chaperon then detects the imprint of three serial numbers that have been transferred to the pages of an old book. This permits both the money and its rightful destined owner to be traced via government records. We are offered plotting of a kind that belongs to the lower levels of serial narratives – or what we would now call 'soap operas'.
There are similar weaknesses in the dramatic reversals of character that litter the final pages of the novel. For no persuasive reasons, some characters suddenly reform themselves. Minoret confesses his crime – and becomes a changed man. The snake-like Goupil who has spent the entire novel menacing Ursule suddenly repents of his crimes. Mme de Portenduere suddenly abandons her aristocratic disapproval when her son wishes to marry the daughter of an illegitimate band-master.
And if these improbable voltes face were not enough, there are also a couple of grand guinol flourishes to bring the narrative to its close. The unfortunate Desire Minoret, for no reason connected to the plot, is involved in a coaching accident, has both legs amputated, and dies as a result of the operation. Meanwhile his mother is so shocked by the event that she becomes deranged, it put into an insane asylum by her husband, where she dies shortly afterwards.
This is Balzac packing out La Comedie Humaine with 'events' at the expense of producing a well crafted novel. But it has to be said that his primary intent was the creation of a whole multi-faceted fictional world, and we are forced to accept his greatness where it emerged – along with these occasional blemishes.
---
Ursule Mirouet – study resouces

Ursule Mirouet – Penguin Classics – Amazon UK

Ursule Mirouet – Penguin Classics – Amazon US

Collected Works of Balzac – Kindle – Amazon UK

Collected Works of Balzac – Kindle – Amazon US

Selected Stories – NYRB – Amazon UK

Selected Stories – NYRB – Amazon US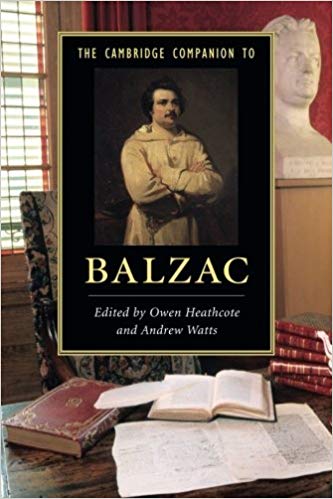 ---
Ursule Miroet – plot synopsis
PART ONE
1. The Heirs are Alarmed
On a Sunday in Nemours in 1830, rich Dr Minoret goes to church – which is unusual. His relatives speculate about his intentions and worry about the possible effect on their inheritances.
2. The Uncle Worth a Fortune
Dr Minoret rises to fame during the revolution and then retires to Nemours. He moves into a refurbished house with Ursule, a baby girl. He acts with financial generosity towards his relatives, but keeps them at bay.
3. The Doctor's Friends
The doctor befriends Abbe Chaperon, the virtuous and frugal parish priest and M. de Jordy an ex-army captain with a sad background. They form a quartet of friendship with the magistrate M. Bongrand. The doctor prefers their company to that of his relatives. His family regard him as a miser, and they speculate about the extent of his wealth.
4. Zelie
A relative Desire Minoret arrives by coach and notices Ursule as she emerges from church with her godfather the doctor. The relatives are surprised by his church attendance, and are obsessed by the potential repercussions on their inheritances.
5. Ursule
Dr Minoret becomes godfather to Ursule via a remote family connection. When his own children die, he raises Ursule as his own daughter. She is educated by his friends. When the captain dies he leaves her a small inheritance. She becomes a devout Catholic.
6. A Brief Digression on Magnetism
Dr Minoret is summoned to Paris by his old friend Bouvard to witness a demonstration of 'magnetism' given by a follower of Swedenborg. A hypnotised 'medium' provides a detailed account of Minoret's house and Ursule's growing love for a neighbour Savinien Portenduere.
7. The Double Conversion
Dr Minoret returns to Paris for further proof – and is given a detailed account of Ursule's bedtime preparations. He drives back to Nemours and next day checks that they were indeed accurate. The whole of his scientific belief system is undermined; and he becomes a religious believer.
8. A Double Consultation
The notary Dionis explains to the family heirs that Ursule is the illegitimate niece of Dr Minoret and cannot inherit his money – unless he marries her. The heirs explore several self-interested alternatives. Dr Minoret and Bongrand discuss the same issue.
9. The First Confession of a Secret
Dionis visits Dr Minoret, who rejects the heirs' plans. He then explains to Ursule why Savinien would not be a suitable match for her. Savinien is currently in a debtor's prison. She has fallen in love with him at a distance.
10. The Portendueres
Savinien de Portendures goes to Paris, spends all his money in six months, and ends in a debtors' prison. His friends advise him to return home and marry into money. His mother's appeals for financial help are refused by her relatives. Abbe Chaperon advises her to make a request to her neighbour Dr Minoret.
11. Savinien is Rescued
Dr Minoret agrees to rescue Savinien from his debts and the prison. He goes to Paris with Ursule and raises the money. Savinien returns to Nemours and promises to reform himself
PART TWO
12. The Lovers Meet with Obstacles
Savinien's mother snobbishly disapproves of Ursule, and resents having to borrow money from Dr Minoret, whom she regards as her social inferior. The doctor thinks it safer for the two families not to socialise under these circumstances.
13. A Betrothal of Hearts
Ursule and Savinien exchange letters and pledge their love. He joins the navy as the first step in his moral recovery. Ursule and the doctor travel to Toulon to see him embark for Algeria.
14. Ursule Becomes an Orphan Again
In 1830 the heirs gain more political power. The doctor spends money on luxuries for Ursule. Savinien distinguishes himself at the capture of Algiers. By 1834 the doctor is dying. The heirs express their greed openly by his bedside. He has prepared a will and a written statement of intent to protect Ursule, but the documents are stolen by his relative the postmaster
15. The Doctor's Will
Dr Minoret left separate provisions fo both Ursule and Savinien, but the postmaster burns the documents. On the day of the doctor's death the heirs immediately seize all the doctor's property and expel Ursule from her home.
16. Two People at Loggerheads
Ursule is forced to buy a small house in Nemours. The heirs sue Mme de Portenduere for the money she owed to Dr Minouet. Postmaster Minoret buys and lives in the doctor's old house. The heirs wonder where all the doctor's money has gone. Minoret wants to drive Ursule out of Nemours to ease his conscience.
17. The Terribly Malicious Tricks that Can be Played in the Country
Goupil sends anonymous poisonous pen letters to Ursule and Savinien's mother. Mme de Portenduere wants her son to marry a fellow aristocrat. Savinien refuses to marry anyone other than Ursule. Goupil threatens Ursule and arranges menacing recitals of music outside her house.
18. Two Acts of Revenge
Mme de Portenduere suddenly decides to forgive and accept Ursule, whilst Goupil just as unexpectedly confesses his persecution of Ursule. But he claims he was acting for Minoret. Savinien threatens Minoret and his son with a duel.
19. Ghostly Apparitions
Ursule has a dream which reveals all the details of Minoret's theft. She reports this to the Abbe Chaperon, who then challenges Minoret with the details. Minoret denies everything. There is a second apparition, which has the same consequences
20. The Duel
Savinien arranges the duel with Desire Minoret, who confesses the theft of the doctor's will to his mother, who tries to persuade Ursule to marry Desire.
21. How Difficult it is to Steal What Seems Easiest
Abbe Chaperon finds the imprints of the doctor's government scrips in an old library book – and the theft is exposed. The money is restored and the duel called off. Minoret becomes a reformed man. Desire is in a coaching accident and has both legs amputated, then dies. Zelie Minoret goes mad and is placed in an asylum, where she dies. Ursule and Savinien are married then move to live in Paris.
---
Ursule Mirouet – characters
| | |
| --- | --- |
| M. Minoret | postmaster at Nemours |
| Zélie | the postmaster's acerbic wife |
| Desire Minoret | his self-indulgent son, a law graduate |
| Dr Denis Minoret | a rich retired former Encyclopedist |
| Goupil | a dissolute clerk, friend to Desire |
| Abbe Chaperon | parish priest, friend of Dr Minoret |
| Dionis | a local notary |
| Ursule Mirouet | niece and ward of Dr Minoret |
| Mme de Portenduere | a proud and aristocratic widow |
| Savinien de Portenduere | her son, a reformed rake |
© Roy Johnson 2017
---
More on literature
More on the novella
More on literary studies
More on short stories
---