a sketch of her life – an appreciation of the novels
Virginia Woolf An Introduction is yet another study that combines a biography with comments on her major writing. There have been several biographies of Virginia Woolf in the last few decades. John Lehmann's illustrated memoir is still very popular. Quentin Bell's official biography is detailed and scholarly but in common with other accounts by Bloomsbury insiders (he was her nephew) it contains sins of omission to protect relatives and friends. Lyndall Gordon's A Writer's Life bases much of its account of Woolf's life on her fiction, supposing much of it to be thinly veiled autobiography. The weaknesses in these productions mean that Hermione Lee's more serious recent study is now regarded as the 'standard' biography.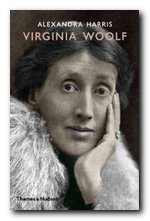 So what does a new account by Alexandra Harris have to offer – published as it is very quickly on the heels of her award-winning Romantc Moderns? Well – it turns out not to be a biography in the conventional sense, but an introduction to Woolf and her work in general, compiled from readings of her novels, diaries, and letters, strung together in a chronological sequence.
The first few chapters deal with life in the Stephen household at Hyde Park Gate and Talland House, but once Woolf starts writing it is the prodigious flow of her creative work which forms the spine of the narrative – from her first book reviews and the early major task of The Voyage Out through to the last flourish of Between the Acts.
For readers new to Woolf it performs the useful function of emphasising the amazing scope of her work – for she was expressive and accomplished in all the literary genres with which she engaged. Her diaries are as interesting as Kafka's; she excelled in the novel; her short stories are amongst the most advanced experiments in modern literature (with the possible exception of some by Nadine Gordimer); her essays and literary criticism will stand comparison with the work of any professional literary critic; and even her letters are worth reading – though she tends to recycle the same anecdotes to multiple correspondents.
As an introduction to Woolf's major novels, it's very successful. Harris's impassioned account of Orlando is guaranteed to make anyone who has not read the novel dash out and buy it immediately. But at times she becomes so caught up with giving an account of the novels that her commentary becomes an act of interpretation. She switches from biography to literary criticism.
One minute for instance she might be dealing with well known details of the biography, and then at the merest mention of the book Woolf is currently writing, the narrative slides off into plot summary and a discussion of its characters as if they inhabited the same world. This will probably seem very attractive to general readers, encouraging them to engage with the fiction. But it's likely to irritate any serious Woolf enthusiasts.
The pace is not always even. There are occasional lurches forward in chronology which are quite disconcerting. Whilst discussing the early writing in 1910, she suddenly invokes Rhoda in The Waves, which wasn't written until twenty-one years later.
Quite surprisingly, there is very little about the lifestyle bohemianism of the Bloomsbury Group, even when it is directly relevant. Her descriptions of Virginia's relationship with Leonard Woolf give the impression of a blissfully idyllic marriage. You wouldn't guess from her account that it was virtually a mariage blanc. All the rich gossip and fruity anecdotes are available elsewhere of course, but the picture of Bloomsbury life that comes across is distinctly pasteurised.
One of the most interesting chapters is her last, in which she traces the development of Woolf's posthumous reputation. Leonard Woolf, acting as executor and publisher at the Hogarth Press, slowly released the letters, diaries, and essays (only recently completed) in well edited scholarly editions. And as he did so, Woolf's critical stock rose accordingly to the point where she is now regarded as one of the great modernists of the early twentieth century.

Buy the book at Amazon UK

Buy the book at Amazon US
© Roy Johnson 2011
---
Alexandra Harris, Virginia Woolf, London: Thames and Hudson, 2011, pp., ISBN: 0500515921
---
More on Virginia Woolf
Virginia Woolf – web links
Virginia Woolf – greatest works
Virginia Woolf – criticism
More on the Bloomsbury Group
---