artist, engraver, typographist, stone carver, and more
Eric Gill (1882-1930) was a sculptor, a typographist, a wood engraver, and an influential artist-craftsman in the early years of the twentieth century. He is probably best known for his typeface Gill Sans which became ubiquitous from the 1920s onwards, but he was also famous in his own day for his radical views and eccentric appearance.. He took a highly moralistic, quasi- religious attitude to his work in art, but he has become the subject of bemused attention in recent years because of revelations about bizarre practices in his sexual life.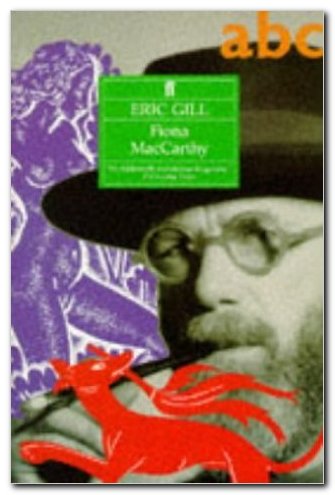 Early years
He was born in Brighton in 1882, the second child of thirteen to a clergyman with a family background of missionary 'work' in the South Seas. The cultural atmosphere of Gill's childhood was a combination of evangelical fervour and what became known as Muscular Christianity. He had a fairly undistinguished education, but he did meet a fellow day boy at school who introduced him to woodworking tools.
The even tenor of his youth was interrupted by the death of his favourite sister Cicely and his father's conversion to Anglicanism and the family's subsequent move to Chichester. More importantly for his future development, he discovered what he thought of as 'the mystical power of the phallus'.
He enrolled at Chichester Art School and started drawing buildings in the town. The cathedral there played a big part in his personal life. It also introduced him to his first serious love affair – with Ethel Moore, the sacristan's daughter whom he later married. But in 1900 he felt he had outgrown the town and set off to London to find his profession.
Apprenticeship
He entered a practice of church architects as a trainee, but his real intellectual development took flight when he enrolled at the Central School of Arts and Crafts and he encountered a world of radicalism, William Morris-inspired handicrafts, and the company of Edward Johnston, the calligraphist with whom he was to produce Gill Sans.
In London he also had his first sexual encounters (with prostitutes) which he characteristically related in detail to his girlfriend Ethel. By the time he was twenty-one he was sharing Johnston's lodgings at Lincoln's Inn Fields and participating in late night bachelor discussions on Truth, Religious Faith, and English hand-lettering. Almost by accident, he established a reputation as someone who could cut letters in stone, and commissions came to him regularly from this time onwards.
He obtained work contracts from Healds and W.H.Smith, the designs for the latter establishing what we would now call a corporate identity. His success led him to get married to Ethel, and they set up home in Battersea, where one of his first important patrons was Count Harry Kessler.
In 1905 he moved with Ethel to Hammersmith and joined a community of radical printers and craftsmen. Gill, plus his friends Johnston and Hilary Pepler were in the habit of writing letters late at night, then meeting at the local post box for the midnight collection, then carrying on their aesthetic debates until two and three o'clock in the morning.
The move left
He joined the Fabians the following year and lost no time on lecturing the Webbs and George Bernard Shaw on the inadequacy of their views on Art. He also joined in their enthusiasm for the idea of the New Woman by starting an open affair with Lillian Meacham, which his wife did her best to tolerate. What Ethel did not know was that at the same time he was also 'fornicating' with their domestic help Lizzie.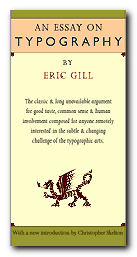 In 1908 the family moved again to Ditchling, a country village near Lewes in Sussex. Here he advocated a life of rural simplicity – whilst spending much of his working week in London where he had kept on the flat at Lincoln's Inn Fields. Artistically, he added two skills to his repertoire – wood engraving and sculpture in stone. In London he was mixing with Jacob Epstein, Roger Fry, Ottoline Morrell, and other fringe Bloomsbury Group figures. He also came under the influence of Ananda Coomaraswamy, an Indian aesthete. When he produced an erotic carving of a man and woman copulating (bizarrely entitled Votes for Women) it was bought by Maynard Keynes for five pounds.
Family fun
Around this time Gill began incestuous relationships with his sisters Angela and Gladys, recording the fact in his diary quite casually, with no recognition at all that he was breaking a social taboo. What is even more amazing is the fact that he maintained these relationships throughout the remainder of his adult life.
At the same time he was going through a religious conversion – rather surprisingly to Roman Catholicism. He and his wife were received into the church in Brighton, she changed her name to Mary, and they celebrated the event by having Leonard and Virginia Woolf as house guests for the weekend.
They moved to another house on the outskirts of Ditchling, and he was joined in the area by his old Hammersmith colleagues Johnston and Pepler. He cultivated a Spartan, almost medieval close-to-the-soil existence, and when the war came he more or less ignored it.
Religion
He also threw himself enthusiastically into the rituals and beliefs of the Dominican order of the church, and took to wearing ecclesiastical garments, including the belt of chastity, which he wore with no apparent sense of irony. The guild that he formed with Pepler took itself very seriously and issued propaganda leaflets arguing against birth control and the use of Bird's Custard Powder.
Ditchling became famous as a place for spiritual retreat, and Gill was celebrated as its presiding religious genius. But beneath the homespun cassock and the stonemason's paper toque, he had started having sex with his own daughters. He recorded the details of his 'experiments' in his diaries, admitted misgivings to his religious confessors, and rationalised his behaviour with a new theory of phallic 'Godliness'.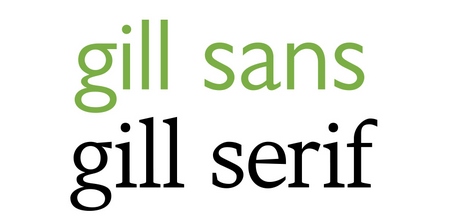 In 1924 he felt oppressed by the public attention he had generated at Ditchling and moved to an abandoned abbey in the Welsh Black Mountains. The move resulted in him turning his attention back to engraving and typography. He became the principal designer and illustrator for Robert Gibbings' Golden Cockerel Press, whose publications now seem the most distinguished of between-the-wars private presses. The relationship with Gibbings was particularly warm – close enough to include weekend threesomes in Berkshire with the publisher and his wife Moira whilst his wife Mary kept the monastic abbey going in the Black Mountains.
Readers who may be thinking there was something homo-erotic (or polymorphous perverse) in all these shenanigans will be confirmed in their suspicions when he records his impressions (and celebrations) of the male member in his diaries::
A man's penis and balls are very beautiful things and the power to see this beauty is not confined to the opposite sex. The shape of the head of a man's erect penis is very excellent in the mouth. There is no doubt about this. I have often wondered – now I know.
When he returned to the abbey he busied himself showing his new secretary Elizabeth Bill slides of semen under the microscope and inviting her to measure the size of his own beautiful penis before demonstrating it at work on her. Elizabeth had an ageing fiance, but she also had money, and when she bought a villa in the Basque country Gill was very happy to go and live there.
He was also taken up by Stanley Morison, adviser to the Monotype Corporation, and the typefaces he designed for him – Perpetua (1925), Gill Sans (1927), and Solus (1929) – are probably his greatest claim to fame as a designer. Doing so gave him the urge to move on once again, so he uprooted his entire household from Wales and went to live on an estate called Pigotts, near High Wycombe.
Animal farm
There he had a sculpture workshop, an art studio, and a printing press all in their own buildings. At a private level he started an affair with Beatrice Warde, the glamorous American typographist who was the mistress of his champion (and employer) Stanley Morison. Then suddenly in 1930 he had a mysterious seizure and lost his memory. It took him quite some time to recover, but when back to normal he found new ways of amusing himself. He started having sex with the family dog. This is a man who celebrated holy mass twice a day at an altar in his own home.
But the medical interlude in no way diminished his creative energies. In the early 1930s he composed his famous Joanna typeface and he completed his public commission Prospero and Ariel over the entrance to BBC at Langham Place. It is generally thought that these large scale public carvings were not as successful as his smaller, more domestic works, and he has also been criticised for spreading his talents across so many varied forms of visual art.
As commissions proliferated, so he became more famous at a Daily Express level. People wanted to know if he wore underpants beneath his stonemason's smock. Domestically he enlarged his entourage by moving his latest mistress May Reeves into a caravan on the site at Pigotts. This gave him the convenience of sex with May and his wife (sometimes on the same night) without as it were leaving the premises.
In the later years of his life two changes came over him, and these were typically contradictory. First of all he became far more bourgeois – accepting physical comforts, employing a chauffeur, installing a black marble bath. But at the same time he became more politically radical, and espoused many of the left wing causes of the late 1930s – including workers control and support for the Republicans in Spain.
He became increasingly frail in the latter years of his life (though he was only in his late fifties) yet he embarked on two large scale projects which consumed all his energies. The first was his debut as an architect. He designed and supervised the building of a simple church in Norfolk in which he radically placed the altar in the centre of the building. The second project was a new and extra intense affair with Daisy Hawkins, a nineteen year old servant at Pigotts. She was unusually attractive, and he both made drawings of her and had sex with her on almost a daily basis for nearly two years.
Not surprisingly, this did not go down well with his two other sexual partners – his wife (in the house) and May Reeves (in the caravan). There was eventually a showdown and Daisy was exiled to Capel in Wales. But Gill simply followed here there, pursuing her from one room to another for sexual couplings, the locations of which were all systematically recorded in his diaries. But this late satyriasis was the last gasp of an exhausted figure. In 1940 he suffered from a number of debilitating ailments and was then diagnosed with cancer of the lung. It was that which killed him – at the age of only fifty eight.
© Roy Johnson 2015

Buy the book at Amazon UK

Buy the book at Amazon US
---
Fiona MacCarthy, Eric Gill, London: Faber and Faber, 2003. pp.416, ISBN: 0571143024
---
More on typography
More on art
More on media
More on design
---