poet, editor, publisher, biographer, memorist
John Lehmann (full name Rudolph John Frederick Lehmann) was born in Buckinghamshire in 1907 into a wealthy family. His father was Rudolph Chambers Lehmann, an English writer and Liberal Party politician. His elder sisters were the novelist Rosamond Lehmann and the actress Beatrix Lehmann.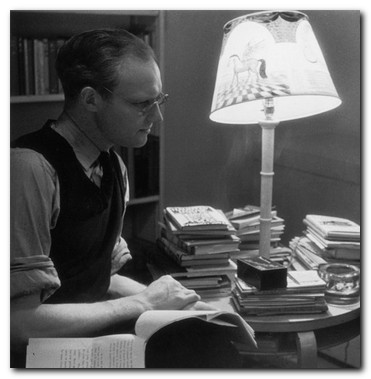 John Lehmann was educated at the prestigious public school Eaton, and went on to study modern languages at Trinity College Cambridge, where he began writing poetry and forming gay relationships. Whilst at university he became a close friend of Julian Bell (Vanessa Bell's son) which provided him with an introduction to the Bloomsbury Group.
His first collection of poetry A Garden Revisited (1931) was published by Leonard Woolf at the Hogarth Press, with which he formed a close attachment. He brought his contacts with the new young generation of poets to the press. The result was the groundbreaking collection New Signatures (1932) which included work by William Empson, Julian Bell and Lehmann himself from Cambridge, plus W.H. Auden, Stephen Spender, and Cecil Day Lewis from Oxford.
He worked as an assistant-cum-manager at the Press (described in his amusing memoir Thrown to the Woolfs) until differences of opinion with Leonard over the policy of publishing young writers caused a temporary rift between them.
John Lehmann left Britain and worked as a journalist, travelled to the U.S.S.R. (as it was called at that time) and wrote poetry in Vienna from 1932 to 1936. He then returned to Britain to launch the journal New Writing. This published the work of his contemporaries Christopher Isherwood, W.H. Auden, V.S. Pritchett, and Stephen Spender.
The magazine featured new writing from Europe and beyond mixed with photographic essays and examples of modern art, and it also included recent poetry. Its editorial line explicitly supported internationalism (especially the republicans in the Spanish Civil War) and it was politically 'committed' to the left at a time when the English establishment was dithering in the face of fascism.
It lasted for fourteen years, first under the aegis of the Bodley Head, then Lawrence and Wishart, before eventually being taken on by Leonard Woolf at the Hogarth Press. A cheaper version was launched as Penguin New Writing in 1939.
In 1938 Lehmann returned to favour with the Hogarth Press and joined it again as a full working partner, buying out Virginia Woolf's fifty percent share in the company. He was an editor and general manager at a time when in addition to works by Virginia Woolf such as Between the Acts, A Haunted House, and The Death of the Moth, he oversaw the publication of works by Henry Green, George Orwell, and Jean-Paul Sartre.
However, the partnership foundered again 1945. Lehmann wanted to introduce modern business practices, raising share capital, and employing publicists and agents. But Leonard had always run the press as a streamlined independent enterprise, with a minimum of overheads – a policy which had been enormously successful and had brought in considerable profits.
So Lehmann understandably left and in 1946 set up his own publishing company, John Lehmann Limited with his sister Rosamond. He published books by young poets Thom Gunn and Laurie Lee, as well as the celebrated cookery writer, Elizabeth David. He also edited the paperback series Penguin New Writing between 1946 and 1950. After the collapse of his own company in 1952 he took over at the London Magazine and edited until handing over to fellow poet and critic Alan Ross in 1961.
In the late 1960s and 1970s he was a frequent visitor on the American lecture circuit. He subsequently wrote biographies of Rupert Brooke, Edith Sitwell, and Virginia Woolf, as well as three volumes of autobiography. He also wrote about his gay relationships in the persona of a fictional character Jack Marlowe. The late confessional novel In the Purely Pagan Sense (1976) offers an account of his promiscuous life in Berlin, Vienna, and London.
© Roy Johnson 2013
---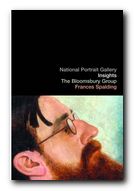 The Bloomsbury Group is a short but charming book, published by the National Portrait Gallery. It explores the impact of Bloomsbury personalities on each other, plus how they shaped the development of British modernism in the early part of the twentieth century. But most of all it's a delightful collection of portrait paintings and photographs, with biographical notes. It has an introductory essay which outlines the development of Bloomsbury, followed by a series of portraits and the biographical sketches of the major figures.

Buy the book at Amazon UK


Buy the book at Amazon US
---
More on biography
More on the Bloomsbury Group
More on literary studies
More on the arts
---