tutorial, commentary, study resources, and web links
Miss Gunton of Poughkeepsie first appeared in Cornhill Magazine in 1900 – which was a remarkably fertile period for Henry James in terms of his production of stories, or 'tales' as he called them. It was a year which saw the publication of The Abasement of the Northmores, Maud-Evelyn, The Third Person, The Great Good Place, The Tone of Time, The Tree of Knowledge, and the story which is widely regarded as his finest – The Beast in the Jungle. James produced all of these (and more) in addition to working on his next novel, The Sacred Fount (1901).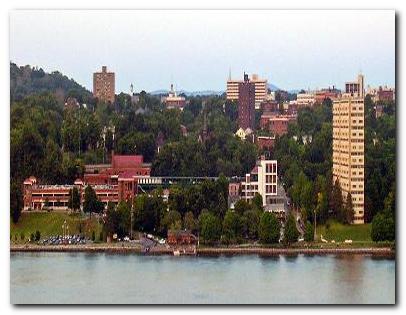 Poughkeepsie – New York State
Miss Gunton is a light-hearted variation on the Daisy Miller story. A young American woman is in Europe surrounded by its ancient rituals, finding them at odds with her own inclination to frank and democratic equalities. Unusually for Henry James, it's quite a short work at 4,000 words and very light-hearted in tone. The worst that happens is that an aristocrat is annoyed to find that she has unnecessarily lowered herself to acknowledge a commoner. No people were hurt in the writing of this story.
---
Miss Gunton of Poughkeepsie – critical commentary
Henry James like other novelists often deals with issues of class and money in his works, and to these ingredients he frequently adds what is called his 'International theme'. That is, the contrasts, differences, and ambiguities between American and European society – both of which he knew at first hand. The emphasis he puts on psychological drama in his work often obscures these elements, but it is noticeable how they permeate even this short and relatively light-hearted story.
Class
Lily comes from a provincial city in New York State – so obscure that Lady Champer has never even heard of it. Yet Poughkeepsie became the second capital city of the state (after Albany) and was a prosperous industrial centre. Lily's grandfather is in business there, and it is his financial support which provides for Lily in her travels. She is therefore bourgeois – new money in class terms.
But the Prince as his title implies is from an aristocratic Italian family. Lady Champer describes it as 'a very great house, of tremendous antiquity, fairly groaning under the weight of ancient honours'. That is they have inherited wealth – though this does not necessarily mean that they are very rich.
Lily cannot see why the Prince's family should not treat her as an equal. That's because she comes from a 'self-made' class. But the Princess cannot move from their tradition of requiring deference from people of a lower position on the social scale. Indeed, the Prince believes that by marrying Lily he will be 'pulling her up' in society.
These are common tensions in what is called 'upwards social mobility'. It is normally very difficult to move upwards in terms of social class – except via marriage or sometimes education. But Lily has two bargaining counters: she is strikingly beautiful and she is rich. These were issues that James explored in much greater depths in works such as The Golden Bowl which he began writing only a couple of years later.
Money
Coming from a 'self-made' business class, Lily is the recipient of its wealth. She is supported by her grandfather, and can 'draw' financial support from him whenever she feels the need. She pays her own way, and can therefore feel that she owes deference to no one. It is interesting to note that the aristocratic Lady Champer thinks of Lily's grandfather as an impediment to her chances of social success – when the reverse turns out to be the case.
The Prince knows that he is marrying a rich woman, but his problem is that he does not know how rich she is. Had she been from the aristocratic class, his family would have access to information of this kind. But because she is both from America and of an unknown heritage ('a young alien of vague origin') they have no way of knowing the extent of the family's wealth. His mother the Princess disapproves of the marriage on these grounds alone.
We do not know how wealthy the Prince's family is, but he is noticeably worried about the potential expense of an American wedding. He fears that 'A vast America, arching over his nuptials, bristling with expectant bridesmaids and underlaying their feet with expensive flowers, stared him in the face'.
It is in fact almost unthinkable that a genuinely aristocratic dynasty would permit marriage into its ranks without a thorough preliminary investigation of family connections, sources of income, and any potential skeletons in cupboards.
The secondary twist in the tale – after Lily's marriage to Mr Bramsby – is that she inherits her grandfather's wealth, and there is a lot of it – 'an extraordinary number of dollars' as Lady Champer explains.
---
Miss Gunton of Poughkeepsie – study resources

The Complete Works of Henry James – Kindle edition – Amazon UK

The Complete Works of Henry James – Kindle edition – Amazon US

Complete Stories 1898—1910 – Library of America – Amazon UK

Complete Stories 1898—1910 – Library of America – Amazon US

Miss Gunton of Poughkeepsie – text, preface, and notes

Miss Gunton of Poughkeepsie – Oxford World Classics – Amazon UK

Miss Gunton of Poughkeepsie – Oxford World Classics – Amazon US

The Cambridge Companion to Henry James – Amazon UK

Miss Gunton of Poughkeepsie – read the story on line

Henry James at Wikipedia – biographical notes, links

Henry James at Mantex – tutorials, biography, study resources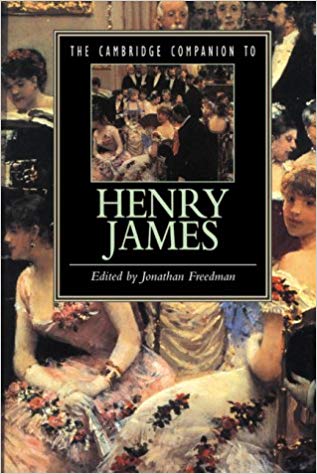 ---
Miss Gunton of Poughkeepsie – plot summary
Lily Gunton is a young American woman touring Europe in the company of a chaperone. She has attracted the admiration of a Roman prince and has travelled to London, waiting to see if he will follow her. She reveals to her English confidante Lady Champer her intention of drawing the Prince all the way back to America.
The Prince arrives in London, proposes to Lily, and she agrees to marry him. However, she has not met his mother, and a conflict in protocols arises between them. Lily thinks she should be invited to meet the Princess, who in her turn believes that Lily should request such an audience. Lily thinks she is doing the family an honour in marrying their son, and they think they are doing her a favour by accepting her into such a distinguished family. .
There is a stand off, and in the end Lily calls their bluff by returning to America. The Princess does send an invitation, but it arrives too late, Some weeks later news reaches London that Lily has married into the American family with whom she travelled back to the USA.
---
Principal characters
| | |
| --- | --- |
| Lily Gunton | a young American woman travelling in Europe |
| Mr Gunton | Lily's wealthy grandfather in Poughkeepsie (NY) |
| Lady Champer | a baronet's widow living in London |
| The Prince | Lily's admirer, from an aristocratic Roman family |
| The Princess | his mother |
| Mrs Brine | Lily's chaperone |
| Adam P. Bramsby | the man who Lily marries in America |
---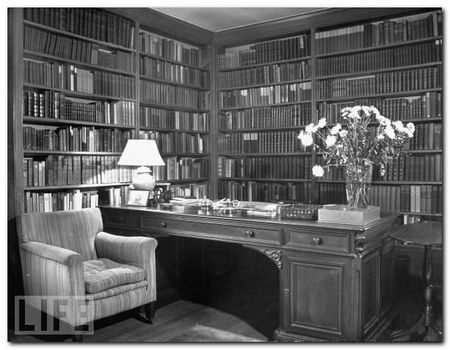 Henry James's study
---
Further reading
Biographical

Theodora Bosanquet, Henry James at Work, University of Michigan Press, 2007.

F.W. Dupee, Henry James: Autobiography, Princeton University Press, 1983.

Leon Edel, Henry James: A Life, HarperCollins, 1985.

Philip Horne (ed), Henry James: A Life in Letters, Viking/Allen Lane, 1999.

Henry James, The Letters of Henry James, Adamant Media Corporation, 2001.

Fred Kaplan, Henry James: The Imagination of Genius, Johns Hopkins University Press, 1999

F.O. Matthieson (ed), The Notebooks of Henry James, Oxford University Press, 1988.
Critical commentary

Elizabeth Allen, A Woman's Place in the Novels of Henry James London: Macmillan Press, 1983.

Ian F.A. Bell, Henry James and the Past, London: Palgrave Macmillan, 1993.

Millicent Bell, Meaning in Henry James, Cambridge (MA): Harvard University Press, 1993.

Harold Bloom (ed), Modern Critical Views: Henry James, Chelsea House Publishers, 1991.

Kirstin Boudreau, Henry James's Narrative Technique, Macmillan, 2010.

J. Donald Crowley and Richard A. Hocks (eds), The Wings of the Dove, New York: W.W. Norton and Company, 1978.

Victoria Coulson, Henry James, Women and Realism, Cambridge University Press, 2009.

Daniel Mark Fogel, A Companion to Henry James Studies, Greenwood Press, 1993.

Virginia C. Fowler, Henry James's American Girl: The Embroidery on the Canvas, Madison (Wis): University of Wisconsin Press, 1984.

Jonathan Freedman, The Cambridge Companion to Henry James, Cambridge University Press, 1998.

Judith Fryer, The Faces of Eve: Women in the Nineteenth Century American Novel, Oxford: Oxford University Press, 1976

Roger Gard (ed), Henry James: The Critical Heritage, London: Routledge, 1968.

Tessa Hadley, Henry James and the Imagination of Pleasure, Cambridge University Press, 2009.

Barbara Hardy, Henry James: The Later Writing (Writers & Their Work), Northcote House Publishers, 1996.

Richard A. Hocks, Henry James: A study of the short fiction, New York: Twayne Publishers, 1990.

Donatella Izzo, Portraying the Lady: Technologies of Gender in the Short Stories of Henry James, University of Nebraska Press, 2002.

Colin Meissner, Henry James and the Language of Experience, Cambridge University Press, 2009

John Pearson (ed), The Prefaces of Henry James, Pennsylvania State University Press, 1993.

Richard Poirer, The Comic Sense of Henry James, Oxford: Oxford University Press, 1967.

Hugh Stevens, Henry James and Sexuality, Cambridge University Press, 1998.

Merle A. Williams, Henry James and the Philosophical Novel, Cambridge University Press, 1993.

Judith Woolf, Henry James: The Major Novels, Cambridge University Press, 1991.

Ruth Yeazell (ed), Henry James: A Collection of Critical Essays, Longmans, 1994.
---
Other works by Henry James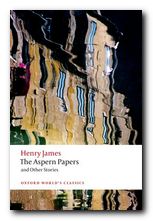 The Aspern Papers (1888) is a psychological drama set in Venice which centres on the tussle for control of a great writer's correspondence. An elderly lady, ex-lover of the writer, seeks a husband for her daughter. But the potential purchaser of the papers is a dedicated bachelor. Money is also at stake – but of course not discussed overtly. There is a refined battle of wills between them. Who will win in the end? As usual, James keeps the reader guessing. The novella is a masterpiece of subtle narration, with an ironic twist in its outcome. This collection of stories also includes three of his accomplished long short stories – The Private Life, The Middle Years, and The Death of the Lion.


Buy the book from Amazon UK


Buy the book from Amazon US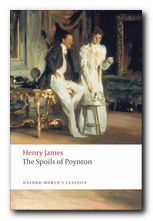 The Spoils of Poynton (1896) is a short novel which centres on the contents of a country house, and the question of who is the most desirable person to inherit it via marriage. The owner Mrs Gereth is being forced to leave her home to make way for her son and his greedy and uncultured fiancee. Mrs Gereth develops a subtle plan to take as many of the house's priceless furnishings with her as possible. But things do not go quite according to plan. There are some very witty social ironies, and a contest of wills which matches nouveau-riche greed against high principles. There's also a spectacular finale in which nobody wins out.


Buy the book from Amazon UK


Buy the book from Amazon US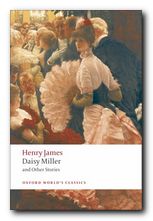 Daisy Miller (1879) is a key story from James's early phase in which a spirited young American woman travels to Europe with her wealthy but commonplace mother. Daisy's innocence and her audacity challenge social conventions, and she seems to be compromising her reputation by her independent behaviour. But when she later dies in Rome the reader is invited to see the outcome as a powerful sense of a great lost potential. This novella is a great study in understatement and symbolic power.


Buy the book from Amazon UK


Buy the book from Amazon US
---
Henry James – web links

Henry James at Mantex
Biographical notes, study guides, tutorials on the Complete Tales, book reviews. bibliographies, and web links.

The Complete Works
Sixty books in one 13.5 MB Kindle eBook download for £1.92 at Amazon.co.uk. The complete novels, stories, travel writing, and prefaces. Also includes his autobiographies, plays, and literary criticism – with illustrations.

The Ladder – a Henry James website
A collection of eTexts of the tales, novels, plays, and prefaces – with links to available free eTexts at Project Gutenberg and elsewhere.

A Hyper-Concordance to the Works
Japanese-based online research tool that locates the use of any word or phrase in context. Find that illusive quotable phrase.

The Henry James Resource Center
A web site with biography, bibliographies, adaptations, archival resources, suggested reading, and recent scholarship.

Online Books Page
A collection of online texts, including novels, stories, travel writing, literary criticism, and letters.

Henry James at Project Gutenberg
A major collection of eTexts, available in a variety of eBook formats.

The Complete Letters
Archive of the complete correspondence (1855-1878) work in progress – published by the University of Nebraska Press.

The Scholar's Guide to Web Sites
An old-fashioned but major jumpstation – a website of websites and resouces.

Henry James – The Complete Tales
Tutorials on the complete collection of over one hundred tales, novellas, and short stories.
© Roy Johnson 2012
---
More tales by James
More on literature
More on the novella
More on literary studies
More on short stories
---