tutorial, commentary, study resources, and web links
The Great Good Place first appeared in Scribner's Magazine in January 1900 – a remarkably productive year for Henry James. It was a period which saw the publication of Maud-Evelyn, Miss Gunton of Poughkeepsie, The Abasement of the Northmores, The Third Person, The Tone of Time, The Tree of Knowledge, and the story which is widely regarded as his finest – The Beast in the Jungle. All of these (and more) he produced in addition to working on his next novel, The Sacred Fount (1901).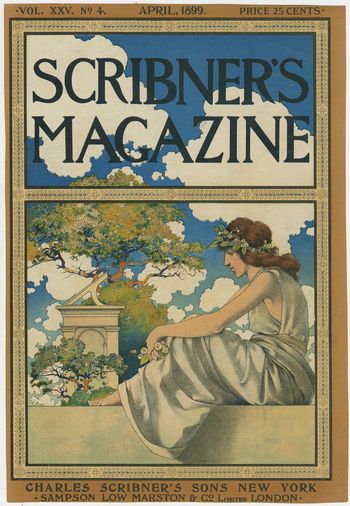 ---
The Great Good PLace – critical commentary
In terms of literary categories, this is Henry James's equivalent of the popular schoolchild's approach to creative writing – to create a fantasy whose complexities and puzzles are resolved by the statement 'and then he woke up and realised it was all a dream'.
This adult version is more successful than these juvenile escape from plot-logic creations because George Dane's place of retreat is quite credible. It's not unlike the non-religious retreats offered by St Deiniol (founded in 1889 by Gladstone) and Ampleforth Abbey in Yorkshire. James's mise en scene is very unspecific and non-descriptive. As Dane talks with one of his fellow visitors, James describes the place via the metaphor of taking a bath:
He was in the bath yet, the broad, deep bath of stillness. They sat in it together now, with the water up to their chins. He had not had to talk, he had not had to think, he had scarce even to think… This was a current so slow and so tepid that one floated practically without motion and without chill.
George Dane enjoys the tranquility because it excludes the very things by which he has been oppressed in his everyday life – newspapers, journals, correspondence, and social engagements.
At this level the story operates at not much more than a wish-fulfilment on James's part. By 1900 he had become famous and was socially lionized in a way which gave him grounds for mild complaint (so many dinner invitations!) though it also supplied him with the anecdotes and germs of ideas for many of the stories he wrote.
So he envisages an ideal space for quiet and reflection – part hotel, part gentleman's club non-religious retreat, and health spa. In fact even at this metaphoric level the story is consistent and logical since the eight hours' sleep that Dane enjoys refreshes him sufficiently to feel positive again. He sees his room, on awakening, as 'disencumbered, different, twice as large'.
This reading sees the story as not much more than an innocent piece of fancy, one which turns on the well-worn fictional device of a very credible world turning out to be imaginary.
An alternative reading
However it's impossible to read the story without also noticing the number of homo-erotic undertones. There are no women in the story at all, and Dane's saviour is a 'much younger man' and an admirer who he has invited to share breakfast with him. Having resolved to avoid contact with people ('Ah, if he might never again touch!') the first thing he does contradicts this resolve:
Dane took his hand from his pocket, held it straight out, and felt it taken. Thus indeed, if he had wanted never again to touch, it was already done.
Then when the young man presents Dane with the possibility of relief from his concerns, the physical contact is strengthened:
The mere sight of his face, the sense of his hand on my knee, made me, after a little, feel that he not only knew what I wanted, but was getting nearer to it than I could have got in ten years.
In one sense it can be argued that it is this giving way to physical contact that brings Dane the relief he craves – for the net result of the encounter is that Dane sleeps for eight hours, dreams of his ideal place, and wakes up refreshed.
But pushing the interpretation a little further one could even argue that the story includes an almost subliminal sexual encounter between the two men. Dane feels his hand taken, he sees the beauty of the young face, feels the hand on his knee, feels that the young man is 'indescribably beautiful', and after the sexual encounter that follows (but is not described) he enjoys a long restorative sleep on the sofa.
It wasn't after breakfast now; it was after—well, what? He suppressed a gasp—it was after everything.
This reading has the advantage that it fits with both interpretations of the story. George Dane is offered a restorative experience when the young man takes over his onerous responsibilities – or he enjoys a sexual encounter with a beautiful young man, after which he falls asleep and dreams that he has gone to heaven.
---
The Great Good Place – study resources

The Complete Works of Henry James – Kindle edition – Amazon UK

The Complete Works of Henry James – Kindle edition – Amazon US

Complete Stories 1898—1910 – Library of America – Amazon UK

Complete Stories 1898—1910 – Library of America – Amazon US

The Great Good Place – Digireads reprint edition – Amazon UK

The Great Good Place – eBook formats at Gutenberg Consortia

The Prefaces of Henry James – Introductions to his tales and novels

The Cambridge Companion to Henry James – Amazon UK

Henry James at Wikipedia – biographical notes, links

Henry James at Mantex – tutorials, biography, study resources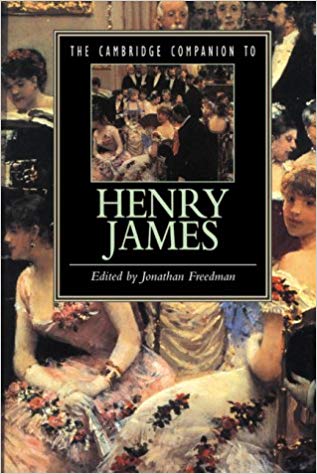 ---
The Great Good Place – plot summary
Part I. George Dane is a successful professional man of letters who feels overburdened by the demands on his time of social engagements. His servant Brown has to keep reminding him of things he has forgotten, and thinks he might be ill. Nevertheless, he has invited a young admirer to breakfast.
Part II. He goes to the 'Great Good Place', which is a place of spiritual retreat where he enjoys the serenity and calm of a semi-monastic existence. He meets a fellow visitor (a 'Brother') who shares his feelings that it is a place of blessed recuperation.
Part III. He recounts to the 'Brother' how he has arranged with an ambitious young admirer to 'change places', allowing him the freedom to refresh himself spiritually whilst giving the young man the chance to take over the professional duties he previously felt to be so onerous.
Part IV. Dane revels in the tranquility and undemanding atmosphere of the retreat, which leaves him free to read in a library or sit in contemplation amidst cloistered gardens. He identifies himself with the presiding genius who created such a place which provides him with exactly what he requires.
Part V. Gradually he feels that he has recovered from his previous malaise and is ready to face the world again. He discusses his plan with another of the 'Brothers', but on shaking his hand notices the man's resemblance to his servant Brown. In fact he wakes up to discover that he has been asleep on his sofa all day, and that the Young Man has completed all the outstanding paperwork at his desk.
---
Principal characters
| | |
| --- | --- |
| George Dane | a middle-aged man of letters |
| Brown | his servant |
| — | a beautiful young man and admirer |
| The 'Brother' | fellow visitor at the retreat |
---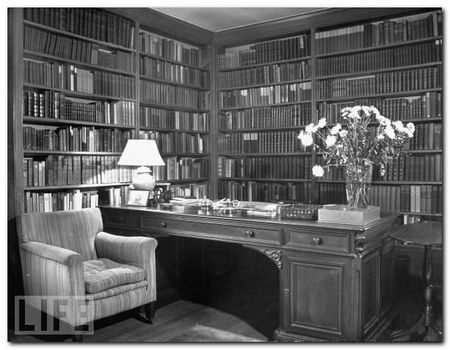 Henry James's study
---
Further reading
Biographical

Theodora Bosanquet, Henry James at Work, University of Michigan Press, 2007.

Leon Edel, Henry James: A Life, HarperCollins, 1985.

Philip Horne (ed), Henry James: A Life in Letters, Viking/Allen Lane, 1999.

Henry James, The Letters of Henry James, Adamant Media Corporation, 2001.

Fred Kaplan, Henry James: The Imagination of Genius, Johns Hopkins University Press, 1999

F.O. Matthieson (ed), The Notebooks of Henry James, Oxford University Press, 1988.
Critical commentary

Ian F.A. Bell, Henry James and the Past, London: Palgrave Macmillan, 1993.

Millicent Bell, Meaning in Henry James, Cambridge (MA): Harvard University Press, 1993.

Harold Bloom (ed), Modern Critical Views: Henry James, Chelsea House Publishers, 1991.

Kirstin Boudreau, Henry James's Narrative Technique, Macmillan, 2010.

Daniel Mark Fogel, A Companion to Henry James Studies, Greenwood Press, 1993.

Jonathan Freedman, The Cambridge Companion to Henry James, Cambridge University Press, 1998.

Roger Gard (ed), Henry James: The Critical Heritage, London: Routledge, 1968.

Tessa Hadley, Henry James and the Imagination of Pleasure, Cambridge University Press, 2009.

Barbara Hardy, Henry James: The Later Writing (Writers & Their Work), Northcote House Publishers, 1996.

Richard A. Hocks, Henry James: A study of the short fiction, New York: Twayne Publishers, 1990.

Colin Meissner, Henry James and the Language of Experience, Cambridge University Press, 2009

John Pearson (ed), The Prefaces of Henry James, Pennsylvania State University Press, 1993.

Ruth Yeazell (ed), Henry James: A Collection of Critical Essays, Longmans, 1994.
---
Other works by Henry James
---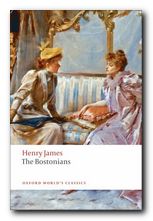 The Bostonians (1886) is a novel about the early feminist movement. The heroine Verena Tarrant is an 'inspirational speaker' who is taken under the wing of Olive Chancellor, a man-hating suffragette and radical feminist. Trying to pull her in the opposite direction is Basil Ransom, a vigorous young man from the South to whom Verena becomes more and more attracted. The dramatic contest to possess her is played out with some witty and often rather sardonic touches, and as usual James keeps the reader guessing about the outcome until the very last page.


Buy the book at Amazon UK


Buy the book at Amazon US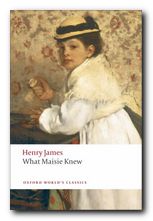 What Masie Knew (1897) A young girl is caught between parents who are in the middle of personal conflict, adultery, and divorce. Can she survive without becoming corrupted? It's touch and go – and not made easier for the reader by the attentions of an older man who decides to 'look after' her. This comes from the beginning of James's 'Late Phase', so be prepared for longer and longer sentences. In fact it's said that whilst composing this novel, James switched from writing longhand to using dictation – and it shows if you look carefully enough – part way through the book.


Buy the book at Amazon UK


Buy the book at Amazon US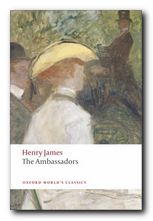 The Ambassadors (1903) Lambert Strether is sent from America to Paris to recall Chadwick Newsome, a young man who is reported to be compromising himself by an entanglement with a wicked woman. However, Strether's mission fails when he is seduced by the social pleasures of the European capital, and he takes Newsome's side. So a second ambassador is dispatched in the form of the more determined Sarah Pocock. She delivers an ultimatum which is resisted by the two young men, but then an accident reveals unpleasant truths to Strether, who is faced by a test of loyalty between old Europe and the new USA. This edition presents the latest scholarship on James and includes an introduction, notes, selected criticism, a text summary and a chronology of James's life and times.


Buy the book at Amazon UK


Buy the book at Amazon US
---
Henry James – web links

Henry James at Mantex
Biographical notes, study guides, tutorials on the Complete Tales, book reviews. bibliographies, and web links.

The Complete Works
Sixty books in one 13.5 MB Kindle eBook download for £1.92 at Amazon.co.uk. The complete novels, stories, travel writing, and prefaces. Also includes his autobiographies, plays, and literary criticism – with illustrations.

The Ladder – a Henry James website
A collection of eTexts of the tales, novels, plays, and prefaces – with links to available free eTexts at Project Gutenberg and elsewhere.

A Hyper-Concordance to the Works
Japanese-based online research tool that locates the use of any word or phrase in context. Find that illusive quotable phrase.

The Henry James Resource Center
A web site with biography, bibliographies, adaptations, archival resources, suggested reading, and recent scholarship.

Online Books Page
A collection of online texts, including novels, stories, travel writing, literary criticism, and letters.

Henry James at Project Gutenberg
A major collection of eTexts, available in a variety of eBook formats.

The Complete Letters
Archive of the complete correspondence (1855-1878) work in progress – published by the University of Nebraska Press.

The Scholar's Guide to Web Sites
An old-fashioned but major jumpstation – a website of websites and resouces.

Henry James – The Complete Tales
Tutorials on the complete collection of over one hundred tales, novellas, and short stories.
© Roy Johnson 2012
---
More tales by James
More on literature
More on the novella
More on literary studies
More on short stories
---