tutorial, commentary, study resources, and web links
The Evening Party appears to have been written in the early 1920s, around the time of Virginia Woolf's other experimental short stories. In her introduction to The Complete Shorter Fiction of Virginia Woolf Susan Dick points out that the story appeared in the collection of sketches that was given the title Cracked Fiddles, though it is not clear if this was ever published or not.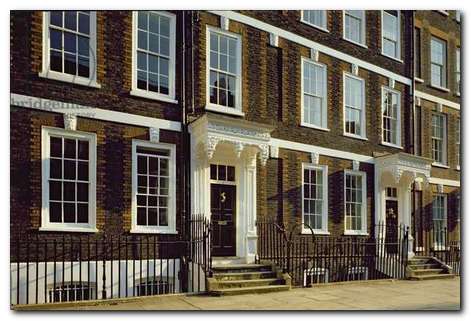 Queen Anne's Gate – Westminster
---
The Evening Party – critical commentary
This story has similar features to the other early pieces in the Mrs Dalloway's Party sequence. The setting is clearly a social gathering in central London, with guests arriving in formal evening dress. The principal characters – the narrator and her companion – are imaginatively detached from the event, and their interchanges are interrupted by people wishing to make social 'introductions'. These features occur in many of the other early stories – from Phyllis and Rosamond to A Summing Up. The implication is that whilst social interaction is superficial and fellow guests are likely to be boring, there is a rich alternative in the inner life of the imagination.
The technical experimentation in the story comes from Woolf's clever blending of interior monologue with a first person narrative which becomes a variation on the 'stream of consciousness' technique.
Ah, but let us wait a little! — The moon is up; the sky open; and there, rising in a mound against the sky with trees upon it, is the earth. The flowing silvery clouds look down upon Atlantic waves. The wind blows soft round the corner of the street, lifting my cloak, holding it gently in the air and then letting it sink and droop as the sea now swells and brims over the rocks and again withdraws.
At first reading it is not clear from whose point of view the story is being narrated, who is being addressed in the use of 'us', or where the events are located – on the Atlantic or in a street. In fact Woolf is presenting two 'locations' at the same time – one imagined and the other actual.
It was in these experimental fictions that Woolf devised, as Susan Dick observes, "a way to place her narrator within her character's mind and to present that character's thoughts and emotions as they occur". However, it has to be said that her technique of mingling poetic imagery with practical narrative is more convincing in the non-conversational parts of the story than in the verbal 'exchanges' that take place between the characters. In a work of this kind it is simply not possible to believe that one character would say to another – "Don't you see the pond through the Professor's head? Don't you see the swan swimming through Mary's skirt?" – although it also has to be admitted that Woolf did bring this technique into the realms of the credible by the time she wrote The Waves (1931).
But she is successful in expressing via more credible dialogue an early version of her notion of 'moments of being'. These are the brief and particular moments of time during which individuals can experience a sense of wholeness or completeness, a sense of being in harmony either with themselves or with the world around them, or they might feel that a significant truth is revealed to them, by accident almost, via the events of everyday life. The narrator here addresses her companion:
'Don't you remember in early childhood, when, in play or talk, as one stepped across the puddle or reached the window on the landing, some imperceptible shock froze the universe to a solid ball of crystal which one held for a moment — I have some mystical belief that all time past and future too, the tears and powdered ashes of generations clotted to a ball; then we were absolute and entire; nothing then was excluded; that was certainty — happiness.
Very characteristically however, Woolf immediately goes on to demolish this mystical vision of 'completeness' or 'knowledge' in the very next sentence: 'See what comes of trying to say what one means! Nonsense!' This is very similar to the way she undercuts her own imaginative inventions in stories such as The Mark on the Wall and An Unwritten Novel.
---
The Evening Party – study resources

The Complete Shorter Fiction – Vintage Classics – Amazon UK

The Complete Shorter Fiction – Vintage Classics – Amazon US

The Complete Shorter Fiction – Harcourt edition – Amazon UK

The Complete Shorter Fiction – Harcourt edition – Amazon US

The Complete Works of Virginia Woolf – Kindle edition

The Cambridge Companion to Virginia Woolf – Amazon UK

Virginia Woolf – Authors in Context – Amazon UK

The Cambridge Introduction to Virginia Woolf – Amazon UK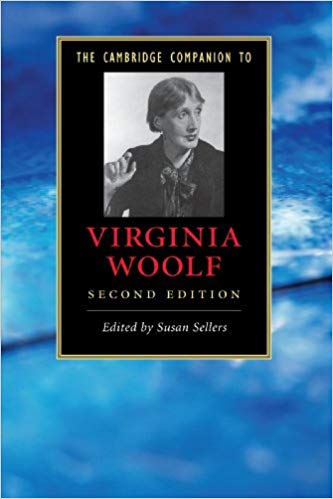 ---
The Evening Party – plot summary
The story begins with an un-named narrator conjouring poetic imagery out of the surroundings and her imagination. The setting appears to be evening in a city, where the narrator and her companion arrive at a party along with other guests.
The two of them exchange fanciful imagery – one composed of visual and the other of literary impressions. They then exchange observations with a professor, first about Shelley's use of punctuation, then about classic literature. When he leaves, they go on to discuss 'moments of being' and the limitations of speech to arrive at an understanding of the world.
The party hostess interrupts them to introduce the narrator to a Mr Nevill, who admires her writing. They discuss the value of dead authors – and Shakespeare in particular, their enthusiasm for whom dissolves into an exchange of fanciful poetic images. This conversation is interrupted by a woman called Helen who introduces her to someone who knew her as a child.
The narrator rejoins her companion, and after exchanging further fragmentary observations about the party and the night, they agree to leave, hand in hand.
---
Virginia Woolf podcast
A eulogy to words
---
Further reading

Quentin Bell. Virginia Woolf: A Biography. New York: Harcourt Brace Jovanovich, 1972.

Hermione Lee. Virginia Woolf. New York: Alfred A. Knopf, 1997.

Nicholas Marsh. Virginia Woolf, the Novels. New York: St. Martin's Press, 1998.

John Mepham, Virginia Woolf. New York: St. Martin's Press, 1992.

Natalya Reinhold, ed. Woolf Across Cultures. New York: Pace University Press, 2004.

Michael Rosenthal, Virginia Woolf: A Critical Study. New York: Columbia University Press, 1979.

Susan Sellers, The Cambridge Companion to Virginia Woolf, Cambridge University Press, 2010.

Virginia Woolf, The Common Reader. New York: Harvest Books, 2002.

Alex Zwerdling, Virginia Woolf and the Real World. Berkeley: University of California Press, 1986.
---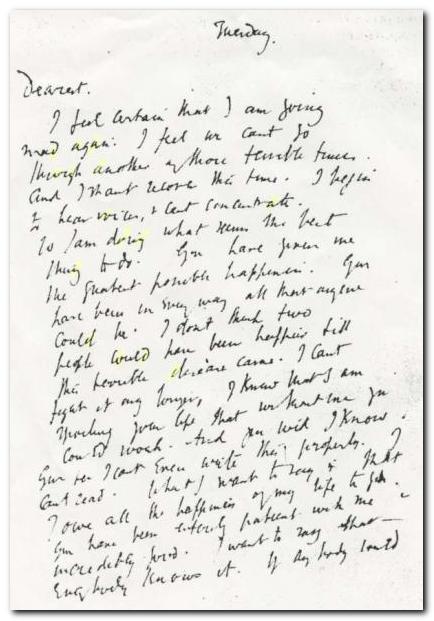 "I feel certain that I am going mad again."
---
Other works by Virginia Woolf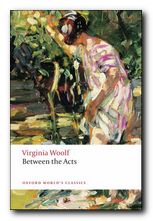 Between the Acts (1941) is her last novel, in which she returns to a less demanding literary style. Despite being written immediately before her suicide, she combines a playful wittiness with her satirical critique of English upper middle-class life. The story is set in the summer of 1939 on the day of the annual village fete at Pointz Hall. It describes a country pageant on English history written by Miss La Trobe, and its effects on the people who watch it. Most of the audience misunderstand it in various ways, but the implication is that it is a work of art which temporarily creates order amidst the chaos of human life. There's lots of social comedy, some amusing reflections on English weather, and meteorological metaphors and imagery run cleverly throughout the book.


Buy the book at Amazon UK


Buy the book at Amazon US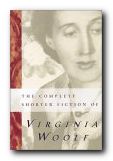 The Complete Shorter Fiction contains all the classic short stories such as The Mark on the Wall, A Haunted House, and The String Quartet – but also the shorter fragments and experimental pieces such as Mrs Dalloway in Bond Street. These 'sketches' (as she called them) were used to practice the techniques she used in her longer fictions. Nearly fifty pieces written over the course of Woolf's writing career are arranged chronologically to offer insights into her development as a writer. This is one for connoisseurs – well presented and edited in a scholarly manner.


Buy the book at Amazon UK


Buy the book at Amazon US
---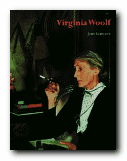 Virginia Woolf is a readable and well illustrated biography by John Lehmann, who at one point worked as her assistant and business partner at the Hogarth Press. It is described by the blurb as 'A critical biography of Virginia Woolf containing illustrations that are a record of the Bloomsbury Group and the literary and artistic world that surrounded a writer who is immensely popular today'. This is an attractive and very accessible introduction to the subject which has been very popular with readers ever since it was first published..


Buy the book at Amazon UK


Buy the book at Amazon US
---
Virginia Woolf – web links
Virginia Woolf at Mantex
Biographical notes, study guides to the major works, book reviews, studies of the short stories, bibliographies, web links, study resources.
Blogging Woolf
Book reviews, Bloomsbury related issues, links, study resources, news of conferences, exhibitions, and events, regularly updated.
Virginia Woolf at Wikipedia
Full biography, social background, interpretation of her work, fiction and non-fiction publications, photograph albumns, list of biographies, and external web links
Virginia Woolf at Gutenberg
Selected eTexts of her novels and stories in a variety of digital formats.
Woolf Online
An electronic edition and commentary on To the Lighthouse with notes on its composition, revisions, and printing – plus relevant extracts from the diaries, essays, and letters.
Hyper-Concordance to Virginia Woolf
Search texts of all the major novels and essays, word by word – locate quotations, references, and individual terms
Orlando – Sally Potter's film archive
The text and film script, production notes, casting, locations, set designs, publicity photos, video clips, costume designs, and interviews.
Women's History Walk in Bloomsbury
Tour of literary and political homes in Bloomsbury – including Gordon Square, Gower Street, Bedford Square, Tavistock Square, plus links to women's history web sites.
Virginia Woolf Society of Great Britain
Bulletins of events, annual lectures, society publications, and extensive links to Woolf and Bloomsbury related web sites
BBC Audio Essay – A Eulogy to Words
Charming sound recording of radio talk given by Virginia Woolf in 1937 – a podcast accompanied by a slideshow of photographs.
A Family Photograph Albumn
Leslie Stephen compiled a photograph album and wrote an epistolary memoir, known as the "Mausoleum Book," to mourn the death of his wife, Julia, in 1895 – an archive at Smith College – Massachusetts
Virginia Woolf first editions
Hogarth Press book jacket covers of the first editions of Woolf's novels, essays, and stories – largely designed by her sister, Vanessa Bell.
Virginia Woolf – on video
Biographical studies and documentary videos with comments on Virginia Woolf and the Bloomsbury Group and the social background of their times.
Virginia Woolf Miscellany
An archive of academic journal essays 2003—2014, featuring news items, book reviews, and full length studies.
© Roy Johnson 2014
---
More on Virginia Woolf
Virginia Woolf – short stories
Virginia Woolf – greatest works
Virginia Woolf – criticism
Virginia Woolf – life and works
---