tutorial, commentary, study resources, and web links
The Jolly Corner first appeared in English Review in December 1908. It's one of Henry James' most-anthologised stories – mainly because it seems to combine the best parts of a traditional ghost story with something more psychologically challenging. It also lends itself to a variety of possible interpretations – rather like his other famous ghost story The Turn of the Screw.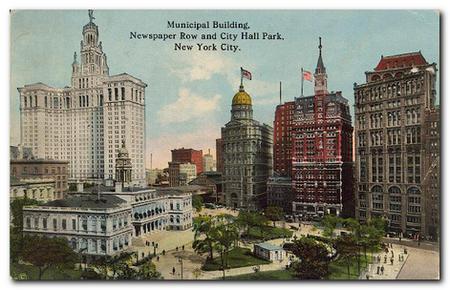 New York in 1909
---
The Jolly Corner – commentary
Redemption
The most popular and obvious interpretation of the story is seeing it as a parable of redemption. Brydon left America 'almost in the teeth of my father's curse' (we don't know why) and he has stayed in Europe for a third of a century. He describes his own time there in rather negative terms:
I have not been edifying—I believe I'm thought in a hundred quarters to have been barely decent. I've followed strange paths and worshipped strange gods… I was leading, at any time these thirty years, a selfish frivolous scandalous life.
It is clear from the start that Alice Staverton is a supportive figure. She believes in his notion of an alter-ego figure, and twice dreams about it on his behalf. When Brydon wakes up from his fright at the end of the story, his head is on her lap – almost like a Pieta composition, with Alice Staverton as the Vigin Mary and Mrs Muldoon as an attendant figure. Alice too has seen the figure, but she reassures Brydon "it isn't—you!"
This reading of the story involves taking everything at face value. Brydon has seen a ghost figure of what he might have become if he had stayed in New York – rich but disfigured ("a million a year", "ruined sight" and missing two fingers on his right hand). Alice's sympathetic understanding offers him a relief from his troubles and of course the comfort of an emotionally supportive relationship.
Guilt
Another way of looking at these same elements of the story is to see them as symptoms of a profound sense of guilt on Brydon's part. We don't know exactly why he left America with his father's curse, but he certainly turned his back on the collective enterprise of the family. Moreover he has lived on the family's rental incomes whilst in Europe, and has now inherited the entire family fortune.
We also don't know what he has been doing in Europe, but his own account suggests something disreputable (see above). In this interpretation his alter-ego is the embodiment of all these negative attributes which he must face up to and purge from his system if he is to regain his homeland and live in peace.
He confronts the image of his guilt conjured up by his bad conscience, and doesn't like what he sees. Brydon wears a monocle: the alter ego has two 'eye glasses' in the form of a pince-nez.
In this reading Brydon suffers a psychic breakdown – but Alice's reaction (and she claims to have seen the figure too) is to recognise it as his 'other self' – but to pity it. "He has been unhappy, he has been ravaged" she says. She even draws attention to their both wearing glasses. The argument here is that she is forgiving Brydon his weaknesses, and offering to take him on.
Wish-fulfilment
There remains a further possible interpretation – though it is difficult to substantiate without reading against the grain of its surface meaning. In this reading Brydon really is scared to death by the ghost, and part III of the story is a form of wish-fulfilment fantasy or a sort of 'beyond life' experience.
There are a number of hints in the details used to describe the scene of someone apparently recovering from a period of unconsciousness which, looked at another way, could be said to suggest that Brydon does not in fact recover.
For instance, the black-and-white tiles in the hallway are cold, "but he somehow was not". Then, "He had come back, yes—come back from further away than any man but himself had ever travelled". And there are some typically Jamesian double negatives which create the vague sense of somebody 'coming round'. "What he most took in…was that Alice Staverton had for a long unspeakable moment not doubted that he was dead."
Maybe he is dead – but the events of part III of the story are what he would have wished to happen – recovery, forgiveness, and understanding. This is the sort of device used in other fictions, such as Ambrose Bierce's Occurrence at Owl Creek Bridge (1890) and William Golding's Pincher Martin (1956) – in which the protagonist's escape from a traumatic event (hanging, drowning) forms the basis of the narrative, only for it to later be revealed that there was no escape, and the incidents described were what the protagonist imagined whilst in the process of dying.
---
The Jolly Corner – study resources

The Complete Works of Henry James – Kindle edition – Amazon UK

The Complete Works of Henry James – Kindle edition – Amazon US

Complete Stories 1898—1910 – Library of America – Amazon UK

Complete Stories 1898—1910 – Library of America – Amazon US

The Jolly Corner – Digireads reprint – Amazon UK

The Jolly Corner – eBook at Project Gutenberg

The Jolly Corner – read the story on line

The Cambridge Companion to Henry James – Amazon UK

The Prefaces of Henry James – Introductions to his tales and novels

Henry James at Wikipedia – biographical notes, links

Henry James at Mantex – tutorials, biography, study resources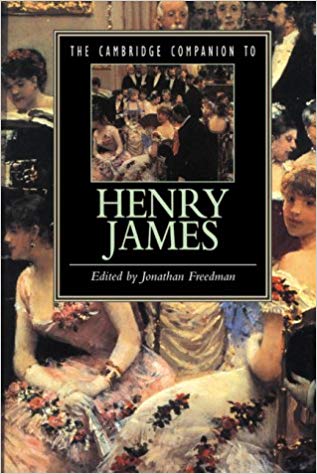 ---
The Jolly Corner – plot summary
Part I. Spencer Brydon returns to New York City at the age of fifty-six after an absence in Europe of thirty-tree years. He has come to inspect a property portfolio he has inherited following the deaths of his father and two brothers. He is mainly interested in the family home, which he visits frequently late at night. He discusses the changes he sees in New York and in himself with an old friend Alice Staverton who takes a sympathetic interest in his concerns. He becomes preoccupied with what might have become of him, had he stayed behind in America instead of going to live in Europe.
Part II. The notion of some sort of alternative self becomes an obsession, to the point that he starts to think of this other self as a character that actually exists. Visiting the old family home late at night, he convinces himself that his alter ego inhabits the building like a ghost. He goes from room to room, searching for it, 'cultivating' it, tracking it down to a top floor room in the building, to which there is only one door. He thinks it was previously open, but is now closed.
He argues with himself, both for and against the idea of opening the door. He feels one moment intimidated, and the next confidently superior. Finally, he decides to exorcise the whole problem by simply leaving the building. But on the way out he has a powerful vision of a horrid figure lurking in the hallway, so frightening that he passes out.
Part III. Later the next day he wakes up to find himself rescued and nursed by Alice Staverton and his cleaner Mrs Muldoon. Alice reveals that she was prompted to search for him having had a dream about the Alter Ego (her third) and had in fact seen the same figure on reaching the building. Brydon realises that this figure is the other self he would have become – rich, but made ugly by the life he had led. Alice takes emotional possession of him and reassures him that he is not at all like the other figure.
---
Principal characters
| | |
| --- | --- |
| Spencer Brydon | a 56 year old American bachelor |
| Miss Alice Staverton | his oldest friend in New York |
| Mrs Muldoon | his cleaner |
---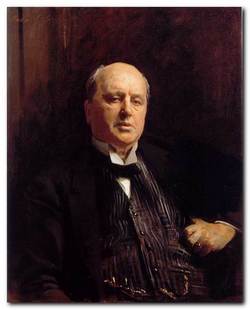 Henry James – portrait by John Singer Sargeant
---
Ghost stories by Henry James

The Romance of Certain Old Clothes (1868)

The Ghostly Rental (1876)

Sir Edmund Orme (1891)

The Private Life (1892)

Owen Wingrave (1892)

The Friends of the Friends (1896)

The Turn of the Screw (1898)

The Real Right Thing (1899)

The Third Person (1900)

The Jolly Corner (1908)
---
Further reading
Biographical

Theodora Bosanquet, Henry James at Work, University of Michigan Press, 2007.

Leon Edel, Henry James: A Life, HarperCollins, 1985.

Philip Horne (ed), Henry James: A Life in Letters, Viking/Allen Lane, 1999.

Henry James, The Letters of Henry James, Adamant Media Corporation, 2001.

Fred Kaplan, Henry James: The Imagination of Genius, Johns Hopkins University Press, 1999

F.O. Matthieson (ed), The Notebooks of Henry James, Oxford University Press, 1988.
Critical commentary

Ian F.A. Bell, Henry James and the Past, London: Palgrave Macmillan, 1993.

Millicent Bell, Meaning in Henry James, Cambridge (MA): Harvard University Press, 1993.

Harold Bloom (ed), Modern Critical Views: Henry James, Chelsea House Publishers, 1991.

Kirstin Boudreau, Henry James's Narrative Technique, Macmillan, 2010.

Jonathan Freedman, The Cambridge Companion to Henry James, Cambridge University Press, 1998.

Tessa Hadley, Henry James and the Imagination of Pleasure, Cambridge University Press, 2009.

Barbara Hardy, Henry James: The Later Writing (Writers & Their Work), Northcote House Publishers, 1996.

Richard A. Hocks, Henry James: A study of the short fiction, New York: Twayne Publishers, 1990.

Colin Meissner, Henry James and the Language of Experience, Cambridge University Press, 2009

John Pearson (ed), The Prefaces of Henry James, Pennsylvania State University Press, 1993.

Ruth Yeazell (ed), Henry James: A Collection of Critical Essays, Longmans, 1994.
---
Other works by Henry James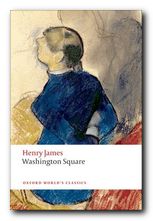 Washington Square (1880) is a superb early short novel, It's the tale of a young girl whose future happiness is being controlled by her strict authoritarian (but rather witty) father. She is rather reserved, but has a handsome young suitor. However, her father disapproves of him, seeing him as an opportunist and a fortune hunter. There is a battle of wills – all conducted within the confines of their elegant New York town house. Who wins out in the end? You will probably be surprised by the outcome. This is a masterpiece of social commentary, offering a sensitive picture of a young woman's life.


Buy the book from Amazon UK


Buy the book from Amazon US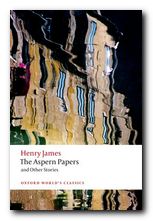 The Aspern Papers (1888) is a psychological drama set in Venice which centres on the tussle for control of a great writer's correspondence. An elderly lady, ex-lover of the writer, seeks a husband for her daughter. But the potential purchaser of the papers is a dedicated bachelor. Money is also at stake – but of course not discussed overtly. There is a refined battle of wills between them. Who will win in the end? As usual, James keeps the reader guessing. The novella is a masterpiece of subtle narration, with an ironic twist in its outcome. This collection of stories also includes three of his accomplished long short stories – The Private Life, The Middle Years, and The Death of the Lion.


Buy the book from Amazon UK


Buy the book from Amazon US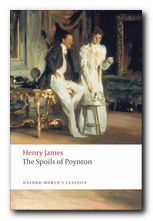 The Spoils of Poynton (1896) is a short novel which centres on the contents of a country house, and the question of who is the most desirable person to inherit it via marriage. The owner Mrs Gereth is being forced to leave her home to make way for her son and his greedy and uncultured fiancee. Mrs Gereth develops a subtle plan to take as many of the house's priceless furnishings with her as possible. But things do not go quite according to plan. There are some very witty social ironies, and a contest of wills which matches nouveau-riche greed against high principles. There's also a spectacular finale in which nobody wins out.


Buy the book from Amazon UK


Buy the book from Amazon US
---
Henry James – web links

Henry James at Mantex
Biographical notes, study guides, tutorials on the Complete Tales, book reviews. bibliographies, and web links.

The Complete Works
Sixty books in one 13.5 MB Kindle eBook download for £1.92 at Amazon.co.uk. The complete novels, stories, travel writing, and prefaces. Also includes his autobiographies, plays, and literary criticism – with illustrations.

The Ladder – a Henry James website
A collection of eTexts of the tales, novels, plays, and prefaces – with links to available free eTexts at Project Gutenberg and elsewhere.

A Hyper-Concordance to the Works
Japanese-based online research tool that locates the use of any word or phrase in context. Find that illusive quotable phrase.

The Henry James Resource Center
A web site with biography, bibliographies, adaptations, archival resources, suggested reading, and recent scholarship.

Online Books Page
A collection of online texts, including novels, stories, travel writing, literary criticism, and letters.

Henry James at Project Gutenberg
A major collection of eTexts, available in a variety of eBook formats.

The Complete Letters
Archive of the complete correspondence (1855-1878) work in progress – published by the University of Nebraska Press.

The Scholar's Guide to Web Sites
An old-fashioned but major jumpstation – a website of websites and resouces.

Henry James – The Complete Tales
Tutorials on the complete collection of over one hundred tales, novellas, and short stories.

Henry James on the Internet Movie Database
Adaptations of James's novels and stories for the cinema and television – in various languages. Full details of directors and actors, production features, film reviews, box office, and even quizzes.
© Roy Johnson 2012
---
More tales by James
More on literature
More on the novella
More on literary studies
More on short stories
---