essays on literature, authors, and cultural history
The Common Reader first series is a famous collection of essays by Virginia Woolf that explore the rich history of literature and English writing from the classical period to what was the present day of 1925 when the book was first published. The essays had appeared in the Times Literary Supplement, the Atheneum, the Nation, the New Statesman, the London Mercury, and in America in the Dial, and the New Republic. The publication proved so successful that it led to another collection (second series) in 1932.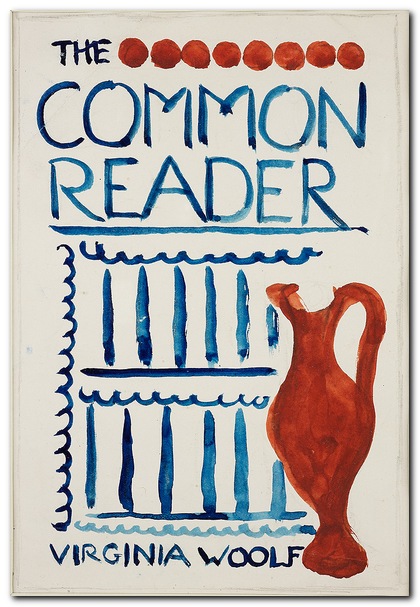 first edition – design by Vanessa Bell
Virginia Woolf had been writing essays, occasional pieces, and book reviews ever since her earliest work had appeared in the Manchester Guardian in 1905, and this present compilation reflects both the depth and the wide range of her interests and her literary education. Although she never had what we would now call formal schooling, she had educated herself, via access to the private library of her father Sir Leslie Stephen, who was an eminent Victorian man of letters and the first general editor of the Dictionary of National Biography. She had read the classics, the Elizabethans, novelists of the eighteenth century onwards, and was up to date with contemporary fiction. It perhaps helped that Thomas Hardy and Henry James were friends of the family.
She begins with a formidable piece on the Paston Letters and Chaucer, vividly re-imagining medieval English history in a manner she was later to make famous in her own novel of fictional biography Orlando (1927). 'On Not Knowing Greek' is not just an appreciation of classical literature, it is also a discussion of what distinguishes it from and defines the essence of post-Renaissance literature that is so much closer to us.
The essays are arranged in chronological order of subject – from medieval literature to Joseph Conrad – but there is no reason why they should be read in this order. They were written at widely different times and for a variety of audiences. But it has to be said that the spirit that pervades them all is remarkably consistent. Her writing is poised, fluent, humane, and distinctly non-academic. She takes her definition of the common reader from Samuel Johnson:
The common reader, as Dr. Johnson implies, differs from the critic and the scholar. He is worse educated, and nature has not gifted him so generously. He reads for his own pleasure rather than to impart knowledge or correct the opinion of others. Above all, he is guided by an instinct to create for himself, out of whatever odds and ends he has come by, some kind of whole— a portrait of a man, a sketch of an age, a theory of the art of writing.
A review of Hakluyt's Voyages is the springboard for reflections on exploration which become an analysis of Elizabethan prose styles. And she is not over-reverential. She explains cogently why many minor Elizabethan plays are so bad and even boring – because their authors were operating in a different cultural medium than obtains in the modern world.
She repeatedly compares the way 'we' see things (writing in the early twentieth century) to the way writers have seen them in the past. Montaigne revelling in the diversity and contradictions of life; John Evelyn calmly recording the events in a torture chamber. She throws off perceptive remarks on nearly every page: 'the late plays of Shakespeare … are better read than seen' and 'the second-rate works of a great writer are worth reading because they offer the best criticism of his masterpieces'.
Sometimes she takes creative liberties. An essay written to commemorate two-hundred years since the publication of Robinson Crusoe becomes a detailed examination of Moll Flanders and Defoe's other novels, all of which she sees as the foundation of modern realism.
Similarly, a volume of Jane Austen's juvenilia is the occasion for an appreciation in which she shows how a great novelist's technique actually works:
she shows up those deviations from kindness, truth, and sincerity which are among the most delightful things in English literature. She depicts Mary Crawford in her mixture of good and bad entirely by this means. She lets her rattle on against the clergy, or in favour of a baronetage and ten thousand a year, with all the ease and spirit possible; but now and again she strikes one note of her own, very quietly, but in perfect tune, and at once all Mary Crawford's chatter, though it continues to amuse, rings flat.
Woolf makes a spirited explanation of the essence of Russian literature – which had only recently been made available in English at the time of her writing. There is discussion of the apparently inconclusive endings of Chekhov's stories; the restless and chaotic soul-searching of Dostoyevski; and the sharp-eyed observations of Tolstoy.
There is even an essay about the nature of essays themselves, which she insists should not be heavy, didactic, or composed of polysyllabic prose. This is a piece from which Max Beerbohm emerges triumphant: 'the spirit of personality permeates every word that he writes. The triumph is the triumph of style'.
A tribute to Joseph Conrad plays interestingly with the relationship between Conrad the author and Marlowe his regular first person narrator and it ends with the provocative notion that it is the early novels – Youth, Lord Jim, and Typhoon – that will survive as Conrad's highest achievements, whilst the later works – Chance, Nostromo, and Under Western Eyes – will be seen as curiosities. It might have seemed so in 1924 when this essays was written, but my guess is that most serious (if not common) readers of Conrad will today think just the opposite.
But she anticipates such arguments – acknowledging that each generation will make its own review of the literature handed down to it – and since this collection is almost a hundred years old, still in print, and still being discussed, we have every reason to say that it has assumed the status of a classic.
© Roy Johnson 2015
---
Virginia Woolf, The Common Reader: Volume 1, London: Vintage Classics, 2003, pp.288, ISBN: 009944366X
---
The Common Reader first series – study resources

The Common Reader first series – Amazon UK


The Common Reader first series – Amazon US

Complete Works of Virginia Woolf – Kindle -Amazon UK


Complete Works of Virginia Woolf – Kindle – Amazon US

The Common Reader first series – free eBook formats – Gutenberg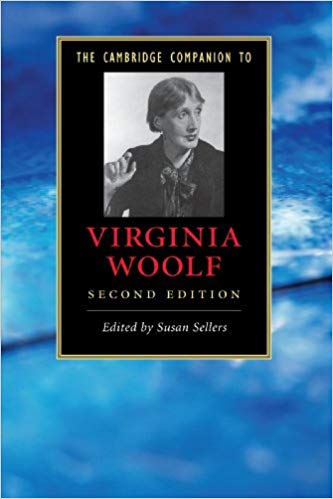 ---
The Common Reader first series – complete contents
The Common Reader
The Pastons and Chaucer
On not knowing Greek
The Elizabethan Lumber Room
Notes on an Elizabethan Play
Montaigne
The Duchess of Newcastle
Rambling round Evelyn
Defoe
Addison
Lives of the Obscure–

Taylors and Edgeworths
Laetitia Pilkington

Jane Austen
Modern Fiction
"Jane Eyre" and "Wuthering Heights"
George Eliot
The Russian Point of View
Outlines–

Miss Mitford
Dr. Bentley
Lady Dorothy Nevill
Archbishop Thomson

The Patron and the Crocus
The Modern Essay
Joseph Conrad
How it strikes a Contemporary
---
Virginia Woolf's Essays

1925 – The Common Reader first series

1932 – The Common Reader second series

1942 – The Death of the Moth and Other Essays

1947 – The Moment and Other Essays

1950 – The Captain's Death Bed and Other Essays

1958 – Granite and Rainbow
---
More on Virginia Woolf
Virginia Woolf – web links
Virginia Woolf – greatest works
Virginia Woolf – criticism
More on the Bloomsbury Group
---