biography with period illustrations and photographs
Henry James illustrated life is a biography of the great writer in Thames and Hudson 's Literary Lives series. It features a scholarly but accessible account of his career surrounded by lavish illustrations and photographs that capture all the amazing cultural depth of his experience, plus a visual record of the literary modernism which he helped to bring about. When I bought my brand new copy from Amazon recently, it cost me the princely sum of one penny.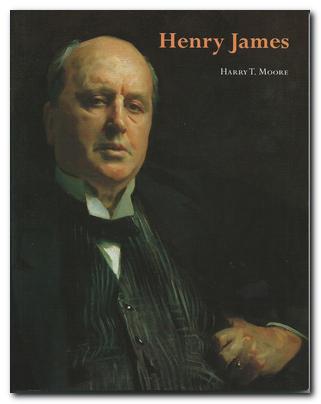 Henry James came from a distinguished American family. His grandfather had been a poor Irish immigrant who as an energetic businessman made himself into one of the first American millionaires. James's father wanted nothing to do with commerce, and became a religious philosopher instead (whilst living on the family's money). James junior was born in New York in 1843 near what is now Washington Square. The family travelled to England and Germany, setting up a pattern of transatlantic allegiances that James was to maintain throughout his life.
He was educated in New York and in what was to become the state capital, Albany. Friends of the James family included Ralph Waldo Emerson, Washington Irving, and William Makepeace Thackery. The young James read Dickens and was delighted by further visits to London and Paris. He was educated by private tutors, but his somewhat erratic father suddenly decided that American schools were better than European, so the family moved back home and settled in Newport, Rhode Island (where a number of James's early short stories are set).
A year later James pere decided the exact opposite, and the family went to live in Geneva, where James attended a local technical school. But when he and his elder brother William decided they wanted to study painting they all returned to Rhode Island. By that time the American Civil War had broken out, but neither of the two elder James brothers were to see service. William went back to Europe to study medicine, and Henry after a brief spell at Harvard studying law, gave it up and began to publish his first short stories.
In 1869 he made his first solitary trip to Europe (paid for by his family) and visited London, Florence, and Rome. While he was there he met a number of contemporary artists – William Morris, Dante Gabriel Rossetti, and John Ruskin. He was also introduced to George Eliot whom he described as a 'horse-faced bluestocking'. On outward and return journeys, he took the waters at Malvern for his ailment of persistent constipation.
He returned home, but was so enamoured with Europe that he immediately arranged to go back again as escort to his sister and her aunt on what for him became an extended two year visit. He repaid his expenses on this trip by writing travel essays for the Nation. These were later published as Transatlantic Sketches (1875).
There was an experimental period of living in Europe with his brother William, but the elder James decided to commit himself to America, whilst Henry made what he called his 'Great Decision' and stayed there, taking up residence on the Rue de Rivoli in Paris. His novel Roderick Hudson (1875) was a big success, and through it he met Turgenev, Flaubert, Zola, and Maupassant.
Despite these attractions and being lionised by the literary establishment in general, James felt he would always be an outsider in Paris, so in 1876 he moved to live in London, which eventually became his permanently adopted country of residence.
Settled there, but with annual excursions to France and Italy, he began to produce the string of successful works of his early and middle period – The American (1877), The Europeans (1878), Daisy Miller (1878), and Washington Square (1880). He also wrote his first undisputed masterpiece, The Portrait of a Lady (1881). His literary output (stories, tales, novels, criticism, and travel books) was so prodigious around this time that Macmillan in England brought out a fourteen volume collection of his works.
Harry Moore's biography speculates tactfully about James's 'private life' if also rather inconclusively. We now know that James avoided the possibilities of marriage with myriad sophistical excuses, and only very late in life did he allow his latent homosexual tendencies to surface with anything like free rein.
The next major event in his life was his flirtation with the theatre. He spent enormous amounts of time, effort and his own money trying to create a success on the stage. It was all to no avail. He wrote several plays, but none of them were successful either critically or commercially. His final throw of the dice came in 1895 when he put everything into his latest production, Guy Domville. But when he appeared for a curtain call at the end of its opening night, he was booed off the stage.
Following this catastrophe, and disappointed with London society, he moved to live in Rye, Sussex. He also returned to his first love, the novel, producing The Spoils of Poynton (1897), What Masie Knew (1897), and The Awkward Age (1899). He also capitalised on some of his unsuccessful plays by turning their plots into the substance of novels such as The Other House (1896) and The Outcry (1911) – but it has to be said that these compositions are not amongst his most successful works.
The period that followed after 1900 is generally known as James's 'major phase'. In it he produced a series of hugely impressive novels, all of them written in his now-famous but rather demanding style of elaborately rich and often very convoluted sentences exploring the psychological subtleties of his characters and the dramatic situations in which he placed them. The Wings of the Dove (1902), The Ambassadors (1903), and The Golden Bowl (1904) are now widely regarded as the high-points of his achievement and masterpieces of modern literature.
And yet following this artistic zenith James plunged into a prolonged despair. The twenty-four volume celebratory New York edition of his collected works did not sell well. Even though his lifestyle was quite lavish he was seriously short of money. His friend and fellow-novelist Edith Wharton secretly arranged an advance of $8,000 through their publisher (Scribners) and put his name forward for the Nobel Prize – but it was rejected.
At the outbreak of the First World War he became a British citizen as a gesture of solidarity with his adopted country. But the following year he suffered a series of strokes which affected his mind, and he spent his final days dictating letters which were almost word-for-word copies of Napoleon's correspondence that he had read many years before. He instructed his secretary to sign them in the Corsican manner – Napoleone.
© Roy Johnson 2015

Buy the book at Amazon UK


Buy the book at Amazon US
---
Harry T. Moore, Henry James, London: Thames and Hudson, 1974, pp.128, ISBN: 050026032X
---
Other works by Henry James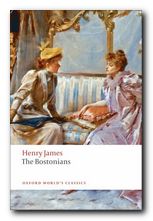 The Bostonians (1886) is a novel about the early feminist movement. The heroine Verena Tarrant is an 'inspirational speaker' who is taken under the wing of Olive Chancellor, a man-hating suffragette and radical feminist. Trying to pull her in the opposite direction is Basil Ransom, a vigorous young man from the South to whom Verena becomes more and more attracted. The dramatic contest to possess her is played out with some witty and often rather sardonic touches, and as usual James keeps the reader guessing about the outcome until the very last page.

Buy the book at Amazon UK


Buy the book at Amazon US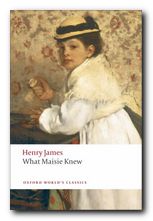 What Masie Knew (1897) A young girl is caught between parents who are in the middle of personal conflict, adultery, and divorce. Can she survive without becoming corrupted? It's touch and go – and not made easier for the reader by the attentions of an older man who decides to 'look after' her. This comes from the beginning of James's 'Late Phase', so be prepared for longer and longer sentences. In fact it's said that whilst composing this novel, James switched from writing longhand to using dictation – and it shows if you look carefully enough – part way through the book.

Buy the book at Amazon UK


Buy the book at Amazon US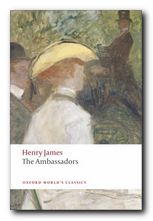 The Ambassadors (1903) Lambert Strether is sent from America to Paris to recall Chadwick Newsome, a young man who is reported to be compromising himself by an entanglement with a wicked woman. However, Strether's mission fails when he is seduced by the social pleasures of the European capital, and he takes Newsome's side. So a second ambassador is dispatched in the form of the more determined Sarah Pocock. She delivers an ultimatum which is resisted by the two young men, but then an accident reveals unpleasant truths to Strether, who is faced by a test of loyalty between old Europe and the new USA. This edition presents the latest scholarship on James and includes an introduction, notes, selected criticism, a text summary and a chronology of James's life and times.

Buy the book at Amazon UK


Buy the book at Amazon US
---
Henry James – web links
Henry James at Mantex
Biographical notes, study guides, tutorials on the Complete Tales, book reviews. bibliographies, and web links.
The Complete Works
Sixty books in one 13.5 MB Kindle eBook download for £1.92 at Amazon.co.uk. The complete novels, stories, travel writing, and prefaces. Also includes his autobiographies, plays, and literary criticism – with illustrations.
The Ladder – a Henry James website
A collection of eTexts of the tales, novels, plays, and prefaces – with links to available free eTexts at Project Gutenberg and elsewhere.
A Hyper-Concordance to the Works
Japanese-based online research tool that locates the use of any word or phrase in context. Find that illusive quotable phrase.
The Henry James Resource Center
A web site with biography, bibliographies, adaptations, archival resources, suggested reading, and recent scholarship.
Online Books Page
A collection of online texts, including novels, stories, travel writing, literary criticism, and letters.
Henry James at Project Gutenberg
A major collection of eTexts, available in a variety of eBook formats.
The Complete Letters
Archive of the complete correspondence (1855-1878) work in progress – published by the University of Nebraska Press.
The Scholar's Guide to Web Sites
An old-fashioned but major jumpstation – a website of websites and resouces.
Henry James – The Complete Tales
Tutorials on the complete collection of over one hundred tales, novellas, and short stories.
Henry James on the Internet Movie Database
Adaptations of James's novels and stories for the cinema and television – in various languages. Full details of directors and actors, production features, film reviews, box office, and even quizzes.
© Roy Johnson 2010
---
More on Henry James
More on literature
More on the novella
More on literary studies
More on short stories
---