tutorials, critical commentary, and study resources
Edith Wharton published more than eighty short stories during her writing career. The exact number is debatable, because some are so long (such as the early tale, The Touchstone) that they can be counted as novellas. She certainly produced stories regularly from 1900 until her last collection Ghosts in 1937. During that time she also wrote a number of full length novels, as well as works of non-fiction, such as her travel writing, her war memoirs, and books on the design of house interiors and gardens. The following are tutorials and study guides which offer plot summaries, characters, critical commentaries, and suggestions for further reading on each story. The list will be updated as new stories are added.

  After Holbein


  Afterward


  Autres Temps


  Bunner Sisters


  Confession


  Diagnosis


  His Father's Son


  Kerfol


  Pomegranate Seed


  Roman Fever


  Sanctuary


  Souls Belated


  The Angel at the Grave


  The Last Asset


  The Long Run


  The Muse's Tragedy


  The Other Two


  The Portrait


  The Pretext


  The Reckoning


  The Touchstone


  The Triumph of Night


  The Verdict


  Xingu
---
Video documentary
---
Study resources

Edith Wharton Collected Stories – Norton Critical – Amazon UK

Edith Wharton Collected Stories – Norton Critical – Amazon US

Edith Wharton – biography

Edith Wharton at Wikipedia – biographical notes, links

Edith Wharton at Mantex – tutorials, biography, study resources

Edith Wharton's Short Stories – publication details
---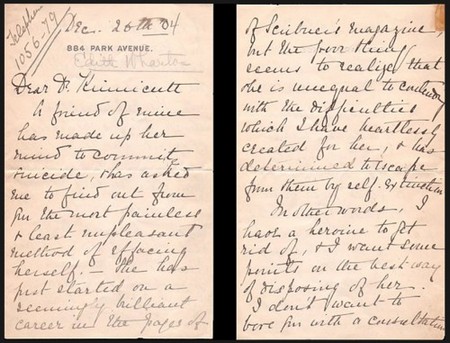 Edith Wharton's writing
---
Further reading
Louis Auchincloss, Edith Wharton: A Woman of her Time, New York: Viking, 1971,
Elizabeth Ammons, Edith Wharton's Argument with America, Georgia: University of Georgia Press, 1982, pp.222. ISBN: 0820305138
Janet Beer, Edith Wharton (Writers & Their Work), New York: Northcote House, 2001, pp.99, ISBN: 0746308981
Millicent Bell (ed), The Cambridge Companion to Edith Wharton, Cambridge: Cambridge University Press, 1995, pp.232, ISBN: 0521485134
Alfred Bendixen and Annette Zilversmit (eds), Edith Wharton: New Critical Essays, New York: Garland, 1992, pp.329, ISBN: 0824078489
Eleanor Dwight, Edith Wharton: An Extraordinary Life, New York: Harry N. Abrams, 1994, ISBN: 0810927950
Gloria C. Erlich, The Sexual Education of Edith Wharton, California: University of California Press, 1992, pp.223, ISBN: 0520075838
Susan Goodman, Edith Wharton's Women: Friends and Rivals, UPNE, 1990, pp.220, ISBN: 0874515246
Irving Howe, (ed), Edith Wharton: A collection of Critical Essays, London: University of North Carolina Press, 1986,
Jennie A. Kassanoff, Edith Wharton and the Politics of Race, Cambridge: Cambridge University Press, 2004, pp.240, ISBN: 0521830893
Hermione Lee, Edith Wharton, London: Vintage, new edition 2008, pp.864, ISBN: 0099763516
R.W.B. Lewis, Edith Wharton: A Biography, New York: Harper and Rowe, 1975, pp.592, ISBN: 0880640200
James W. Tuttleton (ed), Edith Wharton: The Contemporary Reviews, Cambridge: Cambridge University Press, 1992, pp.586, ISBN: 0521383196
Candace Waid, Edith Wharton's Letters from the Underworld, London: University of North Carolina Press, 1991,
Sarah Bird Wright, Edith Wharton A to Z: The Essential Reference to Her Life and Work, Fact on File, 1998, pp.352, ISBN: 0816034818
Cynthia Griffin Wolff, A Feast of Words: The Triumph of Edith Wharton, New York: Perseus Books, second edition 1994, pp.512, ISBN: 0201409186
---
Other works by Edith Wharton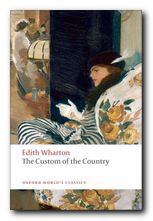 The Custom of the Country (1913) is Edith Wharton's satiric anatomy of American society in the first decade of the twentieth century. It follows the career of Undine Spragg, recently arrived in New York from the midwest and determined to conquer high society. Glamorous, selfish, mercenary and manipulative, her principal assets are her striking beauty, her tenacity, and her father's money. With her sights set on an advantageous marriage, Undine pursues her schemes in a world of shifting values, where triumph is swiftly followed by disillusion. This is a study of modern ambition and materialism written a hundred years before its time.


Buy the book from Amazon UK


Buy the book from Amazon US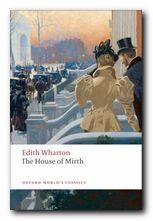 The House of Mirth (1905) is the story of Lily Bart, who is beautiful, poor, and still unmarried at twenty-nine. In her search for a husband with money and position she betrays her own heart and sows the seeds of the tragedy that finally overwhelms her. The book is a disturbing analysis of the stifling limitations imposed upon women of Wharton's generation. In telling the story of Lily Bart, who must marry to survive, Wharton recasts the age-old themes of family, marriage, and money in ways that transform the traditional novel of manners into an arresting modern document of cultural anthropology.

Buy the book from Amazon UK


Buy the book from Amazon US
© Roy Johnson 2014
---
More on Edith Wharton
More on the novella
More on literary studies
More on short stories
---